Jeremy Lin: A Case for Why Race Matters in Sports
February 16, 2012

Rob Carr/Getty Images
I'm continuously amazed by the fact that, in a country as culturally diverse as the United States of America, people are still uncomfortable discussing race. 
We're OK with it when done in a comedic form like "The Chappelle Show" or stand-up (unless you're Michael Richards, then it's never OK), but when it comes to serious conversations about race, we get very queasy and skittish.  
The emergence of New York Knicks point guard Jeremy Lin is just the latest personification of one of our innermost insecurities.
On Monday—in what was the latest example of the message being distorted by the messenger—boxer Floyd Mayweather, Jr. set Twitter ablaze by suggesting that the hype surrounding Lin was due solely to the fact that Lin is Asian (Fox Sports columnist Jason Whitlock made waves as well with a stereotypical remark about Lin, but his misguided attempt at humor fell flat because it was neither funny nor thoughtful).
Mayweather has been known throughout his career to make inflammatory remarks about members of various nationalities—most recently in a 2010 video where he is seen making vulgar and disparaging remarks about fellow boxer Manny Pacquiao—but that doesn't mean that this particular tweet wasn't without merit.
Of course Lin is getting major media recognition because he's Asian! In other news, water is wet. 
There's a reason why many of my Asian friends—even ones who aren't of Taiwanese or Chinese descent—have been blowing up my email, Twitter time line and Facebook feed with messages expressing their love for the kid. They feel a kinship with him and are understandably proud of his success, and there's absolutely nothing wrong with that.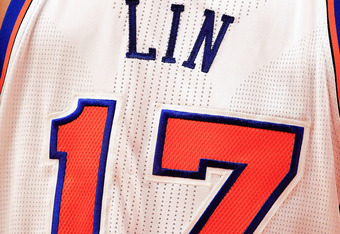 Chris Trotman/Getty Images
I openly root for African-American coaches to succeed, not because I'm a fan of their teams, but because it gives me a sense of pride to see other black men succeed in positions where opportunities are few and far between.
Jeremy Lin is the first American-born player of Taiwanese or Chinese descent to ever play in the NBA, so it goes without saying that opportunities for players like him have been very few and even farther in between. 
Sure, his performance plays a substantial role in the popularity of his story (Lin has been in the NBA for almost a year-and-a-half, and the story wasn't getting near the attention it is now when he was getting cut by two teams and toiling in the D-League) particularly because it is happening in the success-starved, hoops mecca that is New York City. To suggest otherwise would be as disingenuous as implying that race is the only factor in his meteoric rise to folk hero status. But the combination of his unique (to the NBA) background and outstanding performance has created a perfect storm of media exposure, for which I'm certain David Stern is infinitely grateful.
As I complete this column, Lin has just helped lead the Knicks to their seventh consecutive victory, getting them to .500 and putting them squarely back into the Eastern Conference playoff discussion. Those are three incredible basketball storylines that seemed impossible to consider less than two weeks ago and have nothing to do with Lin's ethnic background. But for those who continue to marvel at his novelty, I won't begrudge them one bit. 
I hope that his success is sustainable, because New Yorkers have notoriously short memories, and it would be a shame if all this excitement was for naught. 
Besides, the last ethnic novelty to hit the New York sports scene just earned himself a Super Bowl ring, so the bar is set pretty high. No pressure there, Jeremy!
Contact Geoff at geoff@popflyboys.com, follow him on Twitter @snglemarriedguy, and read more of his takes on sports and pop culture at popflyboys.com