Peyton Manning to Titans: The Top 3 Reasons Why It's Not a Good Fit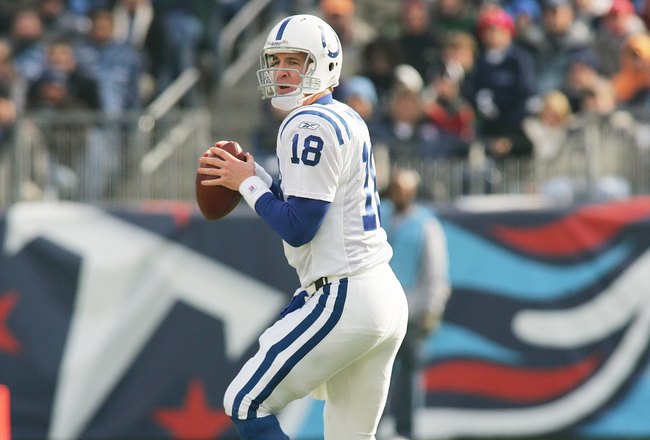 Manning is legendary in the state of Tennessee
Ronald Martinez/Getty Images
The sight of Peyton Manning in the UT Volunteer orange, leading the team to new heights during his QB campaign in Knoxville is something that will always live on in the minds of avid football fans here in the state of Tennessee.
While it's hard to let go of those past images of collegiate glory and success at a national level, some Manning fans are clinging to the hope of one day reuniting him with a Tennessee football team.
This return trip is not only being lobbied for by some fans who've even gone as far as to create a website for Manning's return and posting on billboards, but seems logical for some Nashville locals—or does it?
Here are the top three reasons why Manning returning to Tennessee to take the helm of the quarterback position in Tennessee is not a good fit for him or the organization.
All NFL Players Must Face Football Mortality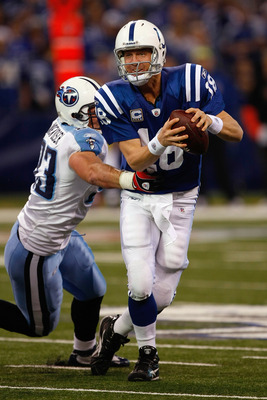 Manning will know all to well that Father Time remains undefeated
Scott Boehm/Getty Images
It's no secret that the lifespan of an NFL athlete is short-lived. While some span a decade, most flame out within a few years.
Manning has certainly been an exception to this rule. His consistently healthy offensive line, deep study of defenses and installation of 'his' offensive plan not only help keep him upright in the pocket, but ensure he takes as few hits as possible which has prolonged his NFL lifespan at quarterback.
With the writing on the wall in Indianapolis, Manning would not only be coming into a new system, freshly installed and adapted by Chris Palmer (Titans OC), but a less-than-stellar offensive line that struggled at times to keep pressure off of Hasselbeck and couldn't create enough holes for Chris Johnson in order to spark the Titans run game consistently.
Titans Front Office Has QB for Now and Beyond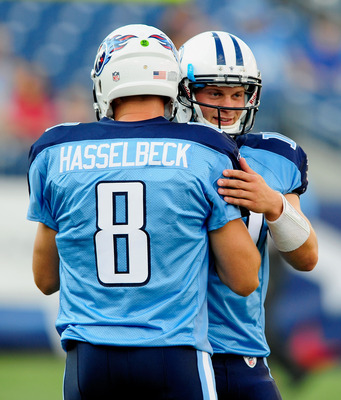 Hasselbeck has proven a worthy veteran pickup while Locker awaits his shot as the starter
Grant Halverson/Getty Images
Ruston Webster came out publicly this week to discuss all things Titans and broached the Manning topic before even being asked. The statement was clear: Manning is a big name in Tennessee and a future Hall of Fame quarterback, but the Titans have their guy—now—and in the future. It's no mistake that the Titans wanted a veteran quarterback and got one in Hasselbeck.
With one of the biggest passing yard seasons of any Oilers/Titans quarterback (especially in recent memory), he brought back a level at the QB position that was sorely missed with the presence of scrambler-specialist Vince Young.
Also battling it out in the upcoming season for the staring QB position is Jake Locker. Locker showed some bright spots in his cameos throughout this past season.
Whether it was his legwork out of the pocket or his strong arm and tough-man mentality, Locker seems to be the guy for the future in Tennessee, and the front office and head coach Mike Munchak may see the future coming now, rather than later with open competition this offseason.
It All Comes Down to Risk vs. Reward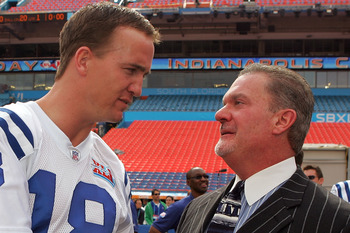 The writing is on the wall in Indy and teams should be leery of Manning's health
Scott Halleran/Getty Images
It's no surprise that the political positioning of Jim Irsay in Indianapolis and the Manning family, Peyton himself, and those who speak on his behalf are all jockeying for fan support and media backing on the big question: "Is Manning healthy enough to play in 2012—and will he do that in Indy?"
While that question remains to be seen, several clear signs have come out of both camps that beg the question: Is the risk worth the reward?
For starters, Manning has apparently admitted that he is willing to make concessions on his enormous contract by making a future contract incentive-laden based purely on his performance for a new team.
His camp also came out to say that he is "medically" cleared to resume his professional football career. Irsay and the Colts quickly responding during Super Bowl week to clarify that he's not been cleared by the team to play for the Colts.
Above all else, it's not been proven that Manning will be worth the risk. If healthy, and given proper control of an offense in the right system with the right players, Manning could still flourish. Those are all big 'ifs' that have yet to be answered and may not be in sometime.
The reward of him bringing a smaller market team to the forefront and improving their record, if healthy, is simply not worth the risk in taking him.
With little medical assurance, no time to instill his deep offensive setup, and putting Locker on the shelf for longer than he needs to be.
For Titans Fans, It's Time to Let Go...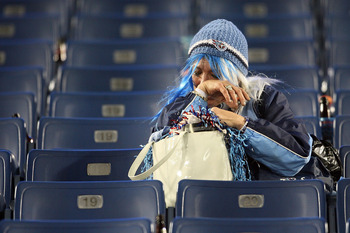 While Tennessee will forever be tied to Peyton Manning, the Titans are destined to forge their own path with Locker at the helm
Andy Lyons/Getty Images
Just as the writing is on the wall in Indy, the writing should also be on the wall for Titans fans in Tennessee. Peyton inspires greatness and is a legend in Tennessee, but simply put, the contract, the health and the risk of setting a franchise into a potential neutral or reverse gear is not wise.
The organization moved on from long-time coach Jeff Fisher and their failed experience at QB with Vince Young. While the team out-performed analysts' expectations, there is still work to be done in Tennessee, and that direction needs to continue to head to the future of Munchak, Locker and company.
All the speculation and Manning fanfare will be put to bed if the Titans make it to the playoffs after being the only 9-7 team in the NFL to not make it this season. Expectations are now high, and the standard has been set.
The Titans and their fans now need to set their focus on their present team and the present tense in order to take this organization to the next level.
Keep Reading

Tennessee Titans: Like this team?