Matthew Stafford: Why the Detroit Lions QB Deserves More Respect
February 17, 2012

Jonathan Daniel/Getty Images
In 2009, before the NFL Draft, fans yelled and chanted "Don't draft [Matthew] Stafford!" at a preseason function for the fans. Later that year in April, he was booed after being selected with the No. 1 overall pick by the Detroit Lions. After Stafford dealt with injuries his first two years, Lions fans began calling for a replacement at quarterback.
In 2011, after playing injured and struggling against the Chicago Bears on the road and the Green Bay Packers on Thanksgiving Day, Detroit fans suggested sitting him down and let someone else play.
Now, after a superb year in which he totaled 5,038 yards and 41 touchdowns, leading Detroit to 10 wins and a playoff berth, NFL Network analyst Marshall Faulk called his coming-out party "not impressive."
This question continues to boggle many minds: why doesn't Matthew Stafford get the respect he deserves?
It's tough being a quarterback in the NFL. It's even tougher being a franchise quarterback for the Detroit Lions. Since the curse of Bobby Layne, the Lions have been searching for the answer at quarterback. General managers have shuffled through players like Scott Mitchell, Charlie Batch, Jon Kitna, Joey Harrington and Andre Ware.
50 years later, a kid comes out the University of Georgia and seems as promising as any other quarterback the Lions have brought in over the years. 
Despite an accomplished college career (2006 All-SEC Freshman Team, 2008 All-American, 2009 Capital One Bowl MVP), fans still called for the Lions to move in a different direction. Two other favored options for the draft were Baylor left tackle Jason Smith and Wake Forest linebacker Aaron Curry.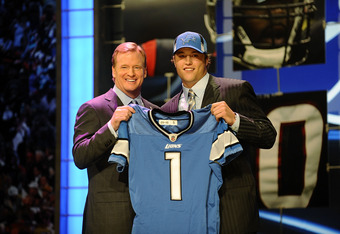 Jeff Zelevansky/Getty Images
Smith hasn't panned out as the second overall pick by the St. Louis Rams in 2009. He's been replaced by Rodger Saffold, and Smith is now on the verge of being cut by the Rams. 
Curry's story isn't too great either after being the No. 4 pick by the Seattle Seahawks. The Wake Forest product became the highest paid non-quarterback in NFL Draft history in 2009 when he signed a rookie contract with Seattle for six years and $60 million with $34 guaranteed.
Curry spent plenty of time in the doghouse being benched on the sideline for a lack of production. Just this past season, Curry was traded to the Oakland Raiders for two draft picks. 
It's safe to say Stafford was the right choice over Smith and Curry. Now, after a monster 2011-12 season, Stafford might be on his way to headlining the 2009 draft class.
Going into 2011, Stafford needed to prove to his team and his critics that he could stay healthy for a full season. He exceeded those expectations by becoming the unquestioned leader of the team, leading the Lions to the playoffs and forming the most dangerous aerial combination with Calvin Johnson.
Having Megatron to throw to is a blessing for Stafford, but it will forever be a slight curse to the legacy of Stafford's career. The "he has Calvin Johnson" debate will forever play a factor when discussing Stafford's success.
Instead of realizing Stafford and Johnson compliment and make one another that much better, critics continue to give Megatron the majority of credit instead of a fair 50/50 split.
Before playing a full season with Stafford, Calvin Johnson had a label of an underachiever. Beside a breakout season in 2008 with 78 catches 1,331 yards and 12 touchdowns, Johnson's numbers weren't as impressive as they should have been. Critics and fans believed Johnson wasn't being as targeted as much as he should have been. 
After a full season with his franchise quarterback, Johnson and Stafford ripped secondaries apart, connecting on 96 catches for 1,681 yards and 16 touchdowns.
Coincidence on the improvement? I think not.
Stafford's biggest concern before his durability was his accuracy. It's pretty clear that can use some improvement, but it's constantly blown out of proportion. With as much as pressure from the pass rush Stafford faces, and the tight coverage focused on Calvin Johnson and other Lions receivers, Stafford often has to make tough throws.
For every easily missed throw Stafford had this season, he countered with an impressive dart down field to a barely open receiver.
Granted, the Lions offense worked with no running game, Stafford was forced to throw a lot. Throwing for 5,000 yards every season on a league-leading 663 pass attempts isn't the ideal plan for success with the Lions offense. However, it is nice to know that Stafford can shoulder the load and put the offense on his back if needed.
NFL Network analyst Marshall Faulk called Stafford's breakout season was "nothing as much as people throw the ball now," saying Stafford "better throw for 5,000 if you have Calvin Johnson." What Marshall failed to note only four quarterbacks have passed for 5,000 yards in NFL history, including Matthew Stafford Dan Marino, Drew Brees and Tom Brady.
Pretty good company for a 23-year-old quarterback to be mentioned in.
Is Stafford one of the all-time greats yet? No.
Should he be mentioned in the Hall of Fame discussion right now? Of course not.
But compared to the past quarterbacks in Lions history, he's easily the best of recent memory. Lions fans come from a past where the backup quarterback was the favorite until he messed up. Stafford has been placed under such a tight microscope that fans can't recognize what they have in front of them.
Stafford is an elite talent and played like a top-five quarterback last season. Instead of questioning his success, and over-analyzing his accomplishments, Lions fans need to take a step back and understand they have the best young quarterback in the NFL.
Don't waste time looking on the roster for the next guy who deserves a chance to lead the team to success. The team is already heading down that path, and the current guy under the center is a big reason why.