Jeremy Lin Drives MSG Linsane as New York Knicks Win 7th in a Row
February 16, 2012

Chris Trotman/Getty Images
Just when you thought Jeremy Lin and the New York Knicks could not get any better, they dismantle the Sacramento Kings 100-85.
The Knicks returned to Madison Square Garden to a crowd that had been eagerly waiting to be a part of Linsanity again. 
Lin and the Knicks did not make the crowd wait for something to cheer over.
Lin scored the first basket of the game and was fouled in the process. He hit the free throw and the Knicks never looked back. 
Lin dazzled in the first half, with an arsenal of spectacular passes that the Kings could not defend, including ally-oops that ignited New York City.
At halftime, Lin already had nine assists and only one turnover.
The Knicks played a perfect first half on offense and defense and took a 54-36.
The second half was much of the same for New York and Lin. Lin did, however, turn the ball over a bit more in the second half, although the Knicks held a large lead. 
New York led by 22 entering the fourth quarter.
Lin led the way again tonight, scoring 10 points and adding a career-high 13 assists. He was able to record all of the assists while only playing 26 minutes due to the large lead. Tyson Chandler and Lin showed exceptional chemistry as Chandler finished with nine points.
Amar'e Stoudemire added 11 points and five rebounds. Landry Fields led the Knicks in scoring in the first half with 11 points and finished the game with 15 points.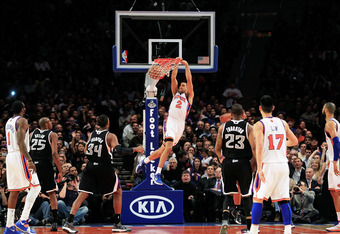 Chris Trotman/Getty Images
Bill Walker and Steve Novak finished with 14 points as well.
New York is 15-15 on the season. It is the first time they have been at .500 since they were 6-6 over a month ago.
Lin ran around the court, weaving in and out of defenders all night, taking it to the hoop when he had the opportunity. If the shot was not there, Lin made a last second pass to set up others.
The exceptional teamwork that the Knicks are displaying was not visible when Lin was not playing for New York. The crowd serenaded Lin with MVP chants again as he was interviewed on the court after the game.
He has turned the Knicks around, and New York has four more games in a row at home.
The Knicks are currently on a seven-game winning streak. An 11 game winning streak is not out of the question before the Knicks finally take the road again to take on the Miami Heat.
The New Orleans Hornets are next up to take on New York, followed by the defending champions, Dallas Mavericks.
Don't b-LIN-k. This kind of thing does not happen very often.