NFL Combine 2012: 3 Alabama Prospects Poised to Steal The Show
February 15, 2012

Kevin C. Cox/Getty Images
The 2011 college football season was owned by Alabama, and now it's time for them to take over the NFL combine next week in Indianapolis.
Nine players were invited to the combine, but safety Mark Barron has already announced he will not be attending. But that's okay, because there are still three of his former teammates that are absolutely physical freaks sure to make the pro scouts drool.
Josh Chapman, DT
Last month it was revealed that Chapman had played most of the 2011 season on a torn ACL and meniscus. Pretty incredible considering he only sat out one game.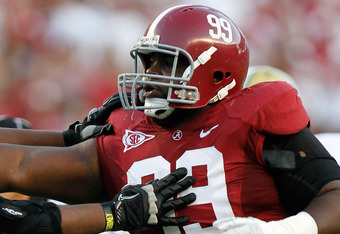 Kevin C. Cox/Getty Images
In that one game, 'Bama gave up 302 yards to Georgia Southern. That's all you need to know about how valuable Chapman can be.
While he won't be running much on his knee, he is going to participate in the bench press competition. At 310 pounds, this guy has the ability to break the record set by Stephen Paea last year. The pure strength of Chapman is absolutely incredible.
Dont'a Hightower, LB
Despite clocking in at 6'4'' and 260 pounds, Hightower has been clocked at a 4.6 in the 40-yard dash. The speed he possesses at the position is second-to-none, and it's going to make the rest of the linebackers at the combine feel like slow wimps.
Hightower's extreme athleticism is going to shine in Indy.
Dre Kirkpatrick, CB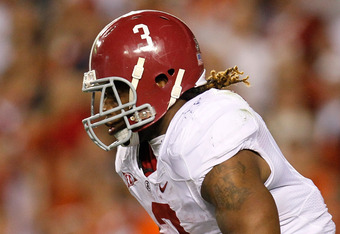 Kevin C. Cox/Getty Images
At 6'2'' and 190 pounds, he has the speed to blow away the competition in the sprints portion of the combine. His fluid hips are incredibly unique for a guy his size and a big reason why he has a leg up on the competition.
He is the whole package and is going to dominate when he can get out and compete against some of the top receivers. Despite his marijuana bust, I think Kirkpatrick will convince scouts he's worth a top 10 pick by the end of the festivities.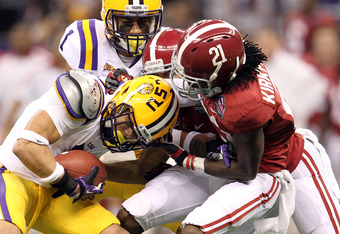 Andy Lyons/Getty Images