Matthew Stafford: Marshall Faulk Misses the Mark with Criticism of Lions QB
February 16, 2012

Ronald Martinez/Getty Images
Marshall Faulk, best known for his "Greatest Show on Turf" days with the St. Louis Rams, is now an analyst for the NFL Network. He used to get paid for scoring ridiculous touchdowns. Now he must get paid for making ridiculous statements.
These are his quotes, taken from Anwar Richardson's article on MLive.com:
Throwing for 5,000 yards in the NFL right now is nothing. I don't want to take anything away from it. As much as people throw the football now, you better have 5,000 (yards) if you have Calvin Johnson.
Faulk is a Hall of Famer, and he was a heck of an entertaining runner to watch. In St. Louis he was the best player at his position for three years ('99, '00 and '01) and won the MVP award in '00. So it's not like the guy doesn't know football.
That's why I am so utterly flabbergasted by his statement. If throwing for 5,000 yards is the norm these days, you'd expect at least half the quarterbacks to be doing it. That couldn't be farther from the truth.
Three. That's how many quarterbacks accomplished the feat in 2011. Stafford threw for 5,038 yards, Tom Brady threw for 5,235 yards and Drew Brees threw for 5,476 yards.
Three quarterbacks in one year had never been done before. That is a rarity, not a norm.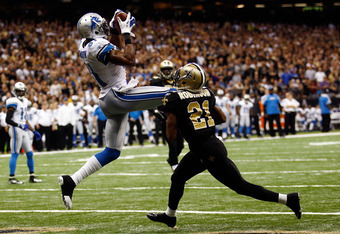 Chris Graythen/Getty Images
Faulk also implies that since teams have moved to more pass-happy offenses, quarterbacks are throwing for 5,000 yards in their sleep—especially when they have elite receivers like Calvin Johnson.
If we followed this logic, we'd expect to see a plethora of quarterbacks, within the past 10 years, throwing for 5,000 yards, but there has only been one: Drew Brees in 2008. Hall of Famer Dan Marino did it in 1984, but that doesn't support Faulk's theory because that was long before NFL offenses fell in love with the pass.
Also, in 2008 Drew Brees did it without a receiver ranked in the top 20. In 2011 Stafford and Brees had one receiver each, and Brady had two in the top 10. In 1984 Marino had two—Mark Clayton and Mark Duper.
The point is this: It certainly helps to have an elite receiver to amass 5,000 yards in a single season, but it doesn't guarantee it. Larry Fitzgerald, Andre Johnson, Greg Jennings and Roddy White are arguably the NFL's top receivers—other than Johnson—and none of their respected quarterbacks have thrown for 5,000 yards.
Faulk's theory doesn't hold water, and his statements seem like sour grapes. Is this simply another example of a great ex-athlete being unable to give the Detroit Lions their due?
First it was Cris Carter who wasn't willing to call Calvin Johnson an elite receiver. Then several weeks into the regular season, Faulk's teammate Kurt Warner criticized Stafford's technique. Then a couple weeks ago, Warren Sapp took Ndamukong Suh to task.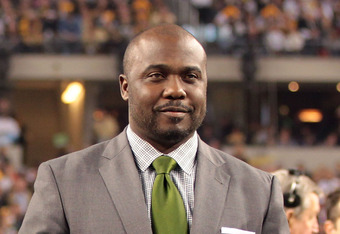 Jamie Squire/Getty Images
What did the Lions ever do to these guys? Beating up on them on the field for their entire careers wasn't enough that they have to continue after they're retired too?
In some respects you have to like that these guys don't pull any punches. A lot of ex-athletes in broadcasting are either afraid to say anything bad about anyone or they aren't smart enough to offer any insightful commentary.
Marshall Faulk doesn't fit into either category. He's just wrong. He should know how hard it is to reach this milestone. He played with Warner who is a Hall of Famer and two-time MVP. The Rams offense was one of the most prolific in NFL history.
Warner never threw for 5,000 yards. The closest he got was 4,830 yards in 2001.
It's clear that Faulk should reconsider. He said he doesn't want to take anything away from Stafford, but then he contradicts himself with the rest of his statement. This brings his credibility into question.
If ex-athletes want to be taken seriously in broadcasting, they can't just criticize today's athletes—especially ones who are playing the game better than they did. It comes off sounding like pure jealousy rather than analysis. They have to be able to give credit when it's due.
Clearly Stafford deserves that.