Ndamukong Suh: Warren Sapp Criticizes Detroit Lions Star, and He's Right
February 3, 2012

Steve Dykes/Getty Images
If there is anyone uniquely qualified to criticize embattled Detroit Lions star Ndamukong Suh, it is Warren Sapp. The current analyst for the NFL Network and seven-time Pro Bowler for the Tampa Bay Bucs offered his unique perspective on Suh earlier this week.
As one of the greatest defensive linemen in NFL history, and a controversy magnet during his playing days, Sapp's experiences make his opinions on the matter worth listening to.
In an interview with Anwar Richardson for MLive.com, Sapp offers his analysis regarding Suh's performance last season. Most people agree his production dropped off from his rookie year. When you look at the numbers, it's obvious.
2011: 36 tackles and 4 sacks
2010: 66 tackles, 10 sacks, 1 forced fumble, 1 fumble recovery, 1 touchdown, 1 interception
(Courtesy of ESPN)
In the interview, Sapp gives great analysis of Suh's decline last year and cites his shoulder surgery as a reason strength alone can't be relied upon.
"He had rotator cuff surgery. I had one on each shoulder. I kind of know what that's like. You have to put yourself in a position where there was no offseason, no rehabbing and all the things he needed to do to be able to get that strength back.

"Now without that power, snatching and slinging people out of the way, he's never been a hip-flipper or a true pass rusher in a sense.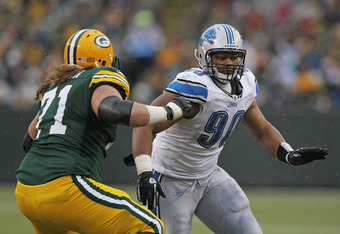 Jonathan Daniel/Getty Images
"He was just overpowering and throwing people out of the way. On this level, everybody is that strong. That's what you saw, him with his shoulder and people understanding he was just going to go through them. That's the way he rushes. He goes through you. All I got to do is get myself a nice little base and be ready to go."  (taken from the MLive article).
I think Sapp is dead on with his opinion. If there's one thing Suh has demonstrated over the past two years it's stubbornness—both on the field and off.
He can't rely on one move, the bull-rush, to knock offensive linemen on their cans. He needs to develop his game more, regardless if his shoulder surgery impacted his game or not.
This is the NFL. No player is going to be the strongest or the fastest very long. Other players will catch up; or in Suh's case, injuries will slow you down.
Perhaps it is simply a matter of immaturity—Suh not wanting to accept that an injury could impact his game. Coming off his rookie year, it's not hard to figure out why he would feel like Superman and scoff at the idea that anyone could contain him.
There's no way he can feel like that anymore. The Lions need Suh to return to the form he showed in his rookie year. Their future success hinges on him dominating; stopping the run and pressuring the quarterback consistently.
Sapp goes on to urge Suh to be honest with himself.
"You have to self-evaluate in this game. You got to look at yourself and say 'where can I get better?' I knew I needed to get better at my strength and my conditioning and then my pass rush. I went into the offseason and worked on nothing but my pass rush, speed and run and just go at.

"You got to grind at the job. This is your profession. There's nothing else. Subway will work around your schedule, I guarantee you."
 He then references the Thanksgiving Day stomp of Even Dietrich-Smith.
"Until he's going to be honest with himself, he's going to have a long career, whatever he wants to call what he's doing now.

"How's he still standing there talking about he was stepping away from this man? In what universe does he live in? I don't get it."
Sapp will be in the Hall of Fame one day. He is second all-time for defensive lineman with 96.5 career sacks. He also won a Super Bowl. If there is anyone on this planet Suh should listen to, it is Sapp.
Jim Schwartz has since defended Suh in this article on freep.com. Was that really necessary? I think Suh deserves to be taken to task for some things. Perhaps he needs to be taken down a couple pegs in order to realize what it takes to be good year in and year out.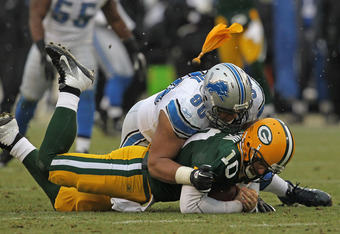 Jonathan Daniel/Getty Images
Not that Schwartz doesn't make valid points. In his mind, Suh, and the defensive line in general, is just fine. Success is not measured in stats alone.
His defense backs were fifth in the NFL in interceptions and third in turnovers. His defense ends had 27 sacks. Schwartz credits these numbers to the inside rush of Suh and Co.
It is true that numbers aren't everything. Even though Suh didn't have stats that blew you away, he was effective in many ways. It is also true, however, that he was not getting to the quarterback as much and teams were more successful at blocking him.
Regardless of what Schwartz says, Suh would benefit from working on his pass rush and learning some new moves.
I hope he heeds Sapp's advice.