San Francisco 49ers: Why Marques Colston Is the Answer at WR
February 18, 2012

J. Meric/Getty Images
The San Francisco 49ers received consistent production from almost every position on the field during their resurgence in 2011.
With that said, the wide receiver position was not one of them.
Both injuries and untimely drops played parts in the consensus assessment of the wideout position. With a receiving corps in dire need of an offseason makeover, I have just one name to suggest to the 49ers front office:
I know what you're probably thinking. What in the world would keep the 6'4", 225-pound free-agent receiver from returning to New Orleans? He's a part of the most high-powered offense in the NFL, and he's had the luxury playing with Drew Brees his entire six-year career.
But the Saints will soon have a price to pay for bearing the NFL's newest version of the "Greatest Show on Turf." The front office still has to complete a deal with Brees, and if they don't come to terms soon, he may soak up the team's franchise tag.
Such a move would prevent the Saints from using it on a player like Colston, or 26-year-old All-Pro guard Carl Nicks, another highly effective member of the offense.
In fact, according to the folks at National Football Post, New Orleans is yet to even contact Colston about a new deal; another sign that he could slip through the cracks and fall into the 49ers' lap.
The post can be read here, about halfway down the page.
As it stands, the 49ers will currently have Michael Crabtree, Kyle Williams and Joe Hastings returning under contract for next season.
Crabtree was drafted in 2009 to be a No.1 receiver for the future, but severe inconsistency has overshadowed some so-so overall performances thus far in his career. He has increased production each year and improved as a blocker, but clearly hasn't reached his potential and is by no means a No. 1 receiver on a squad with Super Bowl aspirations.
Some will disagree, but I would like to see Williams with somewhat of an expanded role in 2012. Just nowhere near the return game, please. He made good on his opportunities as a receiver after Joshua Morgan suffered a broken leg in Week 5, and his multiple gaffes in the NFC Championship Game should serve as a motivator rather than hindering his future career.
When Morgan went down, there was really no capable No. 2 starters left on the roster. Ted Ginn Jr. spent the most time there, but is nowhere near the threat in the passing game as he is returning kicks, and he and Morgan are both free agents anyway.
I would like to see Morgan back, he was building on a decent 2010 season prior to his injury, and could even outplay Crabtree next year based on the way he performed early on in 2011.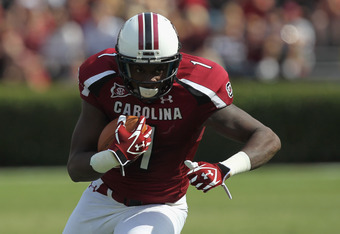 Streeter Lecka/Getty Images
San Francisco could decide to upgrade the position at the NFL draft, but do the Niners really need another inexperienced player at the wideout position? No.
The top three or four prospects including Justin Blackmon, Alshon Jeffery and Michael Floyd, will almost certainly be nabbed before the 49ers draft at the 30th pick.
Mohamed Sanu is also a tempting draft option out of Rutgers, but even if slips, the last position the 49ers need another youngster is at receiver. That's basically the only position where San Francisco lacks some type of a veteran presence.
There are also plenty of other options in free agency outside of Colston. Vincent Jackson, Dwayne Bowe, Wes Welker and Reggie Wayne are just a few big-name receivers that could end up in a new city soon.
Welker though, is probably a lock to return to New England, and Wayne is at the tail-end of his career. Mario Manningham of the New York Giants is also a potential free agent, but his 6'0", 185-pound frame does not offer the size that San Fran could desperately use.
So, focusing on Colston, Jackson and Bowe, I took a look at their numbers from 2011, and noticed a couple of glaring differences visible in the chart below:
| | | | | | | | |
| --- | --- | --- | --- | --- | --- | --- | --- |
| Player | Size | Receptions | Targets | Yards | TD | AVG | Rec. % |
| Vincent Jackson | 6'5", 230lbs. | 60 | 115 | 1,106 | 9 | 18.4 | 52.2 |
| Dwayne Bowe | 6'2", 221lbs. | 81 | 141 | 1,159 | 5 | 14.3 | 57.4 |
| Marques Colston | 6'4", 225lbs. | 80 | 107 | 1,143 | 8 | 14.3 | 75.0 |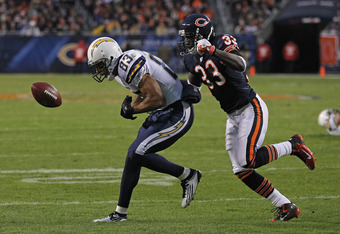 Jonathan Daniel/Getty Images
Look at how remarkably efficient Colston is with passes thrown his way. Obviously he has a one-of-a-kind quarterback to fling him the pigskin, but I don't see Jackson or Bowe reaching that level even with Brees throwing them the ball.
The fact that Jackson missed on nearly half of his targets is a prime example of why he isn't a fit in San Francisco. Jackson's best asset is his ability to catch the deep ball, but he isn't nearly as effective in other areas. He had six games in 2011 in which he failed to catch more than two passes, not a common statistic for a 1,000-yard receiver.
That doesn't sound like the sure-handed receiver Alex Smith could use moving forward.
Jackson also carries off-the-field troubles, including multiple run-ins with the law.
I feel that Bowe is another player the 49ers would do well to avoid. Despite a 15-TD season in 2010, he's accumulated just 21 scores in four campaigns outside of the '10 season. Bowe is also a potential distraction, as he was suspended four games by the NFL in 2008 stemming from a violation of the league's drug policy.
Colston would come with a clean history, sure hands, and plenty of playoff experience. One needs to look no further than the 2012 playoffs to know he's playoff-tested; 16 receptions for 256 yards and a TD in games against the Lions and 49ers can vouch for that.
If the Saints are forced to tag Brees and can't keep both Nicks and Colston, I really believe Nicks will be of higher priority for New Orleans. It's not easy to find a 26-year-old All-Pro guard, and the Saints have plenty of play makers capable of filling the hole left by Colston.
In 2011, the 49ers were one piece away from the Super Bowl. In 2012, Marques Colston is the piece needed to reach Super Bowl XLVII.