Jeremy Lin: Harvard Basketball Video Highlights and Watch Lin "Dougie"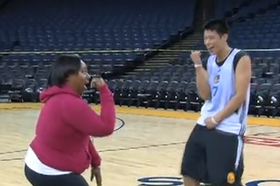 Lin teaches you how to "Dougie"/ youtube.com
Two weeks in and instead of fizzling out, Linsanity skyrocketed after the New York Knicks' Jeremy Lin scored 27 points, including a game winning three-point shot with 0.5 seconds left to go in last night's 90-87 win against Toronto. The Knicks did not even need a three-pointer to win, but that's just how Jeremy Lin rolls.
It may be hard to believe, but Lin's been in the game a lot longer than the past couple of weeks. Before the NBA, Lin had 30-point games while throwing it down on the Harvard men's basketball team.
Lin was on a Harvard team that went from 8-22 (3-11 conference) in 2007-2008 to 21-8 (10-4 conference) in 2009-2010.
At Harvard, Lin averaged 4.8 PPG in 2006-2007, 12.6 PPG in 2007-2008, 17.8 PPG in 2008-2009, and 16.4 PPG in 2009-2010.
But don't let Jeremy Lin fool you; he's not all work and no play. When not Lin-ing on the court, Jeremy likes to break it down with the kind of dance skills that will have all the ladies (and some gents) swooning.
Here are a couple video highlights from Lin's college days, Lin doing the "Dougie," and Lin hitting the streets of NYC when he was there back in his Golden State Warrior days (including interviews from some of Lin's Harvard pals).
Begin Slideshow

»
I'm going to do you a solid, and just cut to the chase by showing you what I know you want to see first: Lin breaking it down while doing the Dougie during his Golden State Warrior Days. No. 1 on the list of things you probably didn't know about Jeremy Lin: The man has got some serious dance skills.
Back when Jeremy Lin played for the Golden State Warriors he was in NYC for the Rookie Transition Program. Here's a fun video of Lin getting a caricature drawn of himself, meeting the Naked Cowboy in Times Square and a couple of brief interviews from Lin's Harvard pals, Benjamin Wu and Cheng Ho (former Harvard Football player).
In 2009, Jeremy Lin scored a personal-best 30 points in a Harvard 73-79 loss against then-No. 13 Connecticut.
Here you can see 6'3" Lin dunking against the UConn Huskies. (The best view of the dunk comes around the 18-second mark.)
In 2009-2010, Harvard went 21-8, 10-4 in the Ivy, and Lin averaged 16.4 PPG. The Crimson ended up losing to Appalachian St. in the CIT 1st Round.
Non-conference wins for the Crimson that year included: Holy Cross, William and Mary, Bryant, New Hampshire, BU, Rice, BC, MIT, George Washington, Seattle and Santa Clara.
Non-conference losses for the Crimson that year included: Army, UConn and Georgetown.
Here are some Jeremy Lin video highlights from the UConn, Boston College, Seattle, Boston University, Georgetown, Holy Cross and William and Mary games.
February 27th, 2010 was Senior Day (Jeremy Lin's senior year at Harvard) at the Harvard men's basketball game where they took on and beat the Yale Bulldogs 78-58.
The video is not so great on this one, but hey, how much more could you expect for a regular season Ivy conference game? Anyway, fast forward to around the three-minute mark to watch Jeremy Lin's tomahawk dunk against Yale.
January 9th, 2010 the Crimson took on Dartmouth at home, beating the Big Green 76-47.
The video quality on this one is pretty bad, but if you want to see Jeremy Lin steal and dunk the ball, it's around the 30-second mark.