Should Kansas City Chiefs Sign Stanford Routt to Replace Brandon Carr at CB?
February 15, 2012

Thearon W. Henderson/Getty Images
According to Jason La Canfora of NFL Network, recently released cornerback Stanford Routt remains in Kansas City Wednesday for his second round of visits with the Chiefs.
Since being released by the Oakland Raiders last week, Routt has also visited the Buffalo Bills and will eventually make a trip to Cincinnati to talk with the Bengals.
Here is the tweet from La Canfora confirming each visit: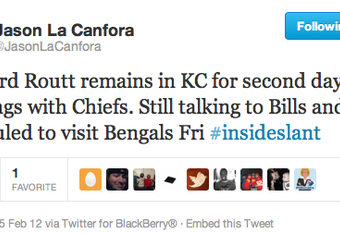 But instead of diving into his options in this post, let's take a closer look at the Chiefs' early fascination with Routt.
While you could argue that NFL teams these days can't have enough talented cornerbacks on the roster, the Chiefs have a big decision to make with looming free agent Brandon Carr. 
Signing Routt would almost certainly mean that Kansas City is preparing to let Carr, a 25-year-old emerging cornerback, leave in free agency this spring.
Despite his outrageous contract in Oakland, Routt figures to be a touch cheaper on the open market than Carr, but money shouldn't be a huge factor. The Chiefs currently have over $60 million in cap room. 
ESPN's Bill Williamson points out that the Chiefs might have liked what they saw in Routt as a No. 2 cornerback in Oakland, when he played behind No. 1 Nnamdi Asomugha and shined:
Like Carr, Routt would be a good fit with Kansas City No. 1 cornerback Brandon Flowers. Routt was better as the No. 2 cornerback to Nnamdi Asomugha before he became the lead cornerback last season when the Raiders chose to give Routt a big contract instead of Asomugha.
Still, the best-case scenario for signing Routt is that the Chiefs get a lateral performance move from Carr to Routt.
Last season, the two players were hardly even comparable.
According to Pro Football Focus, which grades every player on every play on every team, Carr was the 30th-ranked cornerback. Routt was 89th of the 109 graded.
It's possible that the Chiefs are just doing their due dillegence on Routt in the case that the team can't re-sign Carr or it chooses to franchise tag receiver Dwayne Bowe.
But making the decision to essentially remove Carr for Routt doesn't seem to add up. The Chiefs should do all they can to bring back Carr, then worry about signing Routt later if that doesn't work. Doing that process in opposite order would be a mistake for the Chiefs.