Dallas Cowboys: Top 10 Dallas Cowboys Under 30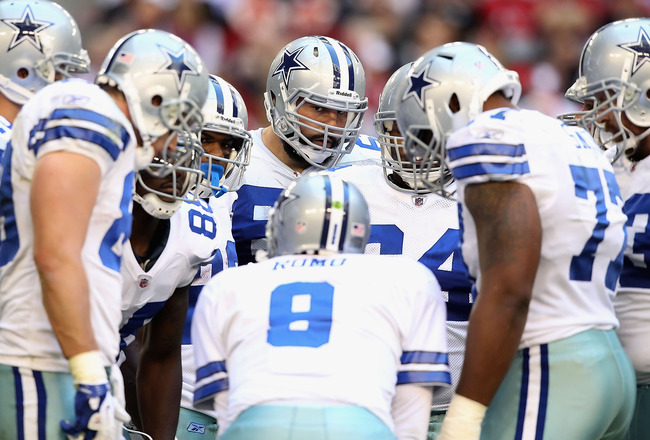 Christian Petersen/Getty Images
The Dallas Cowboys entered the 2011 season in a rebuilding process. Jason Garrett was finally fully entrenched as the head coach at the beginning of the offseason. Garrett then proceed to cut Andre Gurode, Leonard Davis, Marion Barber and Roy Williams—giving way to younger players.
This offseason, many other veterans are likely to leave Dallas as well. Bradie James and Keith Brooking are free agents, and Terence Newman is likely to be released.
The Cowboys still have a core of veteran players on offense with Tony Romo and Jason Witten and on defense with DeMarcus Ware and Jay Ratliff. The rest of the roster has been overhauled. With the exception of the 2009 draft, the Cowboys have done an excellent job in the draft.
The young nucleus on the Dallas Cowboys is the foundation for the present and future. There are a lot of great young players on the Cowboys, and they will be looking to add more talent during this offseason through free agency and the draft.
Here are the top 10 Dallas Cowboys under 30 at the start of next season.
10. Orlando Scandrick CB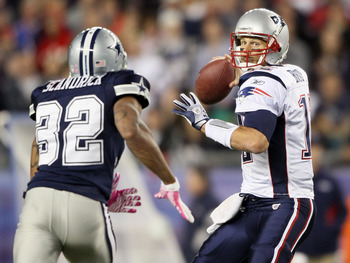 Elsa/Getty Images
Age: 25
College: Boise State
Acquired: 2008 NFL Draft, 5th Round, 143rd Overall
Contract: 6 yr/$28.2 million through 2016
Best Season: 2010: 46 TACK 2.5 SACK 1 INT 9 PD 5 STF 1 TD
Orlando Scandrick is signed to play cornerback for the Dallas Cowboys for a very long time. Cowboy fans should be happy about that. Scandrick is never going to develop into a shutdown corner, or a corner who can consistently win one-on-one matchups with opposing No. 1 receivers. Scandrick is, however, a reliable third or fourth corner who comes to play every week.
Scandrick does a solid job against slot receivers. Wes Welker was limited to 45 yards receiving against Scandrick this past year. He has become the most likely Cowboy corner to blitz, and he can also stop the run. He's only 25 years old, and the Cowboys should be happy to have him for the foreseeable future.
9. Felix Jones RB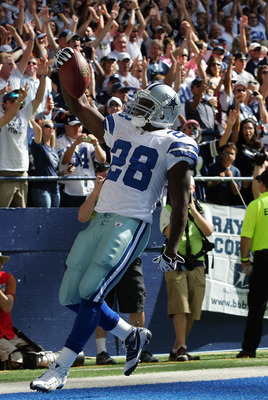 Ronald Martinez/Getty Images
Age: 25
College: Arkansas
Acquired: 2008 NFL Draft, First Round, 22nd Overall
Contract: 5 yr/$10.5 million through 2012
Best Season: 2009: 116 ATT 685 YDS 5.9 AVG 3 TD
Felix Jones has not become the featured back the Cowboys were hoping for when they selected him in the first round in 2008. However, he has shown ways he can be very effective for the Cowboys. When the Cowboys limit his touches, he can be an effective change-of-pace running back as well as a decent receiver out of the backfield.
Jones' best talent is returning kickoffs. Hopefully the Cowboys realize Jones' greatest strength for the team instead of allowing lesser talents to return kicks.
2012 is the last year the Cowboys have Jones under contract. With DeMarco Murray firmly entrenched as the future back, Jones' days in Dallas may be numbered. Trading Jones this offseason is a possibility.
8. Doug Free LT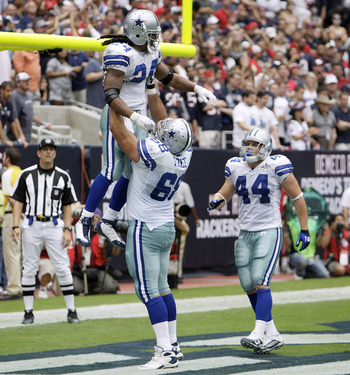 Bob Levey/Getty Images
Age: 29
College: Northern Illinois
Acquired: 2007 NFL Draft, Fourth Round, 122nd Overall
Contract: 4 yr/$32 million through 2014
Best Season: 2010: GP 16 GS 16
Doug Free ended the 2009 season on a hot streak filling in for the injured Cowboy Marc Colombo. The Cowboys felt so strong about Free's play that they handed him the starting left tackle position at the start of 2010. 2010 was a phenomenal season for Free, forcing the Cowboys to open their checkbooks and resign Free.
After the 2010 season, Free would have been near the top of this list. However, the 2011 season was not as kind for Free. Free looked slower, and weaker on the line and failed to live up to the big contract he signed. There are now talks about moving Free over to RT.
Free is not as talented as Tryon Smith but few tackles are. Free is going to be a key component on the Cowboys' line for at least the next three seasons. There is no reason to believe Free will not bounce back with a full offseason to work with the Cowboys coaches—no matter what side of the line he plays on.
7. Dan Bailey K
Tom Pennington/Getty Images
Age: 24
College: Oklahoma State
Acquired: 2011 Undrafted Free Agent
Contract: 3 yr/$1.4 million through 2013
Best Season: 2011: 32 FGM 37 FGA 86.5 PCT 135 PTS
Dan Bailey came into the 2011 season battling for a roster spot as an undrafted free agent. Bailey left the 2011 season as the Cowboys starting kicker and kickoff specialist.
Bailey had some ups and downs in his rookie season. Jason Garrett and Jason Pierre-Paul contributed to those downs, but there were so many more positives to look at from the 2011 season. Bailey was clutch on numerous occasions. The Cowboys often put the rookie, Bailey, in position to tie or win the games in the final seconds. Bailey usually came through.
Bailey made six field goals in one game to beat the Redskins and made 26 consecutive field goals during the 2011 season. Bailey is only going to improve and has been a star on every level he has played. The Cowboys have finally found their kicker.
6. Mike Jenkins CB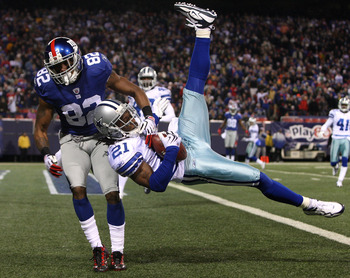 Jim McIsaac/Getty Images
Age: 27
College: South Florida
Acquired: 2008 NFL Draft, First Round, 25th Overall
Contract: 5 yr/$9.3 million through 2012
Best Season: 2009: 49 TACK 5 INT 19 PD 1 STF
Mike Jenkins is one of the most criticized Dallas Cowboys on the roster. Outside of Tony Romo, no one takes as much abuse as Jenkins does for his on-the-field actions. Jenkins has been called soft, injury-prone and was even accused of giving up in 2010.
Some of those statements may hold value, but they do not take away from the 2009 season. In 2009, Jenkins was one of the better corners in the NFL. Jenkins has the ability; the only question is why does it not show up every Sunday?
Jenkins played better in 2011, but was injured way too often to perform up to his 2009 season. 2012 should be a better year for Jenkins. A full season to learn Rob Ryan's defense will be helpful, as will the time off to heal his wounds. Jenkins is the best corner on the Cowboys roster right now and he needs to play well in 2012.
5. Dez Bryant WR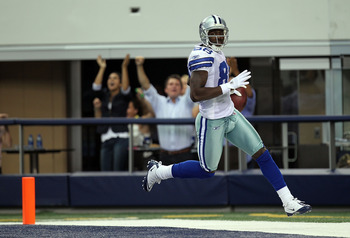 Ronald Martinez/Getty Images
Age: 23
College: Oklahoma State
Acquired: 2010 NFL Draft, First Round, 24th Overall
Contract: 5 yr/11.8 million through 2014
Best Season: 2011: 63 REC 928 YDS 9 TD
Dez Bryant should be higher on this list. Bryant is one of the most physically gifted receivers in the NFL. Bryant has size, speed, athleticism, body control and huge hands. There is nothing on the football field that Bryant cannot do.
Unfortunately, for whatever reason, Miles Austin is still the best receiver on the team. Slot receiver Laurent Robinson actually scored more times than Bryant in 2011.
By no means did Bryant have a bad season. Nine touchdowns and almost 1,000 yards are good but for a guy with Bryant's ability—he was right when he said he did OK.
Bryant should be helped by a full offseason with the Cowboys coaching staff and a full offseason to work with Tony Romo. The only limit on Bryant is the amount of effort he is willing to put in outside of the football field. 2012 will be a big season for Bryant's career in Dallas.
4. DeMarco Murray RB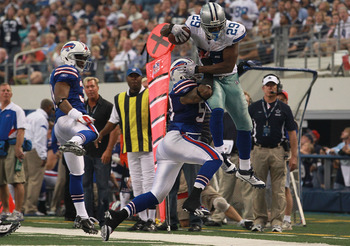 Ronald Martinez/Getty Images
Age: 24
College: Oklahoma
Acquired: 2011 NFL Draft, Third Round, 71st Overall
Contract: 4 yr/$2.97 million through 2014
Best Season: 2011: 164 ATT 897 YDS 5.5 AVG 2 TD
DeMarco Murray broke records held by Cowboy greats like Emmitt Smith and Tony Dorsett in his rookie season. Whenever a player is mentioned with those two guys, he had an amazing season.
Murray started the season behind Felix Jones and Tashard Choice. With a little help from injuries and Choice's terrible play, Murray found himself as the Cowboys' feature back, sending Choice to Washington and Jones to kick returns.
Unfortunately, a broken ankle ended Murray's season short. The Cowboys could have learned a lot more about Murray in those finally weeks and who knows, if Murray played the Cowboys might have beaten the Giants one of those games.
Murray will start the 2012 season as the Cowboys lead back and there is no telling how great this young player can be. He is effective running inside and outside and is a great receiver as well. Tony Romo and the Cowboys played better when Murray was running early and often. In 2012, the Cowboys should see that every Sunday.
3. Sean Lee ILB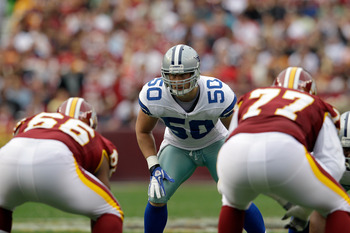 Rob Carr/Getty Images
Age: 26
College: Penn State
Acquired: 2010 NFL Draft, Second Round, 55th Overall
Contract: 4 yr/$3.5 million through 2013
Best Season: 2011: 105 TACK 2 FR 4 INT 7 PD 10 STF

Sean Lee found his way into the starting lineup in his second season and never looked back. Lee forced veterans Bradie James and Keith Brooking to split time with each other while he played every down.
Lee can do everything as an inside linebacker. He can stop the run, he can chase down runners sideline to sideline and he can defend the pass. Lee proved all of this in 2011.
After starting the season red hot, Lee dislocated his wrist. Lee proceeded to miss one game and played the rest of the season injured. Even with his injury, he still should have been named to the Pro Bowl.
Lee is going to be the leader of the defense next season and for the foreseeable future. The Dallas Cowboys should be extremely happy they found a stud linebacker to pair with DeMarcus Ware.
2. Miles Austin WR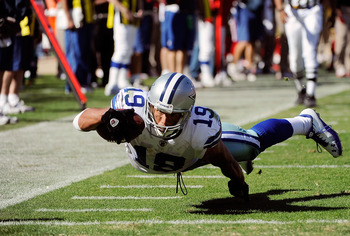 Thearon W. Henderson/Getty Images
Age: 28
College: Monmouth
Acquired: 2006 Undrafted Free Agent
Contract: 7 yr/$57 million through 2016
Best Season: 2009: 81 REC 1,320 YDS 11 TD
Miles Austin burst onto the scene in 2009 and had a season with Michael Irvin/Terrell Owens-type numbers. The last two seasons have not been as stellar for Austin, but they have not been entirely his fault.
After a strong start in the 2010 season, Tony Romo was injured and Jon Kitna seemed to prefer the rookie Dez Bryant over Austin. In 2011, Austin battled a nagging hamstring injury that forced him to miss a lot of playing time throughout the season.
2012 should be a better season for Austin. Austin is the most polished receiver on the Cowboys roster and is not far behind Bryant is terms of pure physical talent. Romo is lucky to have Austin signed until 2016, and at 28 years old, there is no reason to believe he will begin declining any time soon.
1. Tyron Smith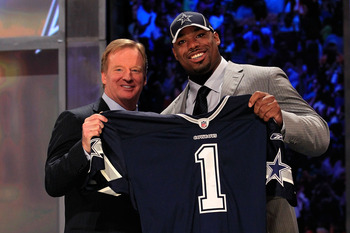 Chris Trotman/Getty Images
Age: 21
College: University of Southern California
Acquired: 2011 NFL Draft, First Round, Ninth Overall
Contract: 4 yr/$12.5 million through 2014
Best Season: 2011: GP 16 GS 16
At the age of 21, Tryon Smith has already developed into one of the best tackles in the NFL. Smith started the season a bit slow but immediately improved his play every game. For a rookie at 20 years old in the NFL, that is impressive.
Smith has strong hands, quick feet and a mean attitude that offensive linemen need to be great in the NFL. Smith will become an All-Pro and a regular Pro Bowler very quickly in Dallas. Whether Smith is playing left tackle or right tackle next season, the Cowboys should be glad they selected him ninth overall last season.
The Cowboys have the cornerstone of their line for the next 10 to 15 years, and that is why Smith is the best Dallas Cowboy player under the age of 30. Jason Garrett and Tony Romo should be ecstatic.
Keep Reading

Dallas Cowboys: Like this team?