Another Night, Another Rally as Jeremy Lin Continues to Carry New York Knicks
February 15, 2012
Rob Carr/Getty Images
The New York Knicks did it again.
After trailing for the majority of the game and by twelve in the fourth quarter, they rallied to beat the Toronto Raptors.
For three quarters it looked as though the Knicks were going to lose Amar'e Stoudemire's first game back. 
The fourth quarter was a different story.
Perhaps it took three quarters to get the Knicks clicking, but when they did, the Raptors could not keep up.
Jeremy Lin led the comeback with a couple huge rebounds in the middle of the fourth quarter, and then started to score and dish the ball.
The Knicks cut the deficit to four points, when Lin drove to the basket and passed to Amar'e Stoudemire. Stoudemire finished the play with a monstrous dunk that brought the Knicks to their feet.
Lin struggled at the free throw line in the fourth, missing three in a row at one point. The entire team struggled in the fourth, making it increasingly harder for them to even the score.
They continued to fight though, and with a minute and a half left, Iman Shumpert came up with a tremendous steal and finished it with a dunk. Tyson Chandler followed it up with a block on defense, and Lin brought the ball down court.
Lin faked a three-pointer, drove in the lane and successfully converted on a plus-one.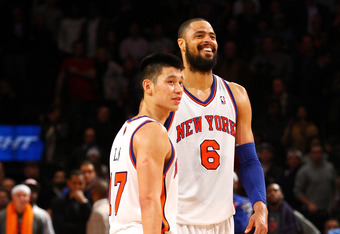 Chris Chambers/Getty Images
The Knicks made a great stand on defense. After missing a shot, the Knicks got the offensive rebound. Lin held the ball, as it was apparent they were playing for the last shot. He stood behind the three-point line with seconds left and launched a three.
He nailed it, and the Knicks continued their ridiculous six-game winning streak.  
Lin continues to bring the Knicks back and ignite the team. It is a remarkable stretch they are in. 
Lin continued his torrid pace, becoming the first player in the NBA this season to have 20 points and seven assists in six straight games. He finished with 27 points and 11 assists.
Stoudemire returned to action with 21 points and nine rebounds.
The Knicks now return to what will be an electric Madison Square Garden on Wednesday night, to start a five-game homestand.