Tiger Woods Adds the Honda Classic to His Schedule
February 15, 2012

Jeff Gross/Getty Images
Evidently Tiger Woods' somewhat less-than-"Tigeresque" performance at the AT&T last week has prompted him to do the unthinkable: add another tournament to his schedule heading into the Masters.
I wrote after last week's debacle at Pebble Beach that Tiger was not ready for Augusta.
Tiger has been performing at a much higher level recently. He posted three good rounds at the Australian Open in November. However, a disappointing third-round three-over(-par) 75 moved him down the leaderboard. 
He recovered with a five-under(-par) 67 on Sunday to eventually finish third.
Tiger, a Captain's pick, then moved onto the Presidents Cup at Royal Melbourne. He played solid but not spectacular until Sunday when he buried Aaron Baddeley in his singles match.
In December, Tiger won his first event of any kind in over two years when he won the small-field, invitation-only Chevron World Challenge. His four-round scores of 69-67-73-69 were fairly solid but that third-round 73 allowed the field to slip back into contention and he was forced to hold off Zach Johnson on Sunday.
Entering 2012, everyone was beginning to feel that just maybe Tiger was on the verge of regaining the form that allowed him to dominate golf for over 10 years. 
He made his 2012 debut not at Torrey Pines as he normally does, but took a large appearance fee and decided to play in Abu Dhabi on the European Tour. Again he played well, posting rounds of 70-69-66 through three rounds, but faltered on Sunday shooting an even-par 72 and fell to third place behind winner Robert Rock and runner-up Rory McIlroy.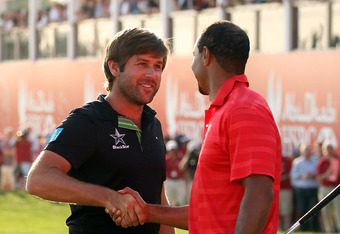 Andrew Redington/Getty Images
Are we beginning to see the trend here? Tiger posts three solid rounds but he can't seem close the deal.
Now we come to Pebble Beach and the monumental beatdown by Phil Mickelson on Sunday.  Tiger again posted a respectable first three rounds (68-68-67) and started Sunday's final round at 11 under (par), four shots behind the leader Charlie Wi. We all saw what happened. 
Mickelson, in the same grouping with Woods, turned in a magnificent 64 and went on to win the tournament. Tiger went in a completely different direction, shooting a three-over(-par) 75 and free-falling to 15th place. Phil beat Tiger by 11 shots in that final round. 
If you are Tiger Woods, that is completely unacceptable.
The talking heads on Golf Channel have been saying since last year that Tiger needs more reps. Practice at home in his backyard in Jupiter, Florida is not the same as the intense pressure of PGA Tour play. This is especially true when you are Woods, in contention and trying to make things happen in the heat of battle on a golf course. 
The swing changes, putting stroke and his confidence level are not where they need to be to contend at the Masters. 
Thus the decision has been made to add the Honda Classic to his schedule ahead of Augusta. Starting with next week's WGC-Accenture Match Play in Arizona, Tiger will play three weeks consecutively. The Honda Classic at Palm Beach is the following week and that will lead into the WGC-Cadillac from Doral. 
It should be noted the Honda and Doral are basically home games for him.
Tiger has some glitches in his overall game that can only be cured by repetition under tournament conditions. His only goal is to win majors. Time is beginning to press in on him. 
He needs to get this right. 
Adding the Honda Classic is the right decision. 
Oh, and by the way: It helps the sponsor, the Palm Beach community and the PGA Tour.
If Tiger goes on to win at Augusta, should he thank Mickelson during the Green Jacket ceremony?