Tiger Woods at Pebble Beach: Phil Mickelson Shoots 64, Woods Not Quite Ready
February 13, 2012

Ezra Shaw/Getty Images
The golf world witnessed a true beat down on Sunday at the AT&T National Pro-Am at Pebble Beach.  Phil Mickelson grouped with Tiger Woods in the final round shot a nearly perfect 64 and collected his 40th career PGA Tour victory.  More importantly he beat Tiger by an amazing 11 shots.
Mickelson began the day two shots behind Tiger at nine under par.  Woods sat in third place at 11 under par.  Phil got off to a hot start going three under par through the first five holes.  It was a very un-Phil-like performance.  He was striping his driver, hitting laser-like irons and rolling in over 200 feet of made putts. 
Tiger could not find the hole with his putter and went in exactly the opposite direction.  Woods finished with a three-over par 75 and dropped to 12th place.
Phil did'nt start the week with much energy but managed a 70 at Spy Glass Hill.  His wife, Amy flew into the Monterey Peninsula for the weekend and apparently had a few choice words for her husband, as only wives can do.  Appropriately re-energized, Phil posted a 65 at Monterey and went on to shoot 70-64 on the weekend at Pebble Beach.
Is this a recurring theme for Woods?  Can he regain his winning ways?  Have other golfers passed him by?  Has be forgotten how to close the deal in the final round?  Does Tiger need a wife to set him straight? 
Obviously Tiger is not quite ready to reclaim his throne as the No. 1 player on the planet.  The reports of his demise, however, are slightly exaggerated. 
As everyone knows, golf is a process.  It takes time and lots and lots of patience.  Small baby steps are the norm.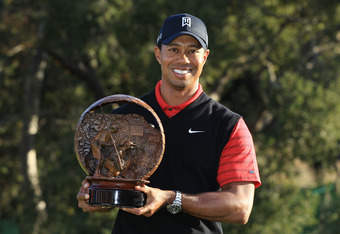 Scott Halleran/Getty Images
Successes last fall in Australia and at the Chevron, as well as this year in Abu Dhabi had the golf world proclaiming that Woods was indeed back and ready to resume his quest to overtake Jack Nicklaus for most career major titles.
Tiger's swing is coming along.  He seems to have regained most of his all-world short game.  He is turning in three good rounds out of four.  Wasn't Phil doing exactly the same thing the last three weeks?
More can be learned from defeat and adversity than can be learned in victory.
The only thing that Tiger's final round collapse at Pebble Beach proves is that he still has some work left to make it all the way back.
Remember, golf fans, it's just one more step.  It's all about the majors.  The Masters is still three starts away for Woods.