Jeremy Lin: Twitter Reacts as Knicks' Newest Star Hits Game-Winner
February 14, 2012

Chris Chambers/Getty Images
With the score tied at 87 and the clock ticking down, Lin stepped up with the biggest shot of his young career, as calmy narrated by Adrian Wojnarowski of Yahoo! Sports: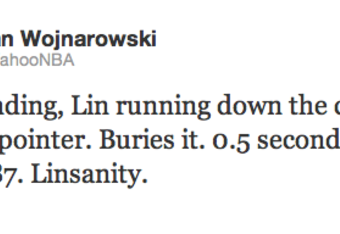 Yahoo! Sports' Marc J. Spears came clean with Lin's full stat line on the night: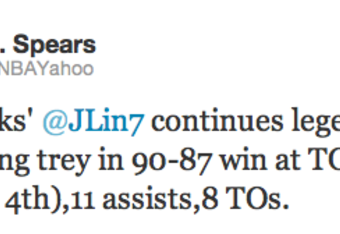 Arash Markazi of ESPNLA.com added this startling (and distinctly un-Tebow-like) note about what Lin has accomplished thus far: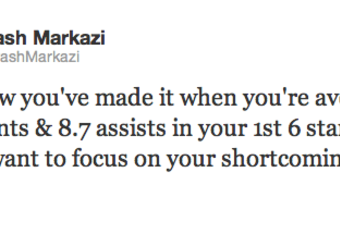 And, with that, Lin notched his "Tebow vs. Chicago Bears/Pittsburgh Steelers" moment, in which he turned doubters into the believers, like TNT analyst and future Hall-of-Famer Reggie Miller: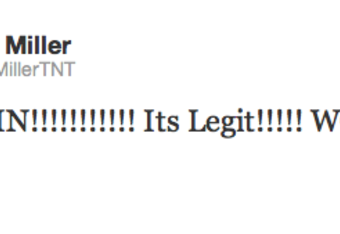 And Los Angeles Clippers All-Star Chris Paul: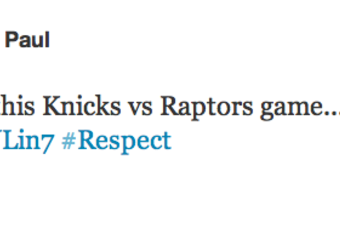 And Lakers nutcase and noted Linsanity fan Metta World Peace, per Mike Bresnahan of the LA Times: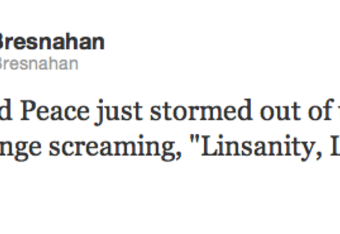 But let's not forget about Lin's biggest fan, Knicks buff Spike Lee, who was quick to call out Lin's biggest hater (Floyd Mayweather Jr.) once the shot trickled through the net: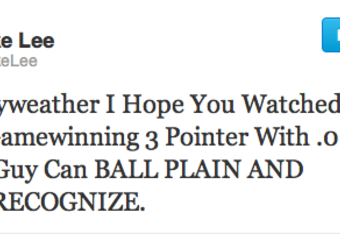 ________________
It's been a whole three days since Jeremy Lin and the New York Knicks last took the court, in a 100-98 victory over the Minnesota Timberwolves.
At long last, Linsanity is set to resume, this time in a border-crossing affair with the Toronto Raptors.
Frankly, I'm surprised the Canadian mounties let Lin into the country, given all the excitement surrounding him and the threat it poses to Canada's usual serenity.
The world will be watching Lin's every dribble, pass and shot as he adjusts to life alongside Amar'e Stoudemire in Mike D'Antoni's starting five, with Carmelo Anthony slated to return next week.
Okay, so maybe not everyone will be watching, though you can bet all those Time Warner subscribers in the Big Apple are pissed about their cable provider not carrying MSG at the peak of Linsanity.
For those of you who don't get the Knicks-Raptors game on TV, never fear! We'll have every detail of the game covered...through the eyes of the Twitter machine, that is.
I, for one, am excited to see what Metta World Peace and Floyd Mayweather Jr. will have to say when the Shao-Lin Shadow Boxer lights up Jose Calderon and leads the Knickerbockers to a sixth consecutive victory.
For those of you who caught ESPN's Rick Reilly's column on Jeremy Lin, here are a few details he forgot to include the first time around: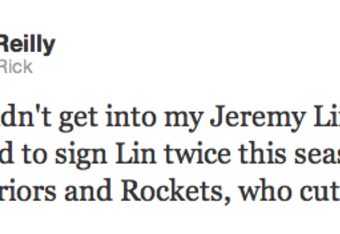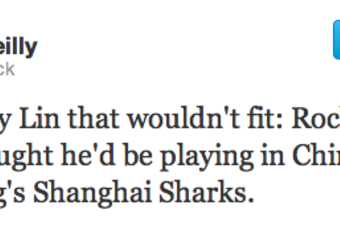 It seems as though Linsanity has affected everyone with any connection to the Knicks, beat writers included, like Al Iannazzone of New York Newsday: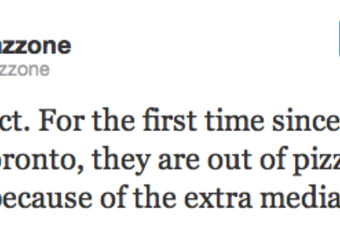 TNT analyst Chris Webber, your thoughts on how Linsanity and STAT will get along on the court?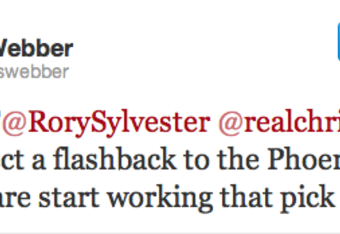 Hope y'all have your Valentine's Day dinner plans arranged properly...so you can get your fill of Linsanity.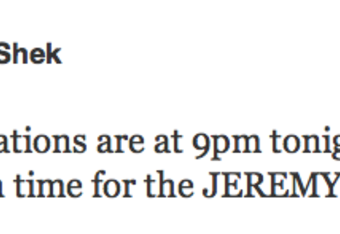 Looks like Linsanity has caught on with the Sopranos, as Iannazzone was kind enough to point out: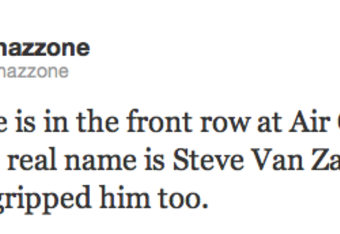 Well, Lin has been something of a monster for the Knicks lately...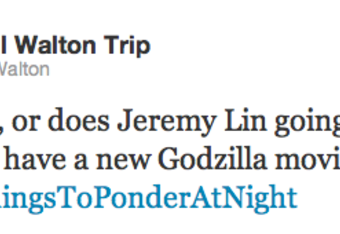 THIS JUST IN: Lin is NOT the perfect player. His defense...well, let's just say it could use a little work: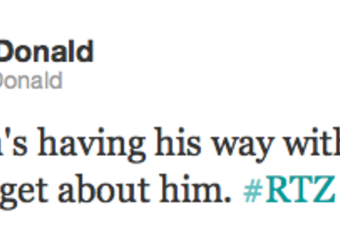 More musings from the twisted mind of Not Bill Walton: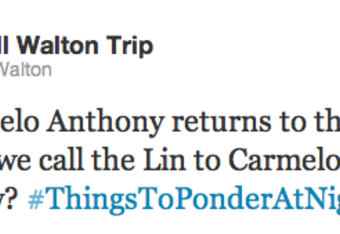 At least Raps fans can take comfort in knowing that Lin will never co-opt Air Canada: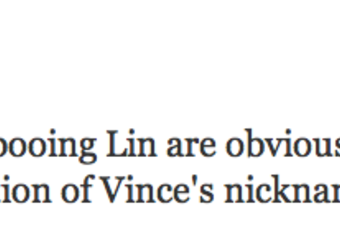 The power of the Shao-Lin Shadow Boxer goes far beyond basketball, as New York Knicks Mag points out: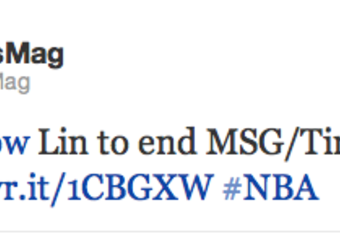 Lin's line after the first quarter? Not bad: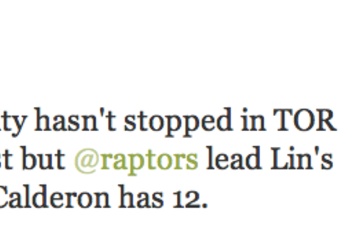 Let's not forget about Lin's turnover woes. Russtroll Westbrook certainly hasn't: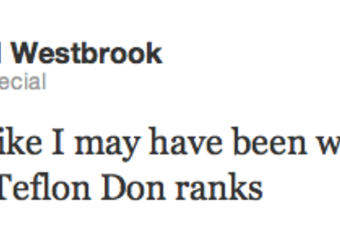 ESPN's Mike Mazzeo sums it up perfectly: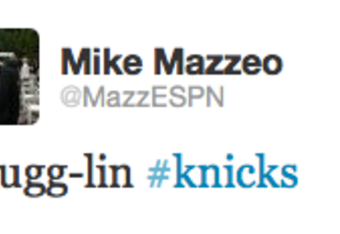 An astute observation by Nate Jones, to say the least: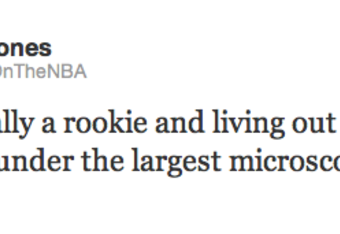 A look at Lin's stat line at the half, courtesy of ESPN: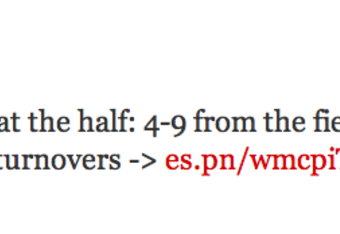 What's with all the turnovers, you ask?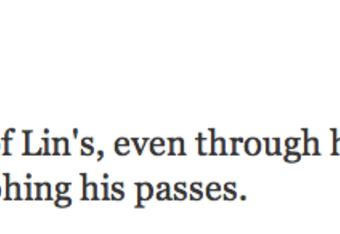 Perhaps it has something to do with a certain Denver Broncos quarterback to whom Jeremy Lin has been compared. And no, I'm not talking about Brady Quinn: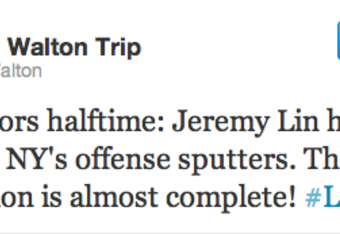 Lin's been pretty good for the Knicks through three quarters, though as Bruce Feldman of CBS Sports points out, he hasn't even been the best point guard in the building tonight: