Buffalo Bills Should Sign Cornerback Stanford Routt to Improve Secondary
February 14, 2012

Bob Levey/Getty Images
Free agent cornerback Stanford Routt visited the Buffalo Bills on Monday, according to The Buffalo News, and is scheduled to visit with a few other teams before deciding where he'll be playing over the next few years.
If he likes Buffalo, then the Bills would be wise to offer him a contract.
Although the Buffalo Bills have missed some pretty important draft picks in recent years, there's one area that they've been consistently successful at pegging down, the defensive secondary.
The problem is that many of those players have come and gone, and as a result, there's been little consistency in the secondary.
Let's take a quick look at some of the bigger moves of the last 10 years or so.
In 1999, the Bills drafted Antoine Winfield with the 23rd pick in the draft. By the time his first contract was up, Nate Clements—who was drafted with the 21st pick in 2001—was coming on strong.
Buffalo had to make a decision on Winfield, and ultimately they opted to let the talented corner test the market. The decision to keep Clements over Winfield turned out to be a poor one in the long run.
Similarly, when Nate Clements' contract was up, the Bills had Terrence McGee (drafted in the fourth round of the 2003 NFL draft) in waiting and had to make a decision on Clements. Again, Buffalo opted to let the talented young veteran go rather than pay him a huge contract.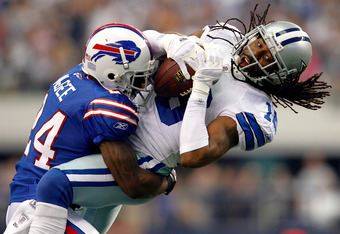 Tom Pennington/Getty Images
This time, the Bills made the right decision, as Clements has not been worth the money he's been paid since leaving via free agency.
Since then, the Bills have retained McGee and have attempted to establish depth behind him. But McGee has been injury prone as the No. 1 corner, which has put the Bills' coaching staff at a regular disadvantage for the past eight years.
After some misses following McGee's arrival, Buffalo selected Leodis McKelvin with the 11th overall pick of the 2008 draft. While he showed promise early on as a nickel corner and returner, McKelvin has struggled the past two seasons and only has one year left on his rookie contract.
Enter Stanford Routt.
If the Bills can sign the 28-year-old free agent out of Oakland, they will not only be able to upgrade their secondary but also begin to establish some consistency for the foreseeable future. 
Routt earned a big pay day from the Oakland Raiders when, in 2010, he finished the season with the lowest percent completion rate (39.4) of any defensive back targeted at least 60 times, according to STATS LLC per ESPN.com.
According to Football Outsiders metrics, per Rotoworld, "Routt finished third only to Darrelle Revis and Antoine Winfield in cornerback Success Rate" that year.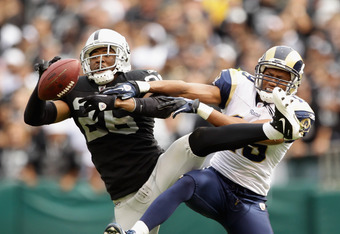 Ezra Shaw/Getty Images
That's impressive.
Before the 2011 season, the Raiders' top corner restructured his three-year, $31.5 million dollar contract to a five-year, $54.5 million contract.
Then, following the recent hiring of new GM Reggie McKenzie, Routt suddenly found himself testing the market about a week ago.
Though Routt has received criticism for allowing too many touchdowns and not recording many interceptions, he's also proven himself to be one of the league's top corners in terms of percent completion rate.  That means he can cover.
Though his number dropped last season to 47.4 percent, according to STATS, it's still among the league low for that category.
Obviously, when a shutdown corner like Nnamdi Asomugha is taken away, the defense as a whole is going to be affected. ESPN.com mentions how Routt was, "susceptible to penalties and touchdowns" last year despite his low percent completion rate. 
But Routt, who is 6'1" and 195 pounds, still has some serious talent and would be an upgrade to the Bills' secondary for a few different reasons.
First, Leodis McKelvin's contract will be up after next season. At this point, it doesn't look like the front office will re-sign him. In fact, there's no guarantee that he'll even make the team this year, as he's a potential candidate to be released.
If he is released, then Routt could fill in and would arguably be an immediate upgrade. If McKelvin returns in 2012 and finishes out his contract, the Bills will already have his replacement heading into next year's offseason.
Another reason Routt makes sense for the Bills is as an insurance policy for Terrence McGee. As stated above, McGee is a top corner but has been injury prone throughout his career. If he were to go down next year, Buffalo could plug in Routt, who already has experience as a starting corner.
Lastly, signing Routt as a free agent would allow the Bills to be more aggressive toward other needs in the draft. Nix already acknowledged that the team will target a cornerback or two this offseason. Snatching one up before the draft would enable the Bills to stock up on both sides of the line and strengthen their linebacking corps.
Routt isn't a premier cornerback, but he could be a respectable piece to build around. Adding him to a secondary that already features McGee, Aaron Williams, Drayton Florence, Jairus Byrd and George Wilson would make Buffalo a tougher, more physical pass defense.