6 Ideal Trade Scenarios for the Kansas City Chiefs This Offseason
Jamie Squire/Getty Images

On Monday, I gave my take on how Kansas City Chiefs general manager Scott Pioli would approach the draft and what players would be a good choice for each round.
Today, we are going to continue to touch on the Chiefs offseason by discussing some likely trade possibilities that Pioli might explore to help the Chiefs for the 2012 season. Will Pioli consider trading away a key player to gain something important in return?
We will begin with trade scenarios that are least likely to happen to trades that could go down sometime this offseason.
As always, you guys are more than welcome to dive in and offer your opinion on these possibilities and even suggest a trade scenario that would be ideal.
Begin Slideshow

»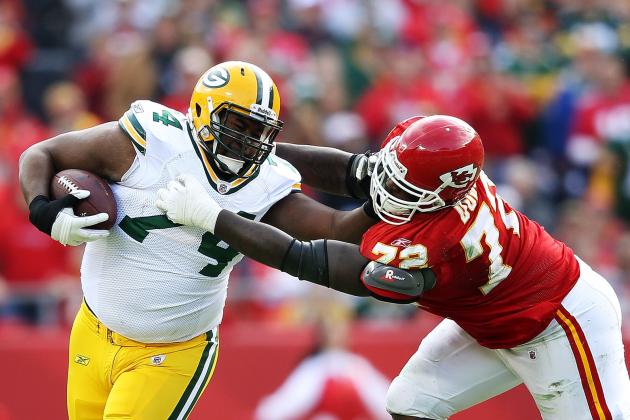 Jamie Squire/Getty Images

Glenn Dorsey only had one season to play the defensive tackle position and that was during his rookie season in 2008 when the Chiefs played in the 4-3 scheme under Herm Edwards. Following the termination of Edwards, Todd Haley and Clancy Pendergast made the defensive switch to the 3-4.
From that point, Dorsey had to make the transition from defensive tackle to defensive end under a different system. Dorsey has done a good job by occupying offensive tackles to allow Tamba Hali and other outside linebackers apply pressure on opposing quarterbacks. However, some defensive ends are able to provide that pressure on their own, even in the 3-4 scheme while Dorsey has not.
Wallace Gilberry has made more progress as a 3-4 defensive end than Dorsey has. The reason behind Gilberry's limited playing time is not known.
Jacksonville, a team that employs the 4-3 defense, could use another body at defensive tackle. Dorsey would be a good fit and receive a second chance. You could see some competition between Dorsey, Tyson Alualu and Terrance Knighton.
Some people will argue that a fourth-round pick is too low for Dorsey, who was selected fifth overall in the 2008 NFL draft. The fact is, Dorsey is not playing at a level where teams will want to sacrifice a first-round pick on him.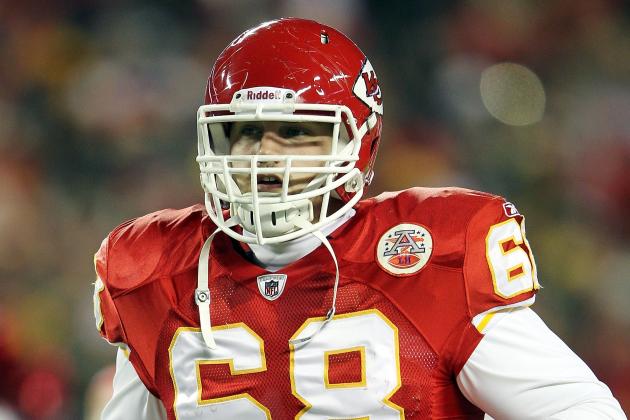 Jamie Squire/Getty Images

When Haley came to Kansas City from Arizona, he brought in a couple of Cardinals players who played for him when he was the offensive coordinator in Arizona.
Having coached in Kansas City for almost three years, Haley may try and get some offensive players he worked with in Kansas City.
One offensive player he may want from Kansas City is Steve Maneri, who played a little bit of offensive tackle and tight end this past season.
Haley may suggest this move to the Pittsburgh Steelers front office. If they pursue this trade, Haley may try to use him more.
Harry How/Getty Images

The San Francisco 49ers, a very strong defensive team in 2011, are a team that could still use more bodies at inside linebacker. Demorrio Williams would be perfect after spending four years with Atlanta and another four with Kansas City.
Williams has a lot of playing experience and has had two 100-tackle seasons, once with Atlanta and Kansas City. He can join a strong group of inside linebackers and play with Patrick Willis and NaVorro Bowman. Williams can provide a strong depth and better yet, be more active after a quiet 2011 season.
The Chiefs barely used Williams in 2011, so they might as well trade him and get some value while they can.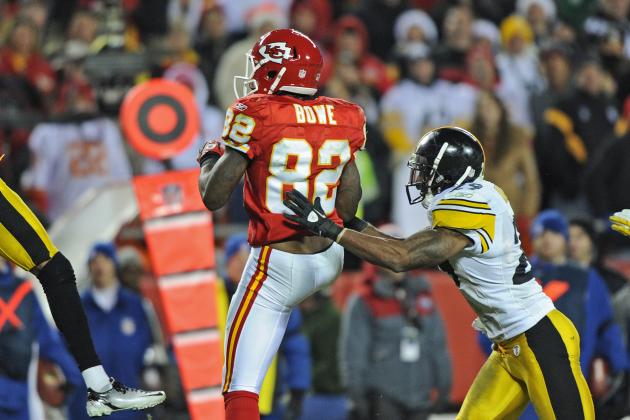 Peter Aiken/Getty Images

Fans may not like this idea. However, it is important to remember that in order to get something big in a trade, you will have to give up something valuable.
Dwayne Bowe is not the easiest player to evaluate. Bowe's career has been a roller coaster. He reached the high point under Haley in 2010, leading the league in receiving touchdowns with 15.
Haley, a former wide receivers coach, played a big role in helping Bowe develop in 2010. If the Steelers and Hines Ward are unable to come to an agreement, the Steelers should make an attempt to get a receiver. Bowe should be their first option.
This would require Kansas City to put the franchise tag on Bowe, who is without a contract. The Steelers must be cautious and not give up a first-round pick for Bowe. Pittsburgh will need that pick for themselves. Bowe has been known for dropping the ball and it would prevent some teams from giving up a first-round pick.
Bowe will also have the benefit of playing with Ben Roethlisberger, who has won two of three of his Super Bowl appearances.
If the Chiefs don't trust Bowe or are unable to come to terms with him, they won't let him slide and will make sure they get something for him if another team wants him.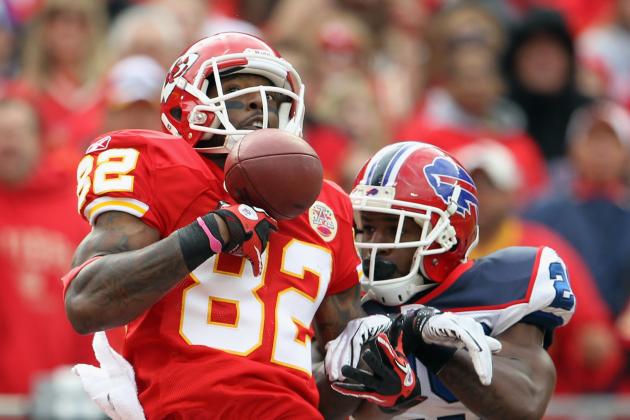 Jamie Squire/Getty Images

As said in the previous slide, some teams won't give up a first-round pick for Bowe. Buffalo, on the other hand, might consider pulling the trigger for Bowe.
During Bowe's second season in the league, Chan Gailey was his offensive coordinator. Gailey is now the head coach of the Buffalo Bills, who fell apart in the second half of the 2011 regular season.
Gailey is no stranger to Bowe and would love to bring him in to play with Stevie Johnson and David Nelson and give Ryan Fitzpatrick lots of options in the passing game.
A move like this could put Buffalo in position to become serious wild-card contenders in the AFC, unless the New England Patriots fall apart and give the AFC East away. In a division where the New York Jets and Miami Dolphins are trying to rebuild, the Bills could move ahead of them in the rebuilding process and compete for a playoff spot.
If Kansas City wins the coin toss against Seattle for the 11th pick, they would have Buffalo's 10th pick and their own 11th pick. This would allow the Chiefs to trade their 11th (or 12th) pick for multiple picks, allowing them to stretch out their options on draft day.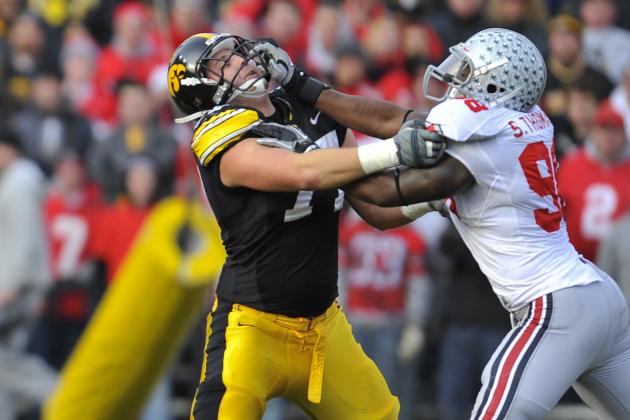 David Purdy/Getty Images

Even though some of the ideas of trading with Pittsburgh has involved a Haley connection, this one does not.
The Steelers are expected to take an offensive tackle in the draft to add some muscle at the offensive line. Cordy Nelson out of Georgie should be available by the time the Steelers are on the clock with the 24th pick.
Kevin Colbert and the Rooney family might give Clark Hunt and Pioli a call on draft day when the Chiefs are up to pick. If Riley Reiff from Iowa is on the board, then Pittsburgh might get a better option at offensive tackle.
This trade is also likely because Pioli has built a reputation for trading down in the past. He first did that as the Chiefs general manager when the Chiefs were able to get Jonathan Baldwin in last year's draft.
The Chiefs will be giving up 12 spots (or 13) to the Steelers, so Pittsburgh will have to pay them with a later draft pick.