NBA Trade Rumors: Why New Jersey Nets Must Make Deal for No One
February 14, 2012

Chris Chambers/Getty Images
Even with the New Jersey Nets 8-21 record and historically bad defense, general manager Billy King should not feel the need to make a blockbuster deal, even if it will bring them Dwight Howard.
To the Nets defense, not the one on the court, they have been the most injured team in the NBA this season.
Starting center Brook Lopez went out with a broken foot in preseason and has not played a regular season game yet. Damion James is out for the season, Deron Williams has missed games with a ribs injury. Recently signed Keith Bogans is out for the season and Mehmet Okur is still out due to back spasms. DeShawn Stevenson has been out with knee trouble while promising rookie MarShon Brooks has missed games with a broken toe. The injury list goes on and on.
Because of injuries, the Nets have been forced to use 14 different starting lineups.
Still, there is no need to panic. The Nets are going nowhere this season and the end game, which is the move to Brooklyn into $1 billion Barclays Center, is becoming more and more visible with each passing game in New Jersey.
All they can do is wait for Lopez to come back and show Deron Williams what this Nets team was supposed to be this season and convince him that even if they don't get Dwight, the future is bright enough for him to commit for the long term.
The Nets were built to run through Lopez, as King surrounded him with three-point shooters like Shawne Williams and DeShawn Stevenson (adding to the shooting of Anthony Morrow) so that Lopez could kick it out to the open man whenever he was double-teamed.
With Lopez out and no inside scoring presence, head coach Avery Johnson was forced to switch the offensive game plan on the fly, transforming the Nets into a jump-shooting team and leaving D-Will to be more of a scorer rather than a distributor.
The best route to go for the Nets is to finish strong, and head for the lottery in hopes of a high pick to fulfill their need at small forward.
They then have to focus on re-signing Deron Williams, while waiting on whether their wildest dream of adding Howard through free agency will come through.
If the reports are true that Howard and Williams would like to team up in Brooklyn, then why should the Kings and the Nets get ''Massaied'' (in honor of Denver Nuggets GM Massai Ujiri) by the Orlando Magic like the New York Knicks did in the Carmelo Anthony deal?
Mark Stein reports in his Daily Dime that if the Nets have to trade for Howard, they would have to surrender Brook Lopez, MarShon Brooks and maybe four or more first-round picks. 
With Howard reportedly narrowing his choice of who he would sign with long term down to three teams: the Nets, Los Angeles Lakers and the Dallas Mavericks, it puts the Nets in the driver's seat. All they have to do is call Orlando's bluff.
The Nets are the only team among the three that give Howard the chance to team up with a point guard of Deron Williams' caliber.
The Lakers appear to be unwilling to part with both Pau Gasol and Andrew Bynum, and even if they do, what kind of team would that look like? Howard also has said he does not want to follow Shaq's path.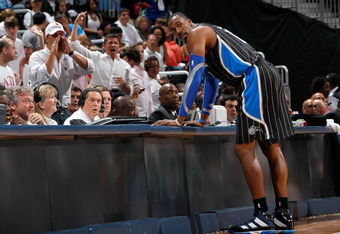 Kevin C. Cox/Getty Images
Then there are the Mavs who really have no pieces to trade and can only acquire Dwight through free agency. And that whole teaming up Deron Williams and Howard cannot happen in Dallas because Dallas simply does not have the cap room.
Now, if somehow Howard gets traded to the Chicago Bulls before the deadline, it may leave the Nets in scramble mode. But, with all the cap room they will have and the possible two first-round picks in a loaded draft, GM Billy King will have plenty of assets to play with in the offseason.
If the Nets can go into Brooklyn with a possible starting five of Deron Williams, MarShon Brooks, Michael Kidd-Gilchrist, Brook Lopez and Dwight Howard, all of the losing would be well worth it.