Knicks-Raptors Preview: Jeremy Lin Meet Amar'e Stoudemire
February 14, 2012

Rob Carr/Getty Images
Yes, I know that Amar'e Stoudemire and Jeremy Lin played together against the Nets, but that was before Linsanity blew up like it has now. Amar'e missed the last four games due to the death of his brother. Obviously, we pray for Amar'e and his family, as they continue to deal with the tragic loss of Hazell Stoudemire. Now Amar'e is back, and hopefully at peace with his brother's passing.
Even without Amar'e, this game should be an easy victory for the Knicks. The Raptors are without their main offensive weapon in Andrea Bargnani because of a calf issue. So this preview is going to look at some keys to the game, but it will also mention some things to look at concerning the progress of the Knicks.
Stop Jose Calderon
If there is one player on the Raptors who could win the game for them, it is Jose Calderon. Without Bargnani, Calderon has been asked to create more offense for others and for himself. The Knicks must make sure that he does not go off on them tonight. Having not played since Saturday, Jeremy Lin should be rested and be able to keep up with Calderon.
The Knicks cannot do what they did with Ricky Rubio in the first half against the Minnesota Timberwolves. Landry Fields did not have the foot speed to stay in front of Rubio, and he does not have the foot speed to keep up with Calderon. When Lin is not on the court, the Knicks should look to put Iman Shumpert on Jose Calderon. He is the Knicks best combination of strength, size, quickness and hands (he should have those things insured) defensively on the perimeter.
If the Knicks stop Jose Calderon, then there is little the Toronto Raptors can do offensively. DeMar DeRozan has not developed a consistent perimeter game. About 75 percent of his field goal attempts are jump shots, and his effective field goal percentage is 35.7 percent. That is horrendous. Other than those two, there are no players of real offensive quality.
Defensive Rebounding
The easiest way for a bad offensive team to score points is by out hustling the other team. While Toronto does not have any skilled rebounders, they do have people that will give effort on the glass. Look for how the Knicks deal with Amir Johnson, Ed Davis and Aaron Gray because these guys will not give up on the play. In fact, their hustle led to the Lakers out rebounding the Raptors by just three on Sunday. As long as Amar'e commits himself to crashing the boards, this should not be a problem because no one should question Chandler and Jeffries' commitment to crash the boards.
Are Amar'e and Lin a Fit? Signs Point to Yes.
While there is some debate about how Carmelo Anthony and Jeremy Lin will mesh, there should be no problem with Amar'e Stoudemire and Jeremy Lin meshing. For all of Stoudemire's offensive ability, he is not an isolation player. If you want Amar'e to be at his best, you do not just give him the ball and say attack.
He excels at the pick-n-roll. His ability to both roll and finish in the pick-n-roll is among the best in the NBA. With Jeremy Lin, he has a point guard who runs the pick-n-roll better than any point guard he has ever played with. OK, I guess there was that guy in Phoenix—Nash, right?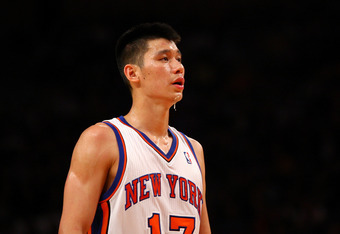 Chris Chambers/Getty Images
On ESPN, Doug Gottlieb raised the idea that Amar'e and Tyson Chandler will have spacing issues that will disrupt the pick-n-roll. I do not believe that will happen. Remember, Jared Jeffries and Tyson Chandler were the 4 and the 5 when Lin runs most of his pick-n-rolls. How much spacing does the jump shooting ability of Jeffries provide? In fact, the pick-n-rolls with Tyson Chandler should be more effective because Amar'e is a legitimate threat from 15 feet. So I don't see spacing as an issue and I do not think the pick-n-roll's effectiveness.
Look for who gets the majority of the pick-n-roll opportunities in this game. I feel that in this game the Knicks will look to incorporate Stoudemire more than Chandler. However, as the season goes along, the matchup will probably dictate who gets more opportunities running the pick-n-roll. And that's how it should be.
Defense
There have been many aspects of the Knicks that improved, but were ignored during Linsanity. Among these were Steve Novak's shooting, Iman Shumpert's play off the bench and Landry Fields full return to the form we saw at the beginning of his rookie season.
The one I want to focus on was the improvement of the Knicks on the defensive end. With Jared Jeffries playing the four with Chandler, you had two men committed to defense and who understood where to be on the court. Jeffries' hustle, intangibles and Duke-esque ability to take charges made the Knicks a better rebounding and defensive team. With Amar'e Stoudemire coming back, look to see how the Knicks play does or does not suffer defensively. At first, it makes sense that a player like Amar'e replacing Jeffries would make the defense worse.
However, Amar'e's problems on defense usually came on defensive rotation and his inconsistency in his effort. What we have seen with the Knicks with Jeremy Lin is increased energy and focus on both sides of the ball. That increased focus and energy has led to better performance when it comes to perimeter defense. And if you stop getting beat off the dribble, then your big men do not have to rotate as much—that brings us to focus.
If you have played basketball, it is much easier to maintain a high level of focus when the ball is moving and the team is playing like a team. That is what you see with these Knicks. So, if this theory about team basketball holds true, then you should see Amar'e's focus on the defensive end increase and be more consistent. So look to see how the team plays defensively with Amar'e in the game because how this team defends when Carmelo and Amar'e come back will determine how far this team could go.
Iman Shumpert— Sixth Man
While Iman Shumpert has showed a knack on the defensive end (more on the ball than off the ball), he was wildly inconsistent, and at times, lost on offense. I attribute that mostly to the Knicks having him play point guard. Iman Shumpert is not a point guard. He is a man who can defend the positions one through three, but on offense he is a slashing wing. Especially in the last two games, Iman has looked to attack the basket more and has shown more confidence in his jumper.
The way it looks now, this will be Shumpert's role for the team this season. It is probably the role best suited for him as he can be more aggressive on offense. Playing against bench players will allow him to create more turnovers, which will allow the Knicks' second unit to score more easy points.
Look for the Knicks to win this game and use it more to help develop the relationship between Jeremy Lin and Amar'e Stoudemire on the offensive end. On a side note, if Lin keeps doing what he is doing, eventually we will have to stop talking about how Jeremy Lin's play astounds us. It astounds us because he has blown away our initial expectations of him. The day that he puts up 16 points and 10 assists and we shrug our shoulders, that is the day Jeremy Lin proves to everyone that he is for real.