MLB Trade Rumors: 8 Factors to Consider If Red Sox Deal Jacoby Ellsbury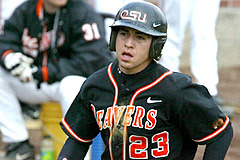 Ellsbury led Oregon State to its first College World Series appearance in 2005.
Of course the Red Sox would deal Jacob Ellsbury—for the right price. After all, little sentimentality is left in the big business that is baseball.
Kerry Eggers of The Portland Tribune put the former Oregon State great's 2011 season in perspective. She points out that he led the majors with 364 total bases and 83 extra-base hits, and he finished in the league's Top 10 in virtually every offensive category, including batting average (.321), doubles (46), home runs (32), runs (119), RBIs (105) and stolen bases (39). He also earned a Silver Slugger award.
Eggers also went deeper.
He broke Darin Erstad's major-league record for RBIs from a leadoff hitter (100 with the Angels in 2000), became the first Boston player with a 30/30 (homers/stolen bases) season and joined Alex Rodriguez, Vladimir Guerrero and Alfonso Soriano as the only major-leaguers ever to reach 200 hits, 100 RBIs, 35 steals and 30 homers in a single campaign.
At Madras High School in Oregon, Ellsbury was a four-year letterman in baseball. He holds state records for career batting average (.567), total steals and stolen bases in one game (seven). He was caught stealing only once in four years.
He also lettered four years in football, posting nine interceptions and six kickoff returns for touchdowns. He lettered only three years in baseball while averaging 23.6 points per game and 4.4 blocks per game.
In his last season at Oregon State (2005), he hit .415 with 17 doubles and 21 steals. He was Pac-10 Conference Co-Player of the Year and a First Team NCAA All-American.
Pat Casey, his college coach, told Eggers: "He did things nobody has ever done. Offensively, he was incredible, and he was maybe the top defensive center fielder in the game."
While pundits focused on his tremendous offensive production in 2011, he also earned his first Gold Glove. He did not commit an error in 158 games, being one of only two qualifying outfielders to post a 1.000 fielding percentage. In fact, he holds the Red Sox record, with 232 games and 554 chances without an error.
There is no question he is the real deal.
Ellsbury and the Red Sox avoided arbitration this year by agreeing to a contract worth a tad over $8 million, according to MLBTR's Ben-Nicholson-Smith. That's a decent raise from the $2.4 million he earned in 2011, but it's is a drop in the bucket compared to what he could earn as a free agent after the 2013 season.
That is the primary factor the Red Sox will have to consider. Are they prepared to pay what it will cost to sign Ellsbury to an extension? It would not be out of the question for him to earn $150 million or so on a seven-year free-agent deal—so long as he can maintain decent production the next two seasons.
Can—and should—the Red Sox sign him to a long-term deal? Or are they better off trading him?
Here are the main factors to consider.
Begin Slideshow

»

Graph developed by Scott Pianowski | Roto Arcade
Maintaining that production is the key.
Was 2011 an aberration, or can Ellsbury put up similar seasons an a consistent basis going forward? Almost all the prognosticators agree that he will fall back to earth (at least somewhat) in 2012.
Scott Pianowski of Roto Arcade collected seven different Ellsbury projections for the coming year, including Bill James, Fantasy Baseball Index and Lindy's Fantasy Baseball (for which Pianowski provided the outfielder write-ups and projections).
Pianowski suggests throwing out the Fantasy Baseball Index projection (the lowest one in the graph above) because he thinks that index was based on three-year averages, which would have included Ellsbury's lost 2010 campaign.
"It's a folly to bank on 32 homers again, but the 20 spit out from this exercise looks like a fair over/under," he concludes.
On the other hand, Dan Szymborski of Baseball Think Factory reminded everyone on ESPN Insider that Ellsbury's preseason OPS projected for 2011 was .733.
The actual was .928.
The bottom line, he concludes, is that "setting expectations for players after an overachieving season can make or break you down the road."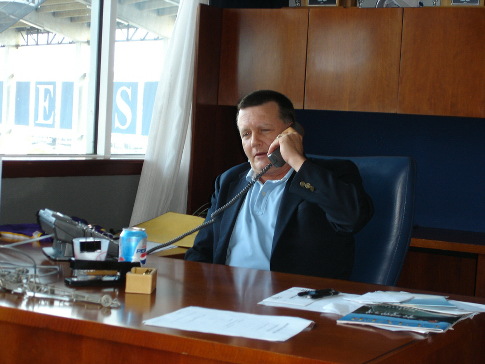 "Cashman, $189 million and not a penny more!" says Hank Steinbrenner.
A few days ago, Red Sox President Larry Lucchino told Evan Drellich of MLB.com (via twitter), "I suspect you're going to see that we're going to fly by the luxury tax."
That's for 2012. Don't expect it to happen quite so willy-nilly in the following years.
As Chip Buck very effectively put it in a column for FireBrand of the American League,"Despite what some people would like you to believe, the luxury tax is not a joke and the penalties are severe."
The bottom line is that the Red Sox will make every effort to have a payroll of $189 million or less in 2014 when that becomes the luxury tax threshold under MLB's new Collective Bargaining Agreement.
Any team that is at $189 million or less for the three seasons from 2014-16 will completely avoid a luxury tax that would rise to a very painful 50 percent for repeat offenders like the Yankees and Red Sox.
As Joel Sherman of the New York Post explains:
[The Yankees] also would get roughly $40 million in savings via the new "market disqualification revenue sharing program," which is designed to prevent big markets such as Toronto and Washington from receiving revenue sharing dollars no matter how low their payrolls may be.
When that program goes into effect, it will reduce the amount of revenue sharing dollars teams such as the the Red Sox and Yankees will have to fork over, so long as they are under the luxury-tax threshold.
And even if they just went under $189 million for one year (2014, let's say) before going over again in 2015, the Red Sox (or the Yankees) would still benefit enormously, explains Sherman. Even though they won't get the $40 million, they could still get $10 million in the revenue sharing disqualification program.
By being just under that $189 million payroll number once, the Red Sox and Yankees would drop back to having a 17.5 percent tax rather than the 50 percent that begins in 2014 for them if they never go under.
Baseball is still a business, and these are amounts of money (returned or saved) that even the most profligate teams can't ignore.
So how does this relate to signing Ellsbury?
If the Red Sox can't get under the threshold for either the 2012 or 2013 season, they'll be in a poor position to re-sign him. They'll be subject to a 50 percent tax on every dollar spent over $189 million going forward.
Let's say that Ellsbury asks for an eight-year, $160 million deal (that's what Matt Kemp just got from the Dodgers). If the Red Sox are over the threshold, it could conceivably cost them as much as $270 million over the life of that contract—not the $180 million Ellsbury would cost another team that's under the spending limit.
Granted, that's a worst-case scenario, which would happen only if the rest of the team payroll without Ellsbury totalled $189 million each year for the duration of Ellsbury's contract.
But I present it to illustrate the basic problem.
For the full text of some very detailed articles about how this new luxury tax will affect both the Red Sox and the Yankees, please click on these links:
Matt Kory, Over the Monster
Chip Beck: two features, FireBrand of the American League, here and here.
Joel Sherman, New York Post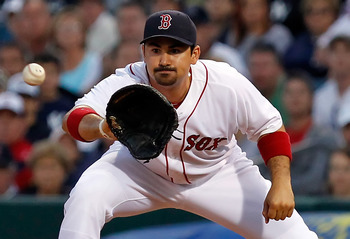 When Ellsbury becomes a free agent, Adrian Gonzales will be making $21 million per year.
Perhaps this should really be 2a, because the total team payroll and the luxury tax are inseparable. Just as importantly, payrolls and salaries are escalating at a much faster rate than the luxury tax threshold.
As Adam McDonald points out, with that luxury tax in mind, by the end of the 2013 season at least four Red Sox players will be earning more than $15 million annually. Two others will be making more than $20 million. "In the two seasons after that, Dustin Pedroia, Jon Lester and Clay Buchholz will all see their contracts expire," writes McDonald.
It's unrealistic for fans to look at team payroll only one year at a time. That only works if every player has a one-year deal. Decisions the Red Sox made last year and the decisions they are making now will have a big impact on 2013, 2014 and beyond.
As Chip Buck wrote in December, "Assuming the Red Sox pick up Jon Lester's option (and I don't see why they wouldn't), the club would have $94.65M committed to seven players in 2014, and that's before factoring in the deal Jacoby Ellsbury's likely to command."
Clearly, that's not a position they want to be in.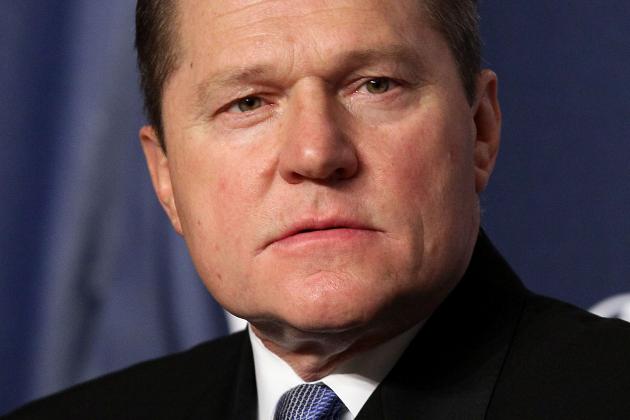 Jim McIsaac/Getty Images

The problem for the Red Sox, writes Ken Rosenthal of FOX Sports, is that Boras typically likes to see his clients hit free agency, making an extension less likely.
"Boras doesn't believe in hometown discounts," wrote Ross Newhan of the LA Times.
"The market at the end of 2013 is going to be much different than the market of 2010," Boras told John Tomase of the Boston Herald. "It's going to be widely more aggressive. The reason is there are just fewer players who can do what [Ellsbury's] doing."
Ben McGrath penned a lengthy article about Boras in the New Yorker in 2007. He wrote that agents such as Boras have a huge advantage when representing big clients, because they are in touch with multiple teams, who are, in turn, forbidden to communicate with one another. This is called "information asymmetry."
"Controlling the flow of that information—between the teams, the media, and the players—is an essential component of the Boras methodology," wrote McGrath.
Another agent said of Boras, "In terms of negotiation, this guy is an absolute special-forces guy. The prison interrogations—he's one of those."
One of the recruiting tools agents not named Scott Boras used to lure prospects to their firms is the argument that some teams will do whatever they can to avoid Boras clients.
And with good reason.
Boras is the founder of a sports agency representing some 175 professional baseball clients, including many of the game's highest-profile and highest-paid players. With the nine-year, $214 million Prince Fielder deal, Boras has now brokered three of the four $200 million-plus deals in the history of the game (the other two being Alex Rodriguez's deals with the Texas Rangers and New York Yankees).
McGrath reminded readers that at Baseball America's 2006 annual banquet, Boras was named the game's most influential non-player in the 25 years since the magazine began publishing, beating out the current Major League Baseball commissioner, Bud Selig, and union leader Donald Fehr.
This does not bode well for Boston's ability to sign Ellsbury before he tests free agency, and might be a deciding factor in a trade decision.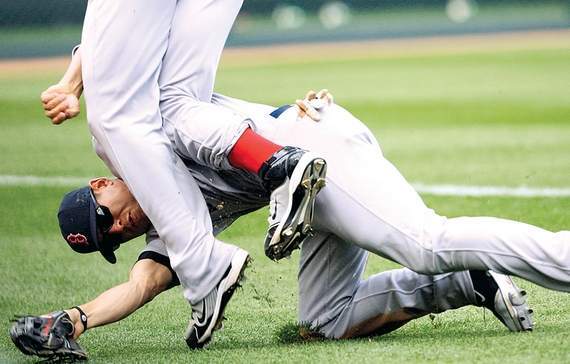 Ellsbury, bottom, collides with Adrian Beltre while trying to catch a foul ball in April, 2010. Photo by Orlin Wagner / The Associated Press
One of the greatest disincentives to a long-term deal is the team's fear that the player will get hurt, not perform or both. (Daisuke Matsuzaka and John Lackey come to mind.) Conversely, players seek long-term deals to provide security in case they do get hurt.
So, part of the Red Sox decision process will be the team's analysis of how well Ellsbury's body will hold up in future years.
On the plus side, he's still only 28.
However, as Ben Nicholson-Smith pointed out recently, in 2010 Ellsbury had "nearly as many trips to the disabled list (three) as he did extra base hits (four), which tells you much of what you need to know about his season."
In that 2010 campaign he hit only .192 in 18 games after a frustrating series of rib injuries. To his credit, Ellsbury roared back to win the AL comeback player of the year award in 2011.
The question the Red Sox must answer is, "Which type of season is Ellsbury more likely to have a few years down the road?"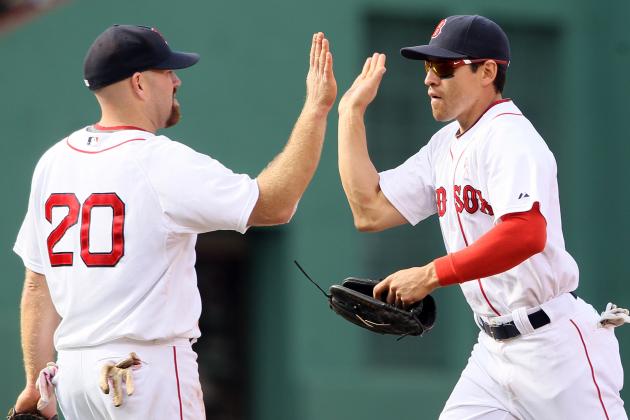 Elsa/Getty Images
Behind the scenes, things are reportedly chilly between these two Bosox stars.
When Ellsbury earned the AL Comeback Player of the Year Award for 2011, he told Kerry Eggers of The Portland Tribune, "It was nice to win that award. I put a lot of work into the offseason and knew I'd come back stronger and be a better player because of it. But at the time, it was tough. You have to be mentally strong after what I went through."
"What he went through" included fans and media questioning his toughness, and criticism from teammates—most notably Kevin Youkilis—who did not like his idea of Ellsbury rehabbing away from the team.
After the September Collapse, Bob Hohler wrote an in-depth article for the Boston Globe, which included this commentary about Ellsbury:
As joyful as Ellsbury's MVP-caliber season was to many fans, his interaction in the Sox clubhouse was limited mostly to his friend Jed Lowrie. Ellsbury produced one of the most sensational seasons for a leadoff hitter in franchise history—he also ranked with [Dustin] Pedroia, [Alfredo] Aceves and Jonathan Papelbon among the team's hardest workers—but he contributed little to the clubhouse culture.
A couple of weeks earlier, ESPN Boston's Jackie MacMullan expressed a similar sentiment, although she was more sympathetic to Ellsbury, whom she described as "an MVP candidate, a magnificent player with the brightest future of them all."
His teammates like and admire him, she reported, but he minds his own business and seems to have only one close friend on the team—the since-traded Jed Lowrie.
"Can you blame him?" she wrote. "His teammate two or three lockers to his left [Kevin Youkilis] continued, as recently as two months ago, to publicly question Ellsbury's decision to retreat to Arizona last summer for treatment for broken ribs."
If this clubhouse chilliness is more than a figment of media imagination, it may be another disincentive for Ellsbury to want to stay in Boston.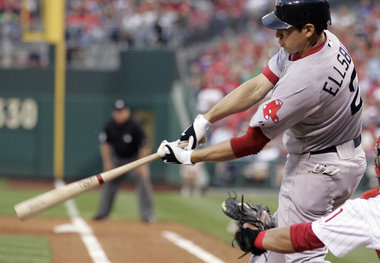 Timing is an extremely important consideration in the evaluation of any Ellsbury trade. Every day closer to free agency diminishes his value to some teams. Every day that passes also increases the risk involved with Boston signing him to a long-term deal.
The great imponderable is his 2012 performance. If he comes out of the gate hot, that will simply increase his price tag and make it more likely that the Ellsbury/Boras team will want to take their chances in free agency.
On the other hand, if he drops off considerably, that might make it more difficult for the Red Sox to get the blockbuster return they would be hoping for in a trade (although it could make it easier to sign him to an extension).
Ellsbury will have one year left after 2012, so if the Red Sox are thinking about a trade they will probably roll the dice and wait until the end of the 2012 season. The only way I could see him moving at this year's trade deadline would be if Boston's starting pitching implodes, or if they are absolutely blown away by an offer.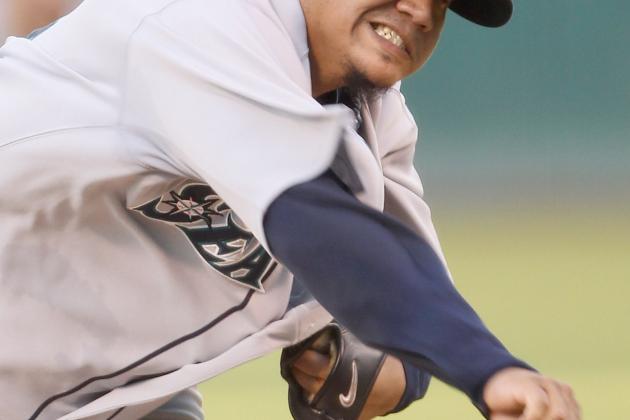 Ezra Shaw/Getty Images
If the Red Sox trade Ellsbury, they would expect a stud pitcher (such as Felix Hernandez) to be part of the deal.
Last but certainly not least, what can an Ellsbury trade yield the Red Sox?
According to FanGraphs, the best players in baseball produce a "Wins Above Replacement" (WAR) score of an eight or a nine. Jacoby Ellsbury led 2011 with 9.4 WAR, followed by Matt Kemp at 8.7, Jose Bautista at 8.3, Dustin Pedroia with an 8.0 and Ryan Braun, 7.8.
Ellsbury is a superstar at 28, and if they do trade him, the Red Sox should be able to put a package together that nets them one of the stud starters in all of baseball. If they can't cobble together that kind of a deal, then they should not trade him.
Looking at other team needs, Seattle is in desperate need of offense, especially left-handed offense to take advantage of the short porch in right at Safeco.
Seattle has an abysmally bad offense—so bad that many superb pitching efforts are wasted. This year they were dead last in all of MLB in most offensive statistics: batting average, on-base percentage, slugging percentage, runs batted in, runs scored, hits and OPS.
In the process, the Mariners set the franchise record for worst-ever team batting average (.233), breaking the previous record, set in 2010, of .236.
Their .292 on-base percentage followed a .296 on-base percentage in 2010, making Seattle the first team to have an on-base percentage of under .300 since mound was lowered in 1969.
Ellsbury could be the keystone in a deal that brings Felix Hernandez to Boston.
San Francisco, like the Mariners, is built on starting pitching. With Lincecum, Matt Cain, Madison Bumgarner, Ryan Vogelsong and top prospect Eric Surkamp waiting in the wings, the Giants are loaded on the mound.
While the Giants' pitching is top-notch, calling their offense "impotent" would be a gross understatement.
The Giants finished dead-last in the National League in runs scored last season, and even with a pitching staff that finished with better numbers than in the championship 2010 campaign, the impotent offense sank San Francisco's playoff chances down the stretch.
Only Pablo Sandoval hit more than 14 home runs.
Other teams with strong pitching staffs and needs in other areas are the Nationals and the Braves. Washington in particular has been beating the bushes for a center fielder.