NFL Free Agency 2012: 6 Free Agents That Won't Get the Top Money They Deserve
February 13, 2012

Chris Graythen/Getty Images
The way NFL teams operate is often a strange balance of the obsessive pursuit of a competitive edge and ill-informed overspending. Nothing represents that schism more clearly than the couple of months early in the offseason that we are about to launch into—the draft and free agency.
While teams seem to do every possible bit of due diligence for the draft, plenty seem to take a far more ill-informed, shot-in-the-dark gamble with free agency.

In fact, the more I talk to NFL teams, players and executives, the more it becomes apparent that their real knowledge about the players in this league is way less than the mystique suggests.
It's not surprising when you really think about it. Pro Football Focus has a team of people watching and analyzing tape full-time during the season to build up a complete picture of how every player plays—the few pro scouts that each team employs don't have that kind of time or inclination.

Unless a team plays against somebody that season, they really don't know that much about him. Every season, that leads to a vast sum of money being thrown around—wasted on players that will never justify that overblown contract.
Free agency is essentially an auction, and people at auctions tend to get carried away by the bidding process itself and forget the value of the thing they're bidding on. Or worse, they simply do not have the opportunity to fully appraise the value of it. Only once you have paid the money do you get the item back home and discover it wasn't quite what you thought it was.
The same is true for NFL free agency, except with all the money on the line, there really isn't a good reason for NFL teams not to be better informed about the players coming on the market.

The flip side is that there are players every year who not only get ignored in awards season and Pro Bowl balloting, but who fly completely under the radar of the bidding war and wind up undervalued by the market.
These players wind up as somebody's consolation prize, almost a spending-spree afterthought. They're well under the contract figures that they deserve to be paid, but often the best acquisitions of the offseason.
Evan Mathis, Offensive Guard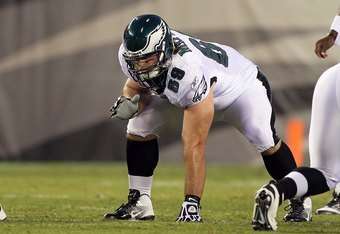 Jim McIsaac/Getty Images
Evan Mathis is a textbook under-the-radar player. Seen by most as an NFL journeyman, Mathis has now played for four teams in his NFL career, but only once has been allowed to settle in one position and been given the opportunity to start—this season in Philadelphia.
He responded by ending the season as PFF's best-graded guard.

Before the Eagles, Mathis found himself stuck in a bizarre rotation of left guards in Cincinnati. Despite clearly outperforming Nate Livings in that rotation, he kept winding up back on the bench.
His play at the time suggested he would be a bargain pickup for somebody last season, and the Eagles signed him to a one-year deal at the veteran minimum in the midst of their free-spending offseason. He was (by far) their best value pickup and may have been the best addition they made overall.
Mathis was nearly three times better at run-blocking than any other guard by PFF's grades and didn't allow a single sack all season.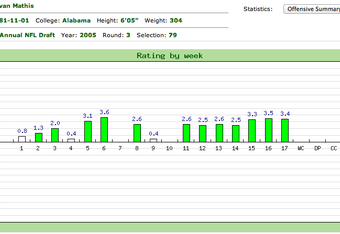 Perhaps the most impressive aspect of his play was the amazing consistency over the year. Mathis ended the season with 10 straight games with a PFF grade of between plus-2.5 and plus-3.6.
Despite all this he still missed the Pro Bowl and received just two All-Pro votes (out of 50), and even if he does get a healthy multi-year contract this offseason, it will likely fall some way short of the big dollars paid to the so-called elite players at his position that he was more than equal to. 
Jared Gaither, Offensive Tackle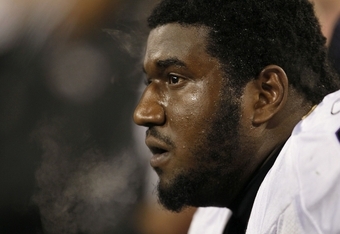 Jonathan Daniel/Getty Images
The San Diego Chargers started well last season but were nearly undone by one injury to their left tackle, Marcus McNeill. When forced to play Brandyn Dombrowski at left tackle, it was little short of a disaster.
In fewer than half the number of pass-protecting snaps of McNeill, Dombrowski allowed twice the number of sacks (six), one more knockdown of Philip Rivers (three) and just one fewer pressure (17).
The Chargers then took a gamble on a hugely talented but rarely motivated player in the shape of Jared Gaither, who had recently been cut by the Kansas City Chiefs.
Gaither went on to lock down the left tackle spot for the Chargers for the remainder of the season. In the five games that he played, he didn't allow a single sack or knockdown, and allowed just three total pressures despite 15 more pass-protecting snaps than Dombrowski had played.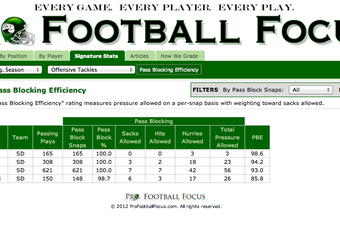 Gaither may be the single most physically talented tackle in the NFL and has the skills to be a top-five player at his position, but he has had injury concerns in the past, and there have always been rumblings surrounding his motivation.
There are concerns with Gaither, but dating back to his high school days, he has always been a happy camper when he has been at left tackle, and the potential payoff for a team is huge. Some team will wind up with a bargain, but if his previous stints on the market are anything to go by, it will do so at a huge discount rate.
Jarret Johnson, Outside Linebacker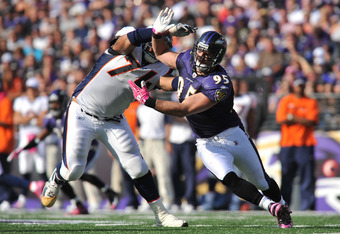 Larry French/Getty Images
There's a tendency in the NFL to want the players that make the impact plays—the SportsCenter highlights—if only because those are the guys people see more often and therefore feel they have a better handle on.
Guys who do the dirty work get a lot less recognition, yet they are at times more important than the ones making the tackles and getting the credit on the play.
There isn't a linebacker in football better at setting the edge than this former college defensive lineman. Johnson is a big, strong, run-stuffing linebacker who excels at forcing runs back inside towards his fellow linebackers. He isn't troubled by lead blockers or pulling linemen, and he's a player that has a constant positive impact on the run defense without racking up huge tackle figures or making the highlight reels for his big hits.
The league consistently undervalues the hard-nosed, gritty players like Johnson, but as a two-down player he could transform a team's run defense as a strong side linebacker or a 3-4 outside linebacker.
He will likely do so for somebody at a fraction of his true worth.
Erin Henderson, Outside Linebacker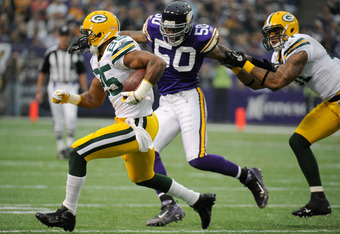 Hannah Foslien/Getty Images
Erin Henderson had a breakout season in 2011, but hardly anybody noticed.
The younger brother of longtime Vikings middle linebacker E.J. Henderson, Erin was handed the starting job before the season when the Vikings chose not to re-sign Ben Leber. He responded by playing extremely well against the run, attacking the hole well and giving opposing lead blockers serious problems.
Erin also saw some time as a three-down linebacker when his brother missed time. In those nickel snaps, he also displayed surprisingly good instincts in coverage from the middle of the field and was able to make plays against superior athletes either in the flat or deep with his back to the quarterback.
For whatever reason, the national media never caught up to the level of play Henderson was reaching, and while the Vikings were quick to lock down center John Sullivan when he upped his performance, they haven't yet done so with Henderson.
Teams like to think they can find linebackers pretty easily, and they often fail to get the contracts they deserve in free agency.
Erin Henderson was once thought of as a stud prospect at Maryland before injuries killed his stock and left him undrafted, and we saw why this season. A savvy team can bag itself a Pro Bowl-caliber player in free agency, but likely at a huge discount compared to the cost of a guy who has already earned his Pro Bowl spot.
Sione Pouha, Defensive Tackle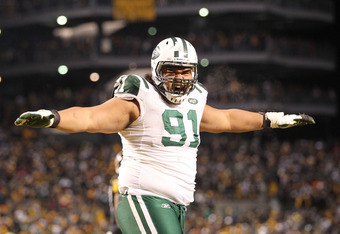 Ronald Martinez/Getty Images
The big Jets nose tackle is the defensive line version of Jarret Johnson. Everybody notices the linebackers making tackles in the backfield, but not many trace the open lane back to the big guy eating two blockers and keeping them engaged at the line of scrimmage.
Sione Pouha is one of the league's true run defense specialists. He is incredibly difficult to move at the point of attack and constantly squeezes running lanes anywhere near him, killing runs even if he isn't the one making the tackle. He is also excellent at working his way down the line through trash and influencing runs that are designed to pass well outside of his alignment.
Pouha is 32 years old, but because of time spent on a Mormon mission in college, he has plenty of tread left on his tires. He enters free agency with only three seasons of full-time action and three more as a bit-part player for the Jets.
Over the past four seasons he has averaged just 447 snaps a season, which is less than half the snaps Vince Wilfork played this year for the Patriots.
Former Vikings defensive tackle Pat Williams enjoyed some of his best football late in his career as half of the Williams Wall for Minnesota, and he came to them a similarly impressive player with little wear on his tires through not playing early in his career in Buffalo.
Nobody likes committing big money or lengthy contracts to guys of Pouha's age, but the signs are there that on this occasion it would be smart money to spend. Some team could find itself with another Pat Williams on its hands.
Brent Grimes, Cornerback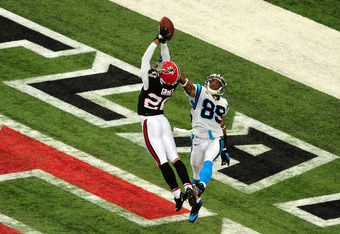 Scott Cunningham/Getty Images
It's a very strong free-agent crop of cornerbacks this season, which means it's a buyer's market and one or more of those cornerbacks is going to fly under the radar as a forgotten bargain.
I suspect that player will be Brent Grimes. He isn't the youngest corner on the market, nor the one with the most interceptions or the most imposing physique, but he may just be the best pure cover corner available.
Grimes has steadily improved for the Falcons and dramatically outplayed their big-money free agent Dunta Robinson in their defense. Last season he was PFF's second-graded corner, trailing only Darrelle Revis, and the coverage numbers back that up. He allowed just 25 receptions all season (10 fewer than Revis) for just 258 yards, albeit partially through missing four games.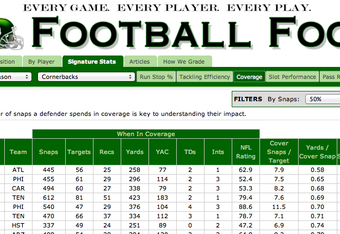 Only Asante Samuel and Jacob Lacey allowed a lower average amongst starting corners who do not cover the slot, and those two only by a tenth of a yard per reception. Grimes also got his hands to a dozen passes to break them up, and opposing passers throwing into his coverage had a rating of just 62.8 on the season.
Grimes doesn't do anything to leap off the stat sheet or tape, but he is always in tight coverage, making throws tough for receivers and quarterbacks, and is rarely beaten.
In a buyer's market, teams will chase the youth or the guys with the interception numbers, but Grimes outplayed them all last season and may end up settling for a second-rate contract because teams haven't watched the tape closely enough.
Sam Monson is one of the core team members at ProFootballFocus.com, a website that analyzes every player from every snap of every game in the NFL season and provides a whole host of unique data, stats and gradings.