Spencer Massey, John Force, Greg Anderson Score Wins at Pomona Winternationals
February 13, 2012

Rusty Jarrett/Getty Images
The Winternationals is a prestigious race that marks the start of a new NHRA Full Throttle Drag Racing Season, and it did just that on Sunday in Southern California at Auto Club Raceway at Pomona.
With a new year, new teams, new faces and some veterans returning, it sometimes can be a cruel sport but one that everyone loves and has a passion for.
Sunday's eliminations at Pomona saw the debut of Courtney Force in the Traxxas Funny Car as she made a impressive debut making it to the second round.
Alexis Dejoria also made her debut last year in Dallas but started her first full season with last year's Top Fuel Champion Del Worsham. They went up against John Force. She lost, but has a bright future as does Courtney in NHRA.
It was a close call between Jack Becknam and Gary Densham Sunday as they were in round two. When Jack's Valvoline NextGen car came across the center line and made very slight contact with Densham, this could've been alot worse.
On Saturday, Mike Austin in Top Alcohol Dragster had a horrific accident at the dragstrip but walked away unhurt. If you get a chance to see the accident, you will understand that NHRA is putting safety first and more great technology is still coming.
In the semifinals John Force went up against Gary Densham while Force took the win. It was an impressive run for Densham who runs a limited schedule.
Mike Neff went up against Ron Capps in the semifinals. Neff taking the win sets up an all-John Force Racing final with Castrol being a big winner for the team and sponsors either way. John Force would go up against Neff in the final, and Neff was late off the starting line by a bunch.
John Force went to his 215th final collected career win of 134, just adding to his impressive round win record and championships. He is without a doubt the icon of NHRA. His numbers will stand for a long long time.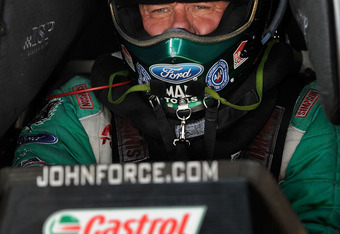 Rusty Jarrett/Getty Images
In Top Fuel, it was Morgan Lucas taking the top spot in Qualifying Saturday after putting together
some great runs on Thursday and Friday. Lucas entered Sunday as the defending winner of the
Winternationals and was impressive early going rounds until a part failure cost them a shot
at the final on Sunday.
Khalid alBalooshi making his debut with Al Anabi racing went out in round one and Shawn Langdon didn't have the best start to the season either. Still, watch out  because these guys will be big players in 2012.
Spencer Massey looked unstoppable on Sunday running low e.t. all day, getting lane choice and taking the victory in the final against Antron Brown. Massey is going to be a heavy hitter in 2012. He could be a serious title contender after the runs they put together in 2011. There's no question he has the team and is a great driver.
Pro Stock was very interesting this weekend as Jason Line earned No. 1 qualifier from Mike Edwards, who dominated qualifying on Thursday and Friday. Line took the top spot Saturday and Summit Racing was strong on Sunday going rounds.
Jeg Coughlin made his return in a Mopar. Watching Saturday's qualifying, you would've thought he was struggling bad but they turned it around on Sunday. Jeg went all the way to the semifinals, defeating Mike Edwards who red-lighted and went up against Greg Anderson in the final.
In Summit Racing, Anderson was up against Coughlin, and it was a battle of the titans to say the least. Anderson would take the win and score his 5th Winternationals Victory, but you have to give it to Jeg, who was impressive in his return making a final-round appearance. Give them time. They will be a contender in 2012.
The NHRA Full Throttle Drag Racing Series heads to the southwest next weekend for the Arizona Nationals at Firebird Raceway. Remember to tune in to ESPN2 for all coverage next week with the Qualifying Saturday at 8pm et and Finals on Sunday at 9pm et.
Sources: NHRA, ESPN2