2012 NASCAR Budweiser Shootout: Changes, Stats and Facts
February 12, 2012

Jerry Markland/Getty Images

Racin' with Russ - Well, it's time to drop the first NASCAR green flag of the season and what better way to kick things off than with a high-speed, high dollar Sprint Cup race known as the Budweiser Shootout.
This year's event has some changes from previous years, but the event should be just as entertaining as before. The changes start with eligibility. Last year, the first entrants were the dozen from the Chase. Cooler and smarter heads prevailed when someone decided to change this to all of the top 25 in points from last year.
Add to criteria previous winners at Daytona, including the Daytona 500, Coke Zero 400 and Budweiser Shootout events [not already in by being in top 25] and you have the basic makeup of this years competitors.
The list includes: #14-Tony Stewart, #99-Carl Edwards, #29-Kevin Harvick, #17-Matt Kenseth, #2-Brad Keselowski, #48-Jimmie Johnson, #88-Dale Earnhardt Jr., #24-Jeff Gordon, #11-Denny Hamlin, #39-Ryan Newman, #51-Kurt Busch, #18-Kyle Busch, #15-Clint Bowyer, #5-Kasey Kahne, #43-A.J. Allmendinger, #16-Greg Biffle, #27-Paul Menard, #56-Martin Truex Jr., #9-Marcos Ambrose, #31-Jeff Burton, #42-Juan Pablo Montoya, #55-Mark Martin, #?-David Ragan, #20-Joey Logano and #?-Brian Vickers.
Other possible entrants include Bill Elliott, Geoff Bodine, Derrike Cope, Michael Waltrip, Jamie McMurray, Trevor Bayne, Terry Labonte and Ken Schrader. Final combos of sponsor, car and driver are being put together as we speak.
Budweiser Shootout Format

The race distance will again be 75 laps (187.5 miles), which will consist of two segments, 25 and 50 laps. Both green-flag laps and yellow-flag laps will count. In between segments, there will be a 10-minute pit stop allowing drivers to pit to change tires, add fuel and make normal chassis adjustments.
Crews will be permitted to work on cars and be allowed to perform functions they would do on a normal pit stop in a regular NASCAR Sprint Cup event. All work must be performed on pit road or in the garage with the changing of springs, shock absorbers or rear-ends not permitted.
In lieu of qualifying, starting positions will again be determined by a blind-draw at the annual Budweiser Shootout Draw Party on Friday, Feb. 17 where drivers randomly choose a Bud bottle with a hidden number which decides where they'll start.
The Race

The first Shootout took place way back in 1979 when Buddy Baker crossed the finish line first in an Oldsmobile earning the driver $50,000. This year's winner will pocket in excess of $200,000.
With this kind of money on the line in a non-points event, the gloves are certainly off, where driver's such as Kyle Busch or Kevin Harvick would take out their momma to get that big dough.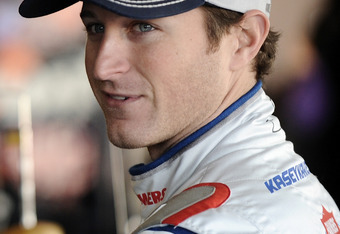 Jared C. Tilton/Getty Images
This year's winner? Early Las Vegas odds have Kevin Harvick as the odds on favorite at 8-1. Others high in the betting odds include Kyle Busch, Dale Earnhardt Jr and Jeff Gordon, all at 10-1.
Me? I'm going to go out on a limb and pick last year's winner, despite being in a totally different car, Kurt Busch or Carl Edwards with something still to prove.
The green flag for the event is slated to start shortly after 8 p.m. on Saturday night, aired live on FOX networks.
By the way, be prepared to see a number of very special paint schemes designed just for this event in addition to the many changes implemented to the cars for restrictor plate events.
From Rumorville
Last week, Hendrick driver Kasey Kahne underwent outpatient surgery on a torn meniscus.
He was released from the facility in Charlotte, N.C. and will practice, qualify and race throughout NASCAR's season-opening Speedweeks activities. No stand-by drivers or alternative plans are in place at this time.
Out of the Red Bull Racing news, it appears the now defunct team is being gobbled up by a couple of ex-TRG investors to run a two-car team for the 2012 season. The first driver selected is Landon Cassell and the second may be either Brian Vickers or Travis Kvapil. It did seem like a waste to sideline a competitive team and both within the top 35 in points, insuring the first five race starts. More details later as they unfold.
That's it for this week. Next week, RWR will review the results of the Budweiser Shootout, preview the Daytona 500 along with more racing news from around the globe.