Fantasy Basketball Week 15 Pickups: Contenders vs. Pretenders
February 12, 2012

Harry How/Getty Images
In a season where teams are forced to play back-to-back-to-back games, injuries have understandably been piling up in the NBA.  At the beginning of the season, after the Chris Paul and Chauncey Billups acquisitions, who would have thought that Mo Williams would be a five-category producer?
With five point guards on the New York Knicks roster (Shumpert, Douglas, Bibby, Baron, & Lin), who would have thought that Jeremy Lin would be fantasy relevant in 2012? For the record, I did introduce the basketball community to Jeremy Lin back in 2010.  Usually, when a key player gets injured, fantasy owners are quick to pick up their replacements, but every situation and player is different.
Without further adieu, below is an analysis of the latest trending fantasy pickups and whether they are fantasy contenders or  fantasy pretenders.
Randy Foye secured himself a spot in the Clippers starting lineup the day that teammate Chauncey Billups injured his Achilles tendon. With Mo Williams thriving in his sixth man role and with Eric Bledsoe still injured, Foye will get ample minutes playing alongside Chris Paul.  So far this season, Foye has averaged 11.2 points, 1.9 three-pointers, 3.8 assists, 1.3 steals, 0.9 blocks per game as a starter this season.
Expect similar across the board numbers as the full-time starting shooting guard in Lob-City. Foye is a fantasy contender and should be picked up from the waiver wire in almost all formats.
Daniel Gibson has started the last 3 games for Cleveland in place of Anthony Parker and has per game averages of 11.8 points, 4.5 rebounds, four assists, 1.8 three-pointers, and one steal.  Keep in mind that Kyrie Irving has been out with a concussion for the past three games.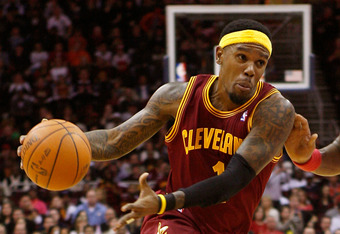 Mike Lawrie/Getty Images
However, once he returns, he will likely take over for Ramon Sessions, meaning that Gibson should continue to start. Gibson's fantasy value is tied to AnthonyParker's health, who has been out since January 9th with back spasms. As there is no timetable for the 36-year-old's return, Gibson should be productive for the next few weeks. 
He is extremely undersized for the shooting guard position, so he may not product against some of the bigger backcourts in the NBA.  But if you are in need of three-pointers, he is one of the best options out there.
Chase Budinger has been on fire over the past three games, averaging 16 points, 5.3 rebounds and a whopping 3.3 threes per game.  Although he continues to come off the bench for the Houston Rockets, he averaged just under 30 minutes per game over this span.
Head Coach Kevin McHale punished his starters over the past few games, giving them less court time than the reserves and Budinger has benefited the most.  Although Budinger will continue to be a source of threes (closer to two per game), his scoring and rebounds will drop as it is only a matter of time before the Houston starters get the message and return to their regular minutes.
Budinger's advantage is that he is backing up the often injured Kevin Martin and the inconsistent Chandler Parsons. Nevertheless, Bud is very limited in his fantasy value as his streaky shooting and lack of contribution across the board relegates him in the pretender group.
Corey Brewer started at small forward for the Denver Nuggets and scored 19 points, grabbed five rebounds, stole the ball twice and knocked down a three-pointer. With Danilo Gallinari out for at least a month with an ankle injury, Nuggets head coach George Karl elected to keep Rudy Fernandez in his familiar bench role and start the athletic Brewer.
Although Brewer is a gifted defensive player, his fantasy value is limited to steals and occasional threes even if he continues to start.  In 24 starts as a member of the Minnesota Timberwolves in 2010-11, Corey averaged 9.7 points, 1.6 steals, and 0.6 three-pointers per game. 
With his poor shooting percentages and limited upside (already in his fifth year), I would hold off on picking up Brewer unless you are in the deepest of leagues.
The original article can be found at WinMyFantasyLeague.com