Kansas City Chiefs Fans: A Hope and a Prayer, or a Recurring Nightmare!
February 12, 2012
Peter Aiken/Getty Images
It was 1971, and the Kansas City Chiefs were fielding one of the best teams in the history of the franchise. There were teams in past seasons that had racked up a better win/loss record, but no other team seemed as strong.
The 1969 team was a game better in the regular season, and that team won the Super Bowl. But still, most people believed that this version of the Chiefs was one of the best since the franchise came into existence. Going into the playoffs, everyone felt as though another Super Bowl run lay ahead.
The Chiefs met the Dolphins in an AFC divisional game that would determine who would play in the AFC championship game against either the Baltimore Colts or the Cleveland Browns.
At the end of that game, at the end of the second overtime, at the end of the longest game ever played in the history of the National Football League, the Chiefs came up a field goal short and the Miami Dolphins went on to defeat the Colts and play in the Super Bowl.
That was 41 years ago and the Chiefs have never put together a team that matched the talent that was on the field that Christmas Day so long ago. However, the franchise has come close a couple of times since that fateful day.
In 1993 Joe Montana took the reins, and with a strong defense came within one game of the ultimate prize. The Buffalo Bills ended that playoff run.
In 2003, Trent Green, Priest Holmes and Tony Gonzalez took the NFL's best offense on a course that looked like Super Bowl surety. Peyton Manning and the Colts ended that dream in a shootout that the Chiefs could not finish first.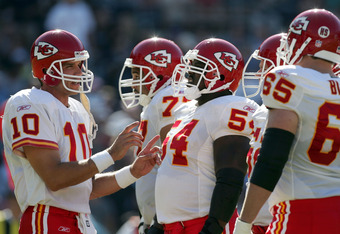 Harry How/Getty Images
Since 1971, and that history-making game against the Dolphins, those two occasions presented the only real hope that Chiefs fans have had to make it back to the promised land.
Every year at this time, and we all know it well, comes that dead zone in time and space where fans of the red and gold look at the past year shaking our heads, then look forward to the next year trying to piece together what needs to be done to bring back the magic.
There have been plenty of years where this time of sobering retrospect revealed very little to give hope for the future, and other years, a few anyway, when we knew that we were "Oh so close!"
Here we are again, in the shadow of another season gone wrong. Here we are again, in the shadow of a hope and a prayer that did not happen according to plan. Is this a season of discontent, or a time of hope?
I have been watching the Chiefs play football since the first Super Bowl against the Green Bay Packers, and the early weeks of 2012 feel both more hopeful, and dreary, than any year since that historic game.
This is a young, talented team. A head coach that may not have been experienced or stable enough to lead a youthful group of players has been replaced by someone who is more like a father figure and a sure guide.
An unproven offensive coordinator is getting ready to introduce a new scheme to what may be a somewhat confused group of players, about to try to learn their third or fourth way of doing things in as many years. A quarterback will be looking at another plan! Another path to success! Another...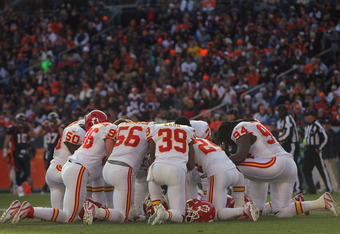 Doug Pensinger/Getty Images
The one thing that may be a stabilizing factor is that the new head coach plans to lead a rapidly improving defense that he has been in control of for two years. Most people do not think that a head coach should take on offensive or defensive coordinator duties, and I would probably agree with that, but this defense knows and respects this head coach enough that it may just work.
The Chiefs team back in 1971 had a history of consistency, both with the players and the coaching staff. The '71 team had a history of winning. That team was expected to win.
The 2012 team has no history of consistency. Winning is something hoped for, not a given, and definitely not expected.
One irony is that this 2012 version of the Chiefs may be the most talented group of players that they have ever put on the field! The hope and the prayer is that they will have the leadership necessary to guide them where they need to go to win championships. We all know the nightmare too well.
The Kansas City Chiefs have arrived at a crossroads as a franchise. They have built a talented young team, something that absolutely has to be done to succeed, but have yet to set a foundation that gives a sure footing for those young players.
I believe in Romeo Crennel, and I have a good feeling about Brian Daboll, but once again the team is starting over. Starting over has become a way of doing business in Kansas City, at least with its two major sports franchises. As for the Chiefs, this needs to be the last new beginning if this team is going to have any success any time soon.
These thoughts that are now on paper are a tribute to fans that have endured year after year after year of hopes and dreams that somehow always seem to morph into nightmare.
I suppose that it is a fortunate thing for the ownership of sports teams is that the fans of those teams never quit. What other type of organization of any kind could survive year after year with so much failure and dysfunction?
So once again Chiefs fans, let raise our glasses again, wipe away a tear or two, and after the cursing is done say a prayer of hope for the newest new beginning. Cheers!