Mario Williams: Why Buffalo Bills Should Target DE Among 2012 NFL Free Agents
February 12, 2012

Bob Levey/Getty Images
For the most part, elite free agents are just as likely to sink an organization as they are to improve it.
This probably isn't the most mind-shattering revelation of the young offseason, but year after year, a team destroys its salary cap structure for the next six or seven seasons on a player who played his heart out for a new contract. 
It's simply human nature to become at least somewhat complacent after receiving such a windfall, with the exception of those rare players whose motivation runs much deeper than money.
As a result, even if the Bills had the cavernous pockets to rival that of the Redskins or Cowboys, I've never really sought a top-end free agent.  For the cap hit of one diamond, a team could sign three or four cubic zirconia. 
That is, until now.
On March 13th at 4:00 p.m. ET, Buddy Nix, Chan Gailey, Dave Wannstedt, and Jim Overdorf should be outside the house of impending free agent DE/OLB Mario Williams.
Players like Williams do not come along very often via free agency.  There arguably hasn't been a defensive end with his ability since the first big-name free agent, Reggie White.  In order to sign Williams, the Bills would most likely have to overpay for him, in the neighborhood of making him one of the highest paid defensive players in football. 
Williams went to college at North Carolina State and has played in Houston since being drafted first overall in 2006.  Amongst other reasons, the Bills need a sizable offer to grease the skids to the much colder Buffalo.  When you're a bad team, sometimes you just have to bite the bullet to get a difference-maker in the building.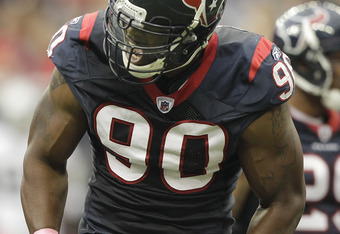 Bob Levey/Getty Images
Enough of how to get him here, let's discuss why we should.
1. Talent Level
Williams has a devastating combination of size (6'6", 285 pounds), speed (4.66, which is from when he weighed in at 295 pounds), athleticism (40.5" vertical) and strength (35 reps).  He consistently provides a long afternoon for opposing offensive tackles.  
In addition to his measurables, he has the versatility to play in either a 3-4, 4-3 or hybrid defense.  It isn't too often that a team can maintain the same scheme for the length of a free agent's contract and that shouldn't be an issue with Williams.
2. Production
Despite missing 14 games, almost a full season, he has tallied 53 sacks in six years. 
3. Age
He'll be 27-years-old on opening day in 2012, with plenty of years ahead of him.  Given that he's not a pure speed rusher, he can still be productive as his speed starts to leave him around age 31 or 32.  His strength will allow for him to provide an impact well into his contract.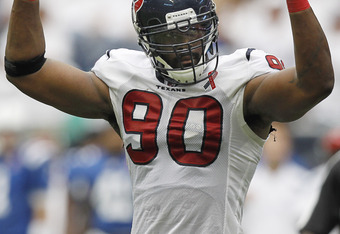 Bob Levey/Getty Images
4. Positional Impact
Williams has the potential to be the final piece of the puzzle for the Bills' pass rush, or lack thereof.  With Williams, Kyle Williams, Marcell Dareus and Chris Kelsay, the Bills would have one of the best front fours in football.  Football is most certainly a team sport. 
However, one could make the case that the defensive end spot can make the entire defense better.  Having a defensive line with that kind of firepower would instantly improve the secondary as well. 
When you have Tom Brady in the division, you need to be able to move him from his launch point on a regular basis, and the Bills would be much closer to accomplishing that with Williams in the fold.
In order to make such a splash, the Bills are going to have to open up more cap space, and these are the players that come to mind (savings in parentheses):

CB Terrence McGee ($2.05 M)—Hate doing it, but McGee looked old this past season and clearly cannot stay healthy.  It's the cold part of the business, but it has to be done.
DE/DT Dwan Edwards ($4.125 M)—Now that the Bills will be a base 4-3, Edwards will have more opportunities to flash his pass rushing ability at defensive tackle.  That being said, the Bills have two studs inside already, and his cap number isn't justified for a rotational player.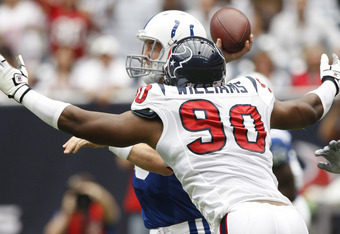 Bob Levey/Getty Images
DE/DT Spencer Johnson ($3.5 M)—Johnson is another truly nice guy that I'd hate to see go, but the argument for Johnson is similar to that of Edwards.  There's just too much money tied up in the position.
Given the rash of injuries that have been plaguing Buffalo for years, it would make sense to keep one or the other as the primary backup and rotational player at the position.  However, if a team is going to bring in a big-time defensive end, it has to cut corners somewhere.
QB Tyler Thigpen ($2 M)—Thigpen can provide as much of a presence as any backup QB could bring to the table.  To make yet another plug for Levi Brown, he'd only cost $540,000.  People may not agree that he has a lot of potential, but he's at least as good as Thigpen.
DE/OLB Shawne Merriman ($5.15 M)—Merriman was adept as a run defender, but you just can't trust his health to justify that cap number. 
The Bills are currently around $97 million in salary, counting the top-51 highest-paid players, in accordance with preseason cap rules.  After making these cuts, the team would free up an additional $16.825 million.
The salary cap should be around $124 million, which would give the Bills roughly $44 million in actual cap room. Of course, these figures are just estimates.
Now, to factor in the self-imposed "cash-to-the-cap" system the Bills utilize.  Cash-to-the-cap is used to measure actual spending in a given year. 
In a simplified example, say the Bills signed Williams to a five-year, $5 million contract.  To continue to make things easier, the contract's base salaries are evenly dispersed at $1 M per season.  Without any bonuses, the cap hit and actual money spent on Williams would be $1 M for 2012. 
If Williams had a $25 million signing bonus, prorated over five years, the cap hit for 2012 would be $6 M ($1M in base salary plus $5M in signing bonus).  However, the actual cap spending would be $26 M on Mario for the 2012 season.  See how quickly the cap gets eaten up when cash-to-the-cap is employed?
A fair starting point for the deal would be the contract Julius Peppers received in 2010.  Peppers signed a six-year, $84 million pact ($6.5 M signing bonus), with $42 million guaranteed. 
This is how I would structure the Bills' six-year, $101 million offer to Williams:
"Guaranteed": $51 million
Signing Bonus (SB): $8 million (choosing to amortize it over two seasons)
2012: $1 M (base salary) + $4 M (signing bonus) + $12 M (roster bonus) = $17 M cap hit ($21 M in actual spending in 2012)
2013: $1.5 M (BS) + $4 M (SB) + $10 M (RB) =  $15.5 M cap hit
2014: $10 M (BS) + $5.5 M (RB) = $15.5 M cap hit
2015: $10.5 M (BS) + $4.5 M (RB) = $15 M cap hit
2016:  $7 M (BS) + $7 M (RB) = $14 M cap hit
2017:  $8 M (BS) + $4 M (RB) = $12 M cap hit
(Additional $12 M available through incentives, $2 M for Defensive Player of the Year honors)
To summarize, Mario's agent can tell the media and future clients that he made Williams $100 million, with a staggering $51 million in guarantees.  In actuality, the deal is really not close to that. 
In my mind, it includes around $20 million guaranteed, with the signing bonus and initial hefty roster bonus.  Beyond that, roster bonuses are not guaranteed until the date passes.  Therefore, if for whatever reason the Bills release Williams after 2012, the only real consequence (besides embarrassment and an upset owner) is a $4 M charge in dead cap space for 2013 (prorated signing bonus).
In addition, the deal is front-loaded to more accurately reflect his abilities in relation to his cap figure.
By spending "only" $21 million in real dollars, this also leaves Buddy Nix enough flexibility to bring back WR Stevie Johnson, or use that money and a little extra to instead target WR Vincent Jackson.
Bringing in a player like Mario Williams is something the Buffalo Bills franchise needs to do to get over the hump.  Now, the only thing left to do is wait and see.