Jeremy Lin Had a Counterpart in France Long Before Tebow
February 12, 2012

For an illuminating cross-sport comparison with Jeremy Lin, you need to bypass all that Tebowing on the gridiron and head back to a dusty swirl of French clay, where an Asian-American teenager has just shocked the tennis world.
It is 1989, and 17-year-old Michael Chang is holding a microphone, about to speak in English to thousands of French-speaking fans who are so enamored with this sudden star that he would be able to keep their attention even if he just spoke in tongues. 
That throng of supporters probably would have thought he was just a ball boy had they seen him first enter the Parisian tennis facilities of Roland Garros. They knew who he was now. 
He had just won the French Open, one of the four biggest tournaments in professional tennis. And he had done so in delightfully improbable fashion.
As an Asian-American on such a grand tennis stage, Michael Chang was a conspicuous presence in a sport that was generally as white as the clothes they wore at Wimbledon.  
Now standing before thousands of French-speakers, he stood out for his excellent play, not his race. He began to testify, "First, I want to thank my Lord and Savior Jesus Christ." Standing there paying divine homage, it must have felt like the first time he had stopped running all week.
Match after match, he had flown around the court under the jet-propelling speed of two massively-developed leg muscles. They were disproportionately strong for his otherwise diminutive frame.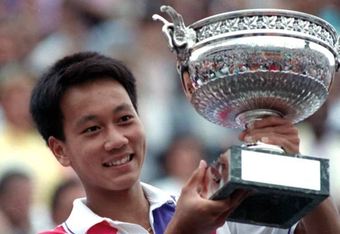 Maybe that is why he had cramped so badly against Ivan Lendl in the semi-finals, having to resort to underhand serves to keep the wily veteran from mercilessly dragging him through more long rallies. Those clever tactics, combined with gutsy play, worked. 
Lendl was flummoxed and then beaten.
Chang went on to the finals to cap off his seemingly miraculous run of victories against Stefan Edberg from Sweden.
When Jeremy Lin first stood alone in the bright lights of Madison Square Garden over twenty-years later, a microphone squeaked from the sheer Linsanity of the moment. Lin seemed as dumbfounded as everyone else.
Like Chang, his ethnicity stood out against a backdrop of another race—in this case, mainly African-American. Like Chang, Lin is an evangelical Christian for whom gratitude to God after a spectacular victory flows as naturally as his layups after herky-jerky drives to the hoop. 
Like Chang, it must have felt like the first time he had stopped running in quite awhile.  He had run around in the D-League, on the Golden State Warriors, and even for a breathlessly brief period this season with the Houston Rockets.
Now after his first major minutes with the Knicks he had just slashed all over the court, handing out assists with precision timing, crossing over defenders reaching and straining to catch him, and rising in a sensational set of "and-1" finishes.
Like Chang, Lin has the support of a vast array of Christians, whose religion (ideally) transcends racial or cultural differences.  Like Chang, Lin has sparked new imaginative possibilities for young Asian-Americans in a sport where they are otherwise underrepresented. 
And, perhaps, most dramatically, like Chang, Lin has captured the attention and heart of a whole swath of people who could care less about religion or race, and who just can't get enough of watching someone come out of nowhere, leave everything he has on the court, and do it all with a ton of class.
After his French Open win, Chang went on to become the second-ranked tennis player in the entire world. That was an astounding achievement in an individual sport.
Jeremy Lin has team goals: he wants to take the Knicks to the playoffs, and then the championships.
Before you bet against him, think about what the odds were for an upstart 17-year old Asian-American in 1989, sliding around recklessly on red clay against well-seasoned veterans.
Like Chang, Lin will give it everything he has.