Knicks vs. Timberwolves: Jeremy Lin, Ricky Rubio, and Limiting the 'Love'
February 11, 2012
Chris Chambers/Getty Images
Jeremy Lin looks to add a new chapter to his remarkable story tonight in Minnesota.
The story early in the season was Ricky Rubio of the Minnesota Timberwolves. Fans were blown away by his spectacular skills when he finally arrived in the NBA after his time spent in Barcelona.
Lin has pushed Rubio's story aside as the NBA has embraced Lin-sanity.
While the New York Knicks battle Carmelo Anthony's injury and Amar'e Stoudemire's absence, Lin has exploded on the scene. 
During the Knicks' current four-game win streak, Lin has averaged 28.5 points per game and eight assists. He had his best performance Friday night against the Los Angeles Lakers, when he scored 38 points.
Lin is going to have a tough task when he leads New York to face Rubio, Kevin Love and the Timberwolves
Rubio has had an impressive season, averaging 10.9 points, 8.7 assists and 4.6 rebounds per game. Even more impressive are the passes that Rubio delivers to his teammates. Rubio has become one of the top point guards in the game.
Will Lin be able to compete with Rubio when they meet head-to-head?
The way Lin has played in the last four games, it looks as though he can't be stopped. Lin has averaged 39 minutes in the last four games, and the Knicks are on the road after playing at home Friday night.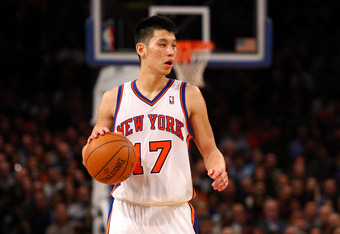 Chris Chambers/Getty Images
At some point it would be logical to assume that fatigue will catch up with Lin. However, he has given us no reason to think it is coming any time soon.
The odds are against Lin again as he faces Rubio on the Timberwolves' home court.
Lin will look to do what he always does when he takes the court: inspire his team to play energetically and make plays to come out victorious.
Tonight, that includes controlling Rubio and defending one of the best players in the game, Kevin Love.
Love is averaging 25.3 points per game along with 13.6 rebounds per game. Love is an assassin from the free throw line as well, shooting .968 on the season.
If the Knicks limit Love's production in Minnesota, it could mean another victory for New York.
Are Lin's skills at this point a mirage, or is he the real deal? 
Doubters began to think it was a fluke and that he could not continue his production after two games. Lin responded with his first double-double and his first dunk in the NBA. 
After that game, his magic was bound to be stopped by Kobe Bryant and the Lakers, right?
Wrong. Lin responded by dishing out seven assists and scoring a career-high 38 points. 38 points for a guy who was lucky to even get six minutes a game one week ago.
Lin will look to take another step in his progression against another elite point guard. With a win, the Knicks would be on a five game winning streak as they prepare for the return of Stoudemire on Tuesday against the Toronto Raptors.