Philadelphia Phillies: Projecting the Opening Day Bullpen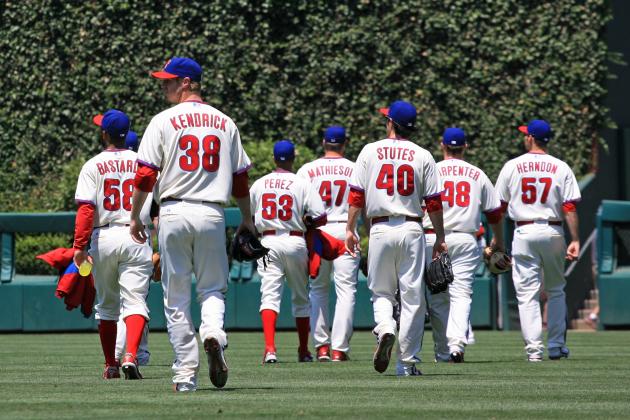 Hunter Martin/Getty Images

Believe it or not, sources have confirmed that the Philadelphia Phillies actually do plan on using relief pitchers this season.
Though most of the talk about the Phillies pitching is usually focused on the starters, guys with names other than Roy, Cole, Cliff and Vance will be on the mound at some point in 2012. And while the starters should have another great season, the bullpen is going to have to pitch some meaningful innings to prevent Roy Halladay's arm from exploding.
With that in mind, let's take a glance at how the Phils' Opening Day bullpen will probably look. Though the Phillies might decide to keep an extra bench bat and only carry six relievers, for the sake of this article we'll assume that they opt to open the season with seven guys in the bullpen.
Begin Slideshow

»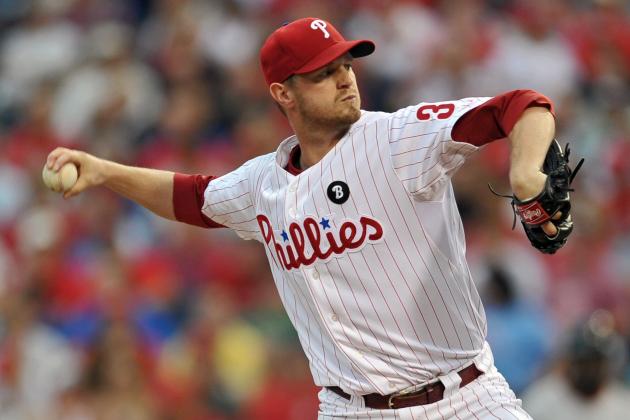 Drew Hallowell/Getty Images

Kyle Kendrick—a guy who could probably be a fifth starter on a lot of teams—will likely be the Phillies' main long man out of the bullpen in 2012.
KK quietly had a pretty good year in 2011 (3.22 ERA in 114.2 innings), and was rewarded with $3.6 million this offseason.
Kendrick will play an important role in 2012, as you can never have too much capable starting pitching depth. There are going to be games when the starter struggles (which will usually coincide with days Joe Blanton is pitching), and the Phillies need someone to eat a lot of innings. It's also important to have a guy who can go out there when a rain delay wipes out your initial starter.
Though he'll probably start off in the bullpen, Kendrick could find his way into the rotation later in the year if someone gets hurt or he out-pitches Heavy B.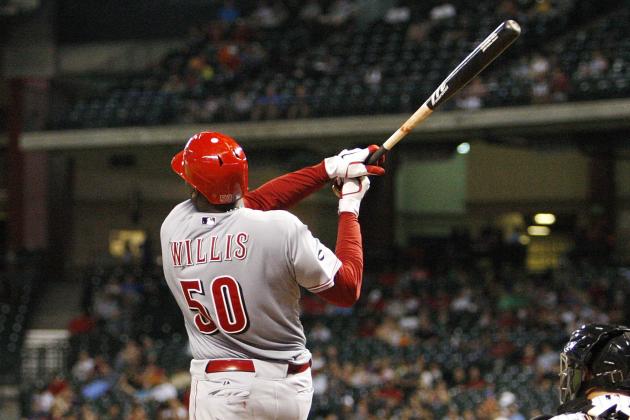 Bob Levey/Getty Images

The Phillies went out this offseason and signed the D-Train for one year and $850,000 to be their LOOGY (lefty one-out guy), and for good reason: lefties hit just .127 against Willis last season and have only hit .200 against him over his entire career.
After struggling mightily for the last five years, it's hard to believe that this is the same guy who won 22 games with a 2.63 ERA when he was just 23 years old. He'll be a crucial part of the Phils bullpen against tough lefties.
Maybe I'm living in the past, but I'm still excited to see his high leg kick and really hitched up pants that make his torso look about one-fifth the size of his legs. With nine career home runs, Dontrelle also brings the Phillies home run ability they haven't had in a pitcher since Robert Person.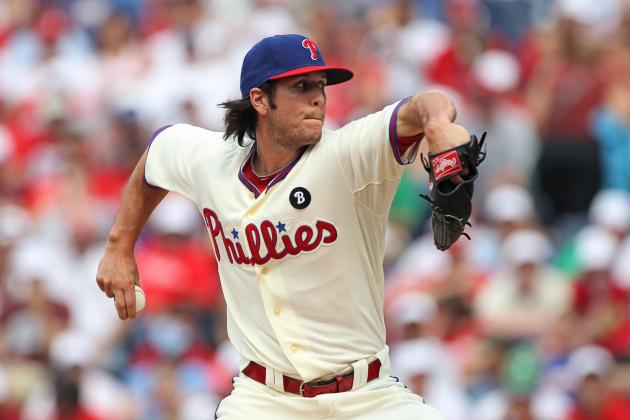 Hunter Martin/Getty Images

Though he struggled a bit down the stretch, Michael Stutes had a promising rookie year out of the bullpen in 2011, posting a 3.63 ERA in 62 innings.
Stutes showed throughout last season that he's capable of stepping up and getting some big outs, and earned Charlie Manuel's trust as a solid option in the sixth, seventh and sometimes eighth inning.
One thing Stutes has to work on, though, is his control. He walked 4.1 batters per nine innings last year, and struggled to find the zone at time even though he has some decent strikeout "stuff." Walking batters is a cardinal sin for relievers, and if Stutes puts too many guys on base, he won't find himself pitching very often.
I gave the nod to Stutes over David Herndon here, but Herndon could definitely pitch his way into this position with a great spring training or end up here if Stutes struggles.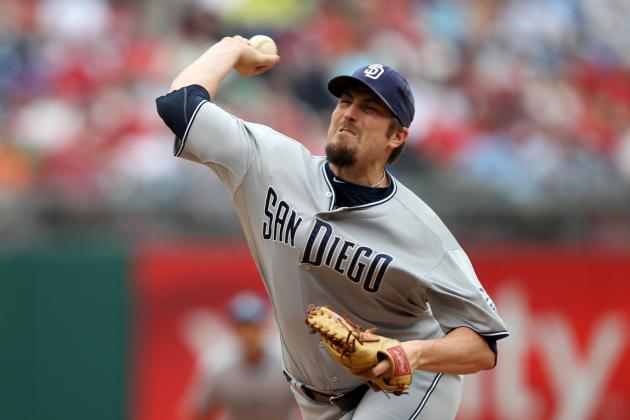 Hunter Martin/Getty Images

When the Phillies signed Chad Qualls to a $1.15 million contract on January 31, they acquired one of the most durable relievers in the major leagues.
Since 2005, Qualls has made 512 appearances—more than any other pitcher in baseball.
Qualls will probably be more of a seventh inning option, but has been a capable set-up man in the past. He's a model of stability, and certainly a guy who Charlie Manuel will call on often in 2012. Expect Qualls to once again pitch around 70 innings with an ERA in the low to mid threes.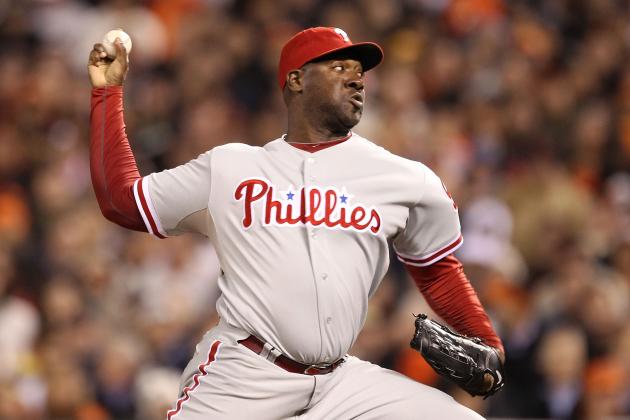 Ezra Shaw/Getty Images

Regardless of whether Jose Contreras is really 40 years old, or if he's 57, he will be an integral piece of the Phillies bullpen in 2012.
Contreras, who only pitched 14 innings last season due to arm injuries, can still get hist fastball up there in the mid-90s at times, and brings a ton of pitching experience to the Phillies bullpen. He's a guy who doesn't get rattled and can step up in the late innings to throw some big-pressure pitches.
Contreras will likely start the season in more of a right-handed set-up role, but would be one of the top candidates to close for the Phillies if Jonathan Papelbon has to miss any time during the year. His success in 2012 will largely be dictated by his health and ability to stay off the disabled list.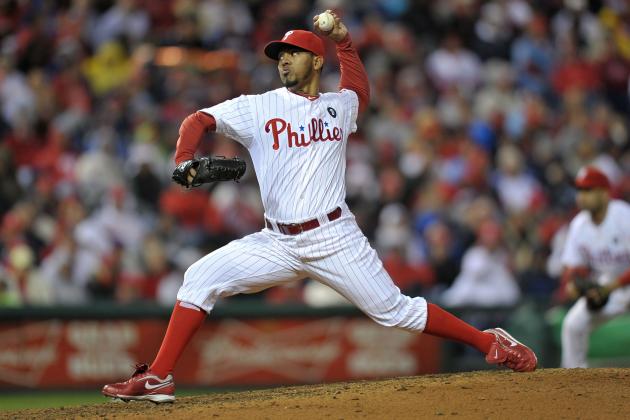 Drew Hallowell/Getty Images

Before he fell off at the end of last season, Antonio Bastardo was on his way to limiting opponents to the lowest batting average against in baseball history.
Even though he still finished 2011 with a 2.64 ERA, Bastardo's September/October ERA was 11.05. Probably worn down at the end of a long season, his arm should be fully rested by now.
Bastardo gives the Phils a great lefty set-up option. He has filthy stuff at times (as evidenced by his 10.9 strikeouts per nine), and can come in to get a key strikeout if need be. His eight saves last season also show that Bastardo is not afraid of high-pressure situations.
At only 26 years old, 2012 will be an important season for Bastardo to prove that his near-historic 2011 was no fluke. While it's probably not realistic to expect a repeat of his torrid 2011 start, Bastardo should continue to develop into one of the more effective set-up men in the National League.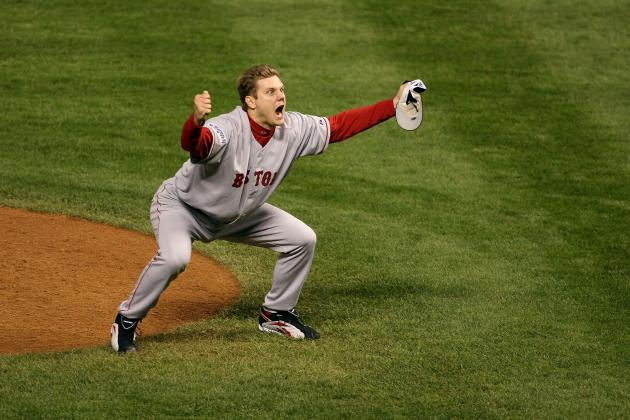 Jonathan Daniel/Getty Images

Ignoring the stimulus package that Ruben Amaro Jr. bailed him out with this offseason, Jonathan Papelbon is an awesome addition to the 2012 Phillies bullpen.
Yes, he got way too much money for way too many years when Ruben Amaro Jr. acted way too quickly. But right now let's just focus on projecting his performance in 2012, which should be stellar once again.
Coming off a year in which he had an 8.7 strikeout/walk ratio and gave up only three home runs, Johnny Paps is a four-time All-Star and one of the elite closers in baseball right now.
He should be used to the pressure of closing in Philadelphia after spending all his previous big league career with the Red Sox, and you know he'll be out to prove he's worth all the money the Phils spent on him.
With a starting staff that will always keep the game close and an offense that doesn't blow other teams out the way they used to, it's entirely possible that Jonathan Papelbon gets 50 saves this season.
The Phillies have constructed a promising bullpen for 2012, and Jonathan Papelbon is the gold-plated, diamond-encrusted, luxury anchor.