Pittsburgh Steelers: A Letter to Hines Ward, from Steelers Nation
February 11, 2012

Dear Hines,
I would like to start out by thanking you for your MANY years of service. You have not only been one of the greatest receivers of all time, you have been one of the best Steelers of all time!
On a professional note:
You have changed the way that the NFL is played. Normally when people talk about the Steelers, they talk about the defense. How can they not? Most of us growing up saw the Steel Curtain, watched the Cowher "Blitzburgh" teams of the 90's, and even the Dick LeBeau defenses of this decade, Steelers fans have prided themselves on having a defense that beat people up.
When you joined the Steelers, you became on the offensive side of the ball, what we all grew to love on the defensive side of the ball. You are throw back, smash mouth, knock your teeth down your throat tough kind of player. Just like our defense.
When the NFL makes rules that they name after you, it can be a blessing or a curse. Tom Brady is made fun of because of the "Tom Brady" rule. You are respected because of the "Hines Ward" rule.
Early in your career, you came to a team that ran the ball first, and passing was out of necessity.  You never quit, and still hit yard markers that people don't hit on passing teams.
Over the years, we have seen so many receivers come and go, players taken earlier in the draft than you, and getting rookie contracts that were larger than yours. Troy Edwards, Plax, Randle El, Nate Washington among others, that left the Steelers for "greener pastures," and none of them even close to measure up to you.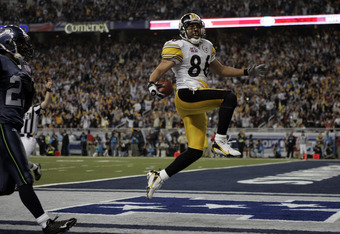 Allen Kee/Getty Images
When we won Super Bowl XL, it was YOU that was the MVP, and there was no question about it. You are the reason Jerome Bettis went out a Champion more than anyone else.
And as your career started to slow down, instead of complaining, you groomed Mike Wallace, Antonio Brown and Emmanuel Sanders to take your place. You accepted your time on the bench, without complaint, and lifted your team up, instead of tearing it down.
On a personal note:
In my house, you are the favorite Steeler player. My daughter has one Steelers jersey, a pink and white 86. For every game, my wife wears a pin with a smiley face, and the number "8" on it's right cheek, and a "6" on it's left.
Before we moved from Pittsburgh, my wife had to get one of those mugs from Eat and Park, that are Black with the Gold smiley face, because it was a Hines Ward cup.
It extends from there, even my 79-year-old mother, who can't remember her kids names half the time, remembers yours every game.
The work you have done with the kids in Pittsburgh, especially the work with the High School kids, is unlike most NFL players. And it is obvious that you do it out of love, and not for the publicity because we never hear about it on TV.
Since it now appears that you will in fact be leaving the Steelers, it is painful to a lot of us. To imagine you wearing another teams uniform is shocking to say the least.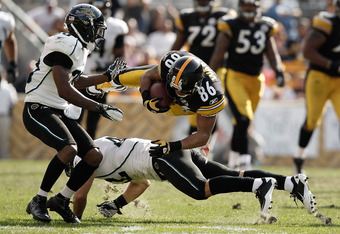 Jared Wickerham/Getty Images
We have done it before, though. Franco Harris, Jason Gildon, Rod Woodson and most recently, Joey Porter. All of them have left the Steelers, but when their career did end, they came back to the Black and Gold. As I am SURE you will as well. WHEN (not IF) you get elected into the Hall of Fame, it will be as a Steeler.
So, if you decide to play elsewhere, just remember, if you get the chance to come back to Pittsburgh, you will be cheered by us, Steelers Nation, because you are what the Steelers are all about.
And, if you don't want to play anymore, we would LOVE to see your as our WR Coach!
Thanks for the years Hines.  God Bless you and your family in everything.
Sincerely,
Steelers Nation