Hines Ward: Steelers Legend May Be on His Way out of Pittsburgh
February 11, 2012

Justin K. Aller/Getty Images
Update: Saturday, Feb. 11 at 5:40 p.m. ET
Hines Ward has said he is willing to work with the Steelers to remain in Pittsburgh. ESPN's Adam Schefter gives us this tweet.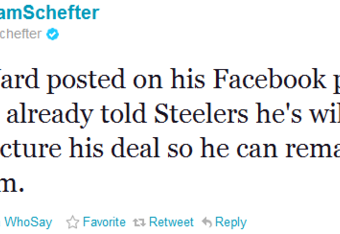 The ball is firmly in the Steelers court now. Time will tell if this will be enough for the Steelers to keep him around, or if they are just ready to move on from Hines. 
Initial Post
The Pittsburgh Steelers may be bidding farewell to a legend. 
As NFL.com's Jason La Canfora reports, it's expected that the Pittsburgh Steelers won't be bringing back veteran wideout Hines Ward. 
La Canfora writes: 
As the Steelers work to restructure contracts and maneuver below the salary cap, the circumstances are dictating the twilight of Ward's 14-year career.
Simply put: Unless the Steelers legend is willing to restructure his $4 million deal, he could be on his way out of Pittsburgh. Ward was rumored to be retiring earlier last month, but denied any intention of doing so. This means if the Steelers can't come to terms with him, they may have to release him and Ward could be playing for another team next season. 
For Steelers fans, it would be somewhat tragic to watch their two-time Super Bowl champion and Super Bowl MVP suit up somewhere else, but for the Steelers, it would be in the best interest of their team. 
With Ward having fallen down on the depth chart this year, behind Mike Wallace and Antonio Brown, his $4 million acts as more of a liability than it does a bargain. 
For Ward, his future is a bit of a gamble. He can keep his deal the same and risk being cut. He can test the free market and risk not being picked up (a real possibility for a guy who has been in the league 14 years and may have outlived his usefulness) or he can offer to restructure his deal and hope that the Steelers were interested in keeping him at all. 
Ward will always be a proud member of the Steeler family, but now he just might not appear in the team photo.