What the Potential Release of Hines Ward Means for the Pittsburgh Steelers
February 11, 2012

Streeter Lecka/Getty Images
The NFL is a tough business to be in not only on the field, but off of it as well. Players lay it all on the line for their teams and then one day, it could all end. That day appears to be very near for the Pittsburgh Steelers' all-time leading receiver, Hines Ward.
According to NFL Network's Jason La Canfora, Ward will not return to the Steelers next season. He has $4 million remaining on his contract and Pittsburgh is currently in the process of trying to get under the cap.
Ward has said that he is willing to take a pay cut to remain with the team, but it does not appear to be moving in that direction.
"I'd probably have to restructure my contract," Ward said told the Pittsburgh Post-Gazette of a possible pay cut. "That's fine with me. I recognize that. I'm telling you I want to be here, I'm telling you I'm willing to do that. And I understand the ramifications—we have the cap number and stuff, but I want to be here."
The potential release of Ward goes beyond a salary move, as the Steelers are also taking his level of play into consideration.
Ward has been the most productive receiver in Steelers history, with 1,000 receptions for 12,083 yards and 85 touchdowns. He was the MVP in Super Bowl 40 and was named team MVP three times.
But the days of the productive Ward are long gone.
Even though he was a starter at the beginning of the season, age has caught up with Ward and his production has dropped dramatically.
As of 2009, Ward was the go-to receiver, with 95 receptions for 1,167 yards and six touchdowns. Those numbers tailed off the following year, as he only had 59 receptions. However, his 12.8 yards-per-reception average was the fifth highest in his 13 seasons as a starter.
Injuries and the emergence of Antonio Brown pushed Ward down the depth chart this season and, his numbers suffered.
Ward only had 46 receptions and averaged only 8.3 yards per reception, by far the worst of his career. He was a shell of his former self.
Many of the passes that went Ward's way were screen passes that appeared to be designed to help him reach 1,000 career receptions. Even his final catch in the regular season was a shovel pass that went for a three-yard loss.
In his 15 games played this year, Ward averaged under 10 yards per catch 11 times, with six of those games being 7.0 yards or less per reception.
Clearly, Ward is no longer the receiver that he used to be.
Though Ward could have been utilized better on short and mid-ranged passes and in the red zone, he no longer was an option downfield, as he could not beat his coverage.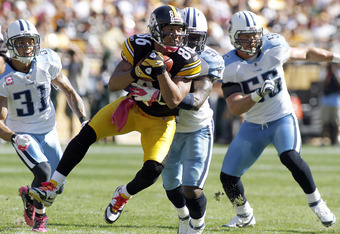 Justin K. Aller/Getty Images
If not for his chase for 1,000 receptions, his numbers would have been even worse, as he could have been completely phased out of the offense.
While Ward has tailed off in the receiving game, he remains a top-notch blocker, the best on the team. But regardless of how good he is in this area, it is not why receivers get paid to play the game.
Now with Todd Haley as offensive coordinator, the Steelers' offense will experience some changes, and that may require options other than Ward on the outside.
Pittsburgh is set with their top three receivers. Mike Wallace, Antonio Brown and Emmanuel Sanders have developed nicely over the past few seasons and with the possible void that Ward leaves in the roster, chances are that the Steelers could look to re-sign Jericho Cotchery.
Cotchery is a more physical receiver than Pittsburgh's young trio and could take Ward's role as the fourth receiver. He is younger and faster and can do many of the things that Ward has done for the Steelers over the years.
Another option is that the Steelers sign a younger veteran free agent and try to find another quality receiver in the draft to fill out the depth chart. What they may lack in experience will be made up with speed and potential.
Ward will be a tough player to replace, but it happens all of the time. If the Indianapolis Colts could part ways with Peyton Manning, then the Steelers could do the same with Ward.
As much as you hate to say it, Ward's in-game production will not be missed. However, what will not be able to be immediately replaced is his veteran leadership, both between the hashes and in the locker room.
Ward always carries himself like a true professional and has a work ethic that should be replicated and is replicated by others. And if it is not working hard to get ready for games, it is directly teaching young players how to play the game.
Watching Ward in training camp is like watching another coach on the field. He spent a lot of time one-on-one with Wallace and has helped in his development. Ward has helped with the development of Brown and Sanders as well.
"Hines has helped the receiving corps a lot. He definitely taught me, Antonio [Brown] and Mike [Wallace] what it takes to be a pro in this league. So, he is a great addition to this receiving corps," Sanders told the Pittsburgh Post-Gazette. 
"We know the direction in which we are going with the receiving corps. But, again, Hines is still a great addition. Just the knowledge he brings to the room, you can't pay for that, you can't coach that. He just brings that well-being of how to be a pro into the room."
That is what cannot be replaced if Ward is not brought back.
Some players have a presence that raises the level of others and that is what Ward does. He took the offensive leadership reins from Jerome Bettis and if Ward is gone, someone will have to step up and take control.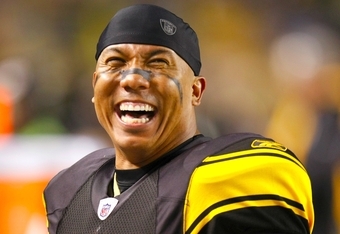 Gregory Shamus/Getty Images
But as with Bettis, life moves on in the world of professional football, and the Steelers got along fine without him—just as they will get along fine without Ward.
Releasing Ward will be one of the toughest decisions that the front office will have made in a long time, and whether you agree with the decision or not, players cannot play forever. The franchise has to do what is best from them.
There is still time for the Steelers to make an official decision, and maybe it will work out that Ward will be wearing the black and gold for one more chance at a Super Bowl.
If this is the time, it has been a great ride for Ward and the Steelers. While his leadership will be greatly missed, he has already made a lasting impact on the Steelers and has left them in good hands.
Follow me on Twitter @ChrisG_FC