2012 NFL Free Agents: Do New York Giants Dare Bringing Back Jeremy Shockey?
February 11, 2012

Andy Lyons/Getty Images
The New York Giants have a newfound need at the tight end position following Super Bowl XLVI.
Travis Beckum tore his ACL in the first half of the game, and Jake Ballard tore his ACL during the second half of the game.
Both Ballard and Beckum are expected to begin the 2012 season on the Physically Unable to Perform (PUP) List, so now Giants general manager Jerry Reese will need to search for help.
He could always draft a tight end in April's 2012 NFL draft.
Or, he could always look for reinforcements in free agency.
One name that pops up is a former Giant: Jeremy Shockey.
Shockey was a first-round draft pick in 2002, and always had a bright future, but never lived up to the expectations.
It seemed like his attitude always got in the way, and after Shockey ended the 2007 season on injured reserve, there was talk of trading Shockey on draft day in April of 2008.
During training camp of 2008, Shockey sat out, which enraged Tom Coughlin and there were reports of Shockey and Reese getting into a heated shouting match, which led to Shockey being traded to the New Orleans Saints in exchange for a second- and fifth-round pick in the 2009 NFL draft.
With New Orleans, Shockey learned to behave under Drew Brees' command, and even caught a touchdown in Super Bowl XLIV against the Indianapolis Colts.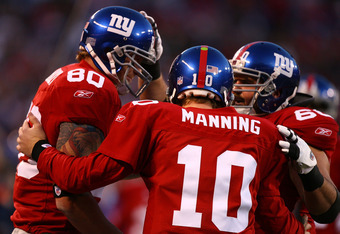 Al Bello/Getty Images
Shockey played the 2011 season with the Carolina Panthers and split time with Greg Olsen at tight end, catching 37 passes for 455 yards and four touchdowns.
Shockey will be 32 by the time the 2012 season will begin, and I think he knows he's not the hotshot player he once thought he was earlier with the Giants.
Is it possible that maybe the Giants and Shockey could have a reunion in 2012?
Sure, Shockey left New York on a sour note with Coughlin and Reese, but I don't think he burned the bridge like Tiki Barber did.
Former Giants wide receiver Amani Toomer did an interview right before Super Bowl XLVI, and he said Shockey used to pressure Eli Manning into throwing to him because Shockey thought he should be the go-to receiver.
That was then. That was 2004 until 2007, before the Giants won a Super Bowl, and it wasn't Manning's team yet.
Fast-forward to 2012: Manning has two Super Bowls, and has established that the Giants are now his team.
Shockey would have to understand this if he ever wanted to come back; he couldn't pull the same stunts he did in his first tenure.
And I think he would also have to apologize to Coughlin, Reese and Manning if he wanted to come back, because let's face it: He was a jerk on his way out the door.
Now, of course, Shockey may have no interest in playing for the Giants again, and then this story just becomes moot.
But the Giants will need to look for options at tight end for the 2012 season, and if Shockey isn't the same jerk he once was, I would be open to him returning to the Giants.