Peyton Manning: 4 Reasons the Colts Will Be Better off Without Him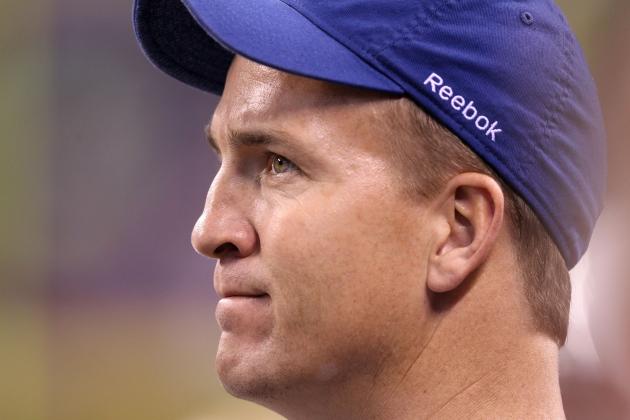 Andy Lyons/Getty Images
Peyton Manning has done wonders for the Colts, but it's time to cut ties.
There are no amount of superlatives that could adequately describe Peyton Manning's career. In short, it has been brilliant. Manning, selected first overall in the 1998 draft, led the Colts on an amazing tear that lasted over a decade. With Manning under center, the Colts won more games in the 2000s than any team in history has won during a single decade.
But the time has come.
As the old cliche goes, the NFL is a business. Tough decisions have to be made. This is one of those decisions.
Some will say, "How can cutting a future Hall of Fame quarterback make you better?"
To which I respond, "next slide, please."
Begin Slideshow

»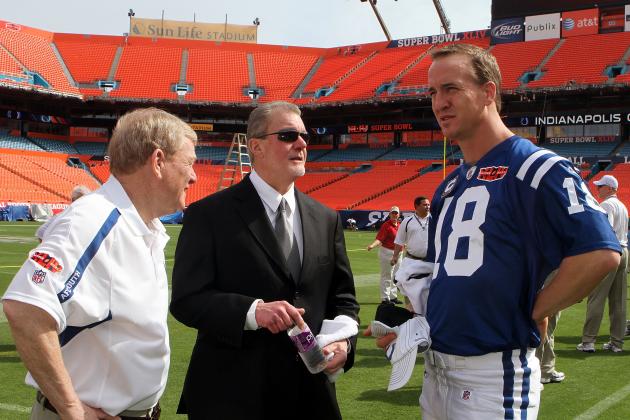 Doug Benc/Getty Images
This Colts threesome is already down to two.
On March 8th, the Colts owe Manning a $28 million roster bonus. Cam Newton, the No. 1 pick last season, signed a contract worth a total of $22 million, a noticeable disparity.
When Manning signed his five year, $90 million deal everyone knew it was going to strap Indy financially. At the same time, you don't let one of the top quarterbacks of all-time walk away during his prime.
After three neck surgeries and a nerve that refuses to regenerate, that time is now over.
Assuming the NFL rookie wage scale is not static, the Colts can expect to pay Andrew Luck $22-$25 million, most or all of it guaranteed. This would leave room for the Colts to continue their rebuilding process, which includes many holes.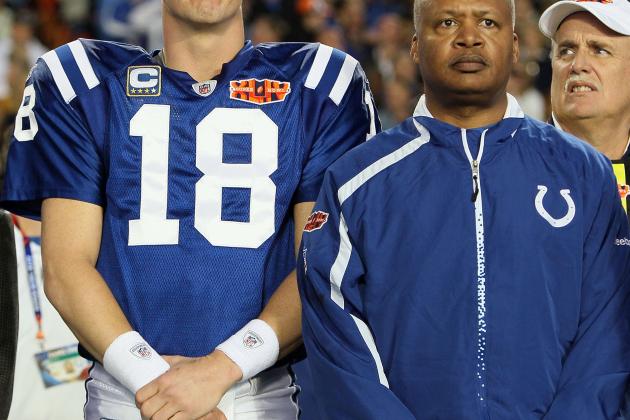 Andy Lyons/Getty Images
Who was really in charge?
Between you and I, I was never a fan of Jim Caldwell. The sample writing I submitted for writing privileges on Bleacher Report was entitled "Why Jim Caldwell Should Be Fired," or something to that effect.
But whether or not Jim Caldwell was a great coach generally speaking, I think he was the right coach for a Manning-led Colts team. Reason being that for years Manning has essentially been the head coach of the Colts. He runs the offense, he runs the practices, he calls the plays; what doesn't this guy do?
This didn't really leave a lot for Caldwell to do.
With Manning out, the control will shift back into the hands of management. For better or worse, that is reality. The complete coaching overhaul the Colts' front-office did this year is the biggest giveaway (so far) that they don't intend to keep Peyton. They want this new group to assume the roles they held before they arrived in Indy.
They can't do that if Peyton is in the way.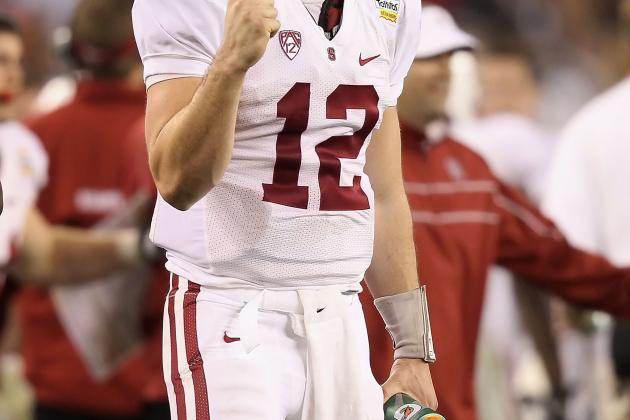 Christian Petersen/Getty Images
The Colts' future looks brighter already.
While Manning has been a godsend for the last 13 years, his time has come and gone. Colts fans need to accept that he will never be the same, and the Colts need to find his replacement. It will be difficult to replace one of the best ever, but by now we all know who is expected to take the first shot.
Andrew Luck.
Whether he is truly the answer or not, Luck has earned the right to try. Luck is a scout's dream: ridiculous intelligence, a dominant record in a major conference, signature wins in close games and all the while having a less-than-stellar supporting cast. In fairness, his offensive line had two projected first-round picks. But speed was something that simply could not be found on that offense.
Through it all, Luck is simply a winner.
More than just Luck, though, by moving past Manning they will be able to acquire new talent, something they desperately need. Without Manning, the severity of the Colts' issues was on full display in 2011.
That lack of talent is exactly how they landed the right to Mr. Luck.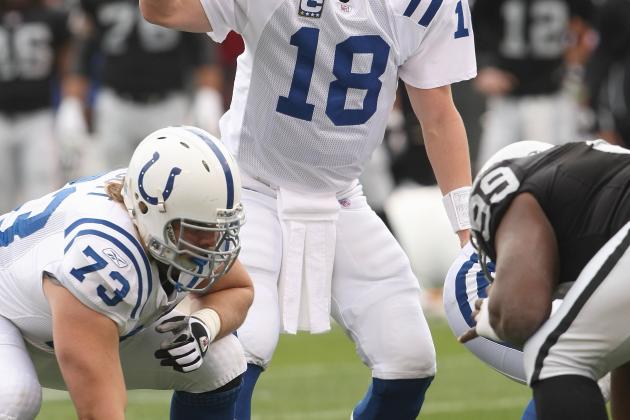 Stephen Dunn/Getty Images
Manning's self-confidence sometimes put the Colts in bad positions.
Perhaps the best field general of all time, Manning was well-known for his dance-like audible session every time the Colts lined up to snap the ball. Nobody was better at reading defenses and giving his team the best chance to succeed on every play.
But too often he would audible out of runs and into pass plays.
Peyton has one of the best play-action fakes in the NFL. The shocking part of that is that the Colts rarely even ran the ball with Peyton at the helm. And when they did, the success was increasingly limited. In 2010, the Colts were 28th in both rushing attempts and rushing yards gained. Meanwhile, they were first in passing yards.
Needless to say, that isn't balanced.
In the NFL, balance will always be a huge advantage to an offense. With personnel groupings becoming more and more varied, the ability to pass and run out of any formation is becoming increasing valuable. With Peyton checking out of so many runs, it's tough to maintain that balance.