NBA Game Recap: Los Angeles Lakers Edge Boston Celtics in Overtime
February 10, 2012

After winning five in a row and looking like the Boston Celtics we've come to expect, it was going to have to take something—or someone special—to stop them.
And the Kobe Bryant-led Los Angeles Lakers turned out to be exactly that.
In a match that went back-and-forth the entire time, and after three Celtics buzzer-beater shots missed, the Lakers won 88-87 and moved to 15-11 for the season.
For a side that was 3-9 on the road heading in to this one, the Lakers were never going to have their way easy from the opening tip; it was going to be a street-fight of a match.
Back-and-forth went the entire match, and when Pau Gasol's tip shot went in, the game was tied at 82-all with just under 10 seconds to play.
Boston missed their first buzzer-beater, with a tough three-point attempt by Mickael Pietrus off the mark.
Paul Pierce was then open for his favorite shot in the final seconds of overtime—a step-back jumper—but after that missed, and Ray Allen's put-back was blocked by Gasol, the Lakers clung on to a one-point win.
For the Celtics, it marks another defeat to a side with strong and influential big men, and if they are to continue to stand as a championship contender, they must figure out how to stop teams from dominating inside on them.
Kevin Garnett was 6-of-23 for 12 points and 12 rebounds, but was simply outdone by Paul Gasol's 25-point, 14-rebound effort.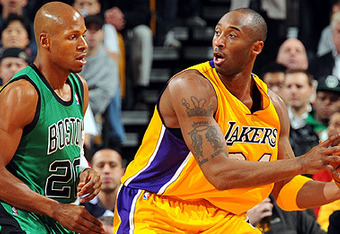 Once you throw in to that mix Andrew Bynum's 17 rebounds and 16 points, as well as a game-high 27 points from Kobe, the Celtics' need for dominant defense still remains.
They will look to bounce back on the road tomorrow night against the Toronto Raptors, who have lost their last three and are 3-7 at home.
Boston slipped to seventh in the Eastern Conference with the loss, but are by no means done and dusted for the season, as the Big Three continue to defy the critics with solid performances—and the Celtics continue to defy the haters with wins.
Just not in this one.
Read more articles by Dan here or follow him on Twitter: @dantalintyre