San Antonio Spurs: Bittersweet All-Star Results; Duncan Deserves More
February 10, 2012

Jeff Gross/Getty Images
Tony Parker is in, Tim Duncan is out. 
The NBA All-Star teams are set after all of the reserve players were announced earlier today. For the San Antonio Spurs, it was pretty obvious that they would have their three-time All-Star guard, Tony Parker, represent the team this year.
What was not known was the All-Star status of the Spurs' 13-time All-Star, two-time NBA MVP, three-time finals MVP, NBA Rookie of the Year and future Hall of Famer, Tim Duncan.
Now we know.
He will not be able to obtain his 14th consecutive appearance, which is currently the most of any player in the history of the NBA.
It is just plain shocking.  
Players are not immortal; they age like other humans do. Duncan is no exception.
However, I argue that he deserved a spot this year as well, and a chance to have been in the All-Star game every year he has been in the NBA.
Surprisingly, if you look at his numbers this year, they are almost identical to last year. The more impressive thing is that he is doing it in fewer minutes played.  
If you average his numbers per 36 minutes of play, he arguably is actually doing better this year than last. 
Last year per 36 min: 17.1 PPG, 0.8 STL, 3.4 ASST, 11.3 REB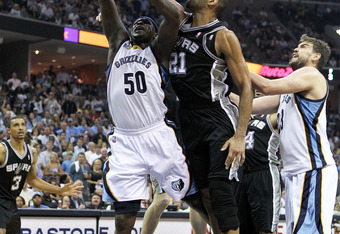 Andy Lyons/Getty Images
This year per 36 min: 18.2 PPG, 0.9 STL, 3.5 ASST, 10.8 REB
Don't forget he has had to do this with Manu Ginobili absent the majority of the season thus far. 
And while people are being amazed by Blake Griffin dunks, Dwight Howard drama and other ESPN favorite topics, the Spurs are in second place in the Western Conference.  
Teams with great records need to be given more credit and respect, especially when they have a player with a career as decorated as Duncan.
So the next question is, if Duncan were to have been given a spot, whose spot should he have taken?  
Here are the Western Conference reserves:
Kevin Love of Minnesota Timberwolves, LaMarcus Aldridge of Portland Trail Blazers, Russell Westbrook of Oklahoma City Thunder, Dirk Nowitzki of Dallas Mavericks, Steve Nash of Phoenix Suns, and Marc Gasol of Memphis Grizzlies. 
I don't know about you, but one of these players sticks out like a sore thumb.
While he is having a great individual year so far and has improved a lot, I am sorry but Marc Gasol is not better than Tim Duncan. No, I am not living in the past, I am talking about 2012.
Let's see why.
His team is in 10th place out of 15 in the Western Conference. So what if he has a worse team, you may ask; maybe he has better stats?
Nope.  
Here are his stats this year per 36 min: 14.0 PPG, 1 STL, 2.4 ASST, 8.7 REB
Sure, he is young, has potential and has improved since last year—give him the most-improved award then.  
Seriously, someone tell me what this guy does better than Tim Duncan other than play more minutes? He has proven nothing, other than his team beating the Spurs in the first round last year and then getting bounced the round after.
Even then, if we want to talk about THIS year, Tim Duncan's squad is 2-0 against the Grizzlies, and he has better stats than Marc Gasol during both of those games.  
Bittersweet for the Spurs indeed.  
If Spurs fans needed any more motivation to beat the Grizzlies this season after last year's playoff disappointment with an injured Manu Ginobili, they have more now.