Kobe and Lakers in Trouble? L.A. Takes 3-9 Road Record to Boston, New York
February 9, 2012

Doug Pensinger/Getty Images
The 14-11 Los Angeles Lakers are halfway through their six-game road trip. Through the first three games, they are 1-2 and will start their final three games with back-to-back games in Boston and New York.
The Lakers are only 3-9 away from Staples Center this season. The next two nights could be tough on the Lakers. 
Thursday night they take on the red-hot Boston Celtics. The Celtics are 15-10, but are in the midst of a five-game winning streak and have won nine of their last 10 games.
Los Angeles will look to contain Kevin Garnett and Paul Pierce in this matchup. In the last 10 games, Garnett is averaging 15.1 points per game and 7.3 rebounds per game, and Pierce is also putting up better-than-average numbers. In the Celtics' 9-1 run, he is averaging 22.6 points, 7.4 assists and 6.6 rebounds per game.
They are vital components to the Celtics, and if the Lakers can work on shutting them down, L.A. might be able to even out their record on the current road trip.
In the second half of the back-to-back, the Lakers will go into Madison Square Garden to face another streaking opponent.
The New York Knicks enter the game with an 11-15 record but are winners of their last three games. Leading the way in these games has been point guard sensation Jeremy Lin.
The Knicks will once again be without Carmelo Anthony and Amar'e Stoudemire, so the offense will likely be coming from Lin again.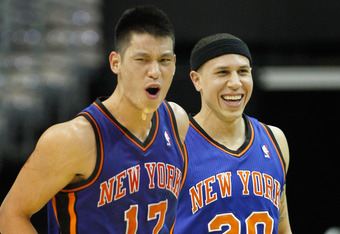 Rob Carr/Getty Images
In Lin's last three games, he has 76 points and 25 assists. Not bad for just being named the Knicks' starting point guard.
Lin's presence on the court has energized his team to play with more passion, but it has also ignited Madison Square Garden. The Lakers are going to need to control Lin's production in hopes to not become another team to fall to the "Linsanity."
Keys for the Lakers on offense will be continuing to get solid play from Kobe Bryant. He has averaged 29.3 points per game this season to go along with 5.8 rebounds and 5.4 assists. 
His biggest challenge in the next two games will be against the Celtics.
In points allowed per game, their defense ranks first in the NBA, allowing only 86.5 points. Bryant will need to get through their defense and continue to do what he has all season and have great games.
After Boston, the Lakers will have a bit of an easier task in New York against the Knicks' mediocre defense. The task against the Knicks is simple, but with the way Lin is playing it might be challenging. 
Both games might come down to the last couple minutes.
The Lakers finish their road trip against the Toronto Raptors on Sunday.