NASCAR 2012 Season Predictions and Storylines
February 9, 2012

Rainier Ehrhardt/Getty Images
*Kevin Harvick's wife DeLana gives birth to a healthy baby boy on July 14. The couple refuses an anonymous $1,000,000 offer to name the baby "Jimmy John," as well as an anonymous $2,000,000 offer to name the baby "Kyle Hates." Instead, the Harvick's name the child "Richard Childress Harvick."
Then in July during an incident in the New Hampshire Motor Speedway garage area, Kyle Busch is punched by a "Richard Childress" for the second time in less than a year when young Harvick nabs Busch trying to steal candy from a baby.
Kevin Harvick finishes the season with four wins and finishes fourth in the final Sprint Cup standings.
*Brad Keselowski leads at the halfway point of the Daytona 500, earning the $200,000 bonus, and tweets about it as he speeds around the 2.5 mile oval at over 200 miles per hour. NASCAR is not too pleased, and true to their commitment to abolishing secret fines, announces a $25,000 fine for Keselowski on Twitter.
*Kurt Busch, in his new ride for Phoenix Racing, is the laughingstock of the NASCAR garage, and this time, it has nothing to do with his ears. Busch remains bewildered as to the reasons of the laughter, that is, until Roger Penske, a Greek mythology aficionado, explains to Busch the legend of the Phoenix, a mythical firebird that builds a nest, then burns the nest and itself to a pile of ashes, after which a new Phoenix emerges.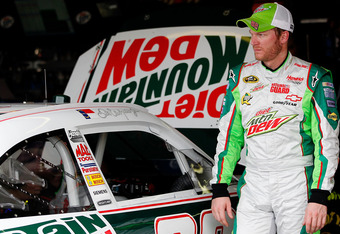 Geoff Burke/Getty Images
Busch is oblivious to the connection, and says he's never burned a nest, but does cop to burning several bridges.
*Four-time Sprint Cup champion Jeff Gordon begins the "Drive For Five," the 11th installment of his annual quest for his fifth Sprint Cup title.
Hendrick Motosports teammate Kasey Kahne simultaneously begins his own "Drive For 5," as he takes over the No. 5 car driven by Mark Martin. Kahne's first order of business in his new car is to adjust the seat. His second order of business is to squelch the retirement rumors inherent in driving the No. 5.
*In honor of the deal with Stewart Haas Racing that ensures Danica Patrick a starting spot in the season's first five races, the Bradford Exchange offers the "Danica Patrick Silver Platter" collectible edition place settings. Each plate is hand-crafted, and comes with a matching spoon, as well as a GoDaddy.com napkin holder.
Patrick starts 29th in the Daytona 500, and finishes 39th after a wreck with Robby Gordon sends her to the garage, where a miffed Gordon demands an apology, and a refund for some worthless merchandise he hastily purchased.
*Boris Said wins the Toyota/Save Mart 350 at Infineon Raceway on June 24, slipping by Marcos Ambrose on the final lap. In the post-race press conference, Said shockingly announces his retirement from racing in order to pursue his true love of rock and roll. Said introduces his band, the "Said Heads," featuring Said on vocals, Boris Heard on guitar, Boris Smelled on bass, Boris Tasted on drums and Boris Felt on keyboards.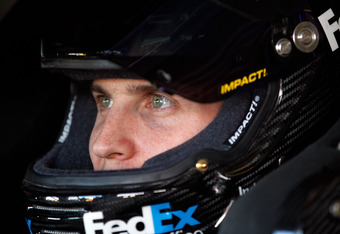 Chris Graythen/Getty Images
The "Said Heads" first single, "Greg Biffle Needs a Friggin' Whoopin,' and I'm Going To Give It To Him," debuts at Number 198 on Billboards Top 200 modern rock tracks, and the band later embarks on a Japanese tour opening for Slipknot and GWAR.
*The pairing of Denny Hamlin and new crew chief, Darian Grubb, is an instant success, as Hamlin wins three of the season's first eight races, including back-to-back wins at Martinsville and Texas. An optimistic Hamlin starts thinking about winning a championship, while a pessimistic Grubb starts thinking about losing his job.
*Bill Elliott's pilots his Wal-Mart-sponsored car to a solid 9th-place finish at the Coke Zero 400 at Daytona on July 7, a result that proves two things: 1) Elliott's still got it, and 2) you can still get a 27 cent can of kidney beans at Wal-Mart.
*Carl Edwards wins the Quaker State 400 at Kentucky Speedway, dominating a race marked by few lead changes and ever fewer cautions. Luckily, massive 2011 road construction projects alleviate traffic issues at the track, allowing fans speedy egress from the Sparta facility, resulting in some of the weekend's best racing.
Edwards posts five wins in the season's first 26 races, and starts the Chase For The Cup in first, and finishes second to Jimmie Johnson for the Sprint Cup title.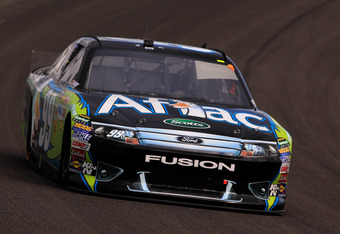 Chris Trotman/Getty Images
*Dale Earnhardt, Jr. snaps his winless streak by winning the Aaron's 499 at Talladega on May 6, starting from the pole and leading 198 laps. After a victory lap, Earnhardt drives his No. 88 Chevrolet into the infield, where legions of Junior Nation fans, ironically "amped" up on Diet Mountain Dew, lift the 3,400 machine over their heads, as it becomes the first vehicle in history to "crowd surf."
Earnhardt doesn't win again until December, when he captures NASCAR's most popular driver award.
*Kyle Busch sweeps the weekend at Bristol Motor Speedway in late August, winning the Camping World Truck, Nationwide, and Sprint Cup races.
Busch celebrates with the slowest victory procession in history, a drive which takes him from Bristol to Mooresville, NC at four miles per hour. There, Busch cruises at a snail's pace through the winding back roads of rural Iredell County for hours, until a county officer stops him and advises him that "You'll have to go faster." A satisfied Busch complies.
*Prior to the Nationwide STP 300 at Chicagoland Speedway, the Reverend Jesse Jackson voices his protest over the lack of minorities in NASCAR by uttering the phrase "bigotry, bigotry, bigotry" in his invocation, leading to a firestorm of controversy, as well as an Auto-tuned Youtube hit song.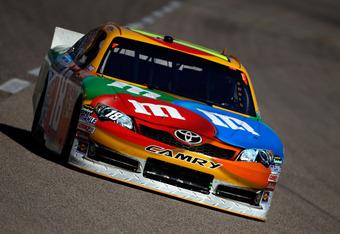 Chris Graythen/Getty Images
The situation leads to a dialogue between Jackson and Brian France, and the
simpleminded NASCAR chairman agrees to make changes, starting the following week in Indianapolis, where France taps the Black Keys to perform before the race.
*Columbia Pictures announces it will film a sequel to Talladega Night: The Ballad Of Ricky Bobby titled Talladega Nights 2: The Ballad Of An Entirely Fictional Character Loosely-Based On Tony Stewart. A clean-shaven Zack Galifianakis is tapped to play the title role, and immediately begins a strict dietary regimen to gain 15 pounds for the role.
*Dale Earnhardt, Jr. adopts the phrase "One In '12" as the official rallying cry in his quest to capture his first Sprint Cup championship. However, after a late-season slump leaves him in 15th-place in the points standings, "One In 12" quickly becomes Earnhardt's rallying cry for simply making the Chase.
*It takes three months for Matt Kenseth to earn his first win of the season, a victory at Charlotte in the Coca-Cola 600, and another two months for people to start caring.
*Jimmie Johnson, feeling that he needs a change, shaves his signature beard and grows a Fu Manchu mustache, which affords him a more serious and sinister look. Johnson becomes the most-feared driver at autograph signings, as well as on the track, where his newfound persona rankles many drivers, including Joey Logano, who is envious of any type of facial hair.
Johnson wins his sixth Cup title with a masterful performance in the Chase, winning four races and wrapping up the title at Phoenix on Nov. 11.