Jeremy Lin Takes over Nation's Capital to Make It 3 in a Row for the Knicks
February 9, 2012

Rob Carr/Getty Images
A gashed chin, a double-double and a dunk that ignited the fans at the Verizon Center in Washington D.C. and the New York Knicks had their third straight victory. It was just another day in the life of Jeremy Lin.
In the last minute of the game, the crowd chanted "Jeremy Lin" and he received a standing ovation. It was similar to the reaction that he was receiving at Madison Square Garden this week.
After the Knicks won 107-93, Knicks fans might start to think, "who needs Carmelo Anthony and Amar'e Stoudemire when we have Lin?"
Lin helped the Knicks pull away going into the third quarter. Through only three quarters, Lin scored 20 points, had eight assists and four rebounds. 
The Knicks and Wizards were tied at 64 with five minutes left in the third quarter before Lin took control of the game and began making his acrobatic shots, including a dunk that brought the Lin fans in attendance to their feet.
He played exceptionally well in the third quarter and earned himself some rest in the fourth. 
Still he finished the game with 23 points, 10 assists and four rebounds. After turning the ball over eight times on Monday, Lin responded with only two in Wednesday's game. 
It is amazing to see the energy that he has brought to the Knicks. He is distributing the ball well and doing everything he has to do at the point for the Knicks.
New York needs to hope his production continues, because they have a tough task over the weekend.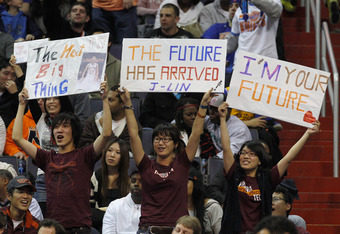 Rob Carr/Getty Images
The Knicks and Lin are going to have to play back-to-back games against good teams without Stoudemire and Anthony.
New York faces the Los Angeles Lakers on Friday and the Minnesota Timberwolves on Saturday. 
Lin's production this week has been stellar. 
On Saturday against the New Jersey Nets, Lin played 36 minutes, scoring 25 points to go along with seven assists and five rebounds. 
On Monday, the Knicks seemed to put the game away behind Lin and his 28 points. He played 45 minutes and added eight assists.
The Knicks will go as far as Lin takes them right now. It is going to take a lot to beat the Lakers and Kobe Bryant, but Lin will have the rest of the team ready for the challenge.