Alabama Football: Did NFL Screw Center William Vlachos with No Combine Invite?
February 9, 2012

Chris Graythen/Getty Images
Nine Alabama players have received invites to the NFL combine. All the stars are accounted for, but three-year starting center and two-time national champion center William Vlachos is not among them.
According to the official NFL Combine site, nflcombine.net, William Vlachos will not be attending the combine late this month in Indianapolis.  
Depending on your viewpoint, this either could have been expected or could have been a big surprise.
Vlachos' stature (6'0"-6'1" and roughly 300 lbs.) makes him a very small NFL offensive line prospect. If you are a fan of the "eyeball test," then Vlachos clearly fails.  
But the "eyeball test" is a foolish way to scout NFL prospects. Wes Welker and Drew Brees failed it while JaMarcus Russell passed it with flying colors. William Vlachos is a great player, and Alabama fans know this. To us, it is a great surprise.  
I'm not certain as to why Vlachos didn't receive an invite. After investigating the combine site, I came across this spiel:
"Participants are determined annually by a Selection Committee. The Directors of both National and BLESTO scouting services, which combined represent twenty-five NFL teams, are joined by members of various NFL player personnel departments to form the committee. The participating NFL executives can rotate on a yearly basis, and remain anonymous. ALL eligible players are reviewed and voted on by the committee members. Each athlete receiving the necessary number of votes, by position, is then extended an invitation. While it is not a perfect science, the goal of the committee is to invite every player that will be drafted in the ensuing NFL Draft."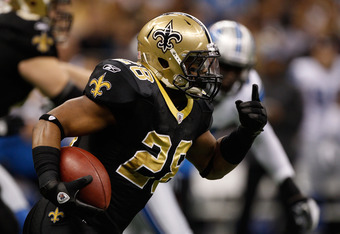 Chris Graythen/Getty Images
The only part that made sense to me, as an irate Alabama fan, is the part where they said, "While it is not a perfect science..."
I suppose the infamous "eyeball test" wins again. Vlachos' criticism began again at the 2012 Senior Bowl for the first time since he paved the way to a Heisman Trophy for Mark Ingram and a national championship in 2009.
In an article from the Montgomery Advertiser, he said this:
"My height isn't going to change. That's a fact. I thought I was past all that talk until I got down here. It used to be a motivating factor, but I've won 40 SEC games and two national championships now.

"I've played against the best competition for the past four years. I thought I had finally put this size thing to rest. I think I've already proven that I can play on this level."

"I know my prospects are somewhat limited because I can only play center at the next level. I know I'm not going to be a high draft choice. I'll just have to wait around and see what happens. I'll expect the worst and hope for the best."

"The week has been just like the way it was at Alabama from the practices to the coaches to the conditioning. Coach Saban runs the program just like the pros. It definitely helps because really there's not a lot of an adjustment."
Walterfootball.com, a reputable NFL scouting website, lists Vlachos as the fifth best center entering the Draft and projects him as a second or third-round pick. He may not go that high, but he's almost certain to be drafted. 
I have raved about William Vlachos in the past and he's one of my favorite players. I nicknamed him "The Battle Dwarf" due to his size and ferociousness.  
Jon Dove (also a Bleacher Report featured columnist) for Mockingthedraft.com gave this perfect breakdown for William Vlachos.
Passing the "eye test" is going to be an issue for Vlachos as he is short and stocky
He doesn't have great athleticism and isn't very fluid
When in space, Vlachos will struggle to keep defenders in front of him
His lack of height helps him stay low and get leverage
He is able to snap the ball and get his hands up all in one motion
That motion allows him to routinely get his hands inside the defender
Vlachos is pesky and once he gets his hands on you it's hard to disengage
He always gets inside hands and does a good job staying low
Vlachos has a natural bend 
His quickness off the ball helps overcome his lack of strength and athleticism
He is a very good Velcro player
Vlachos looks to be a good fit for a zone-blocking scheme
He is going to move people off the line but can lock on, turn and seal
Faced top competition in SEC such has Nick Fairley and Drake Nevis.
This list exemplifies all you need to know about William Vlachos in a nutshell. It was also written in August 2011, well before Vlachos paved the way for another Heisman Trophy running back candidate in Trent Richardson. It was also before he began sporting his second national championship ring.  
I have attempted to discover answers behind the mystery of the NFL not inviting Vlachos to the combine but have been unsuccessful. His Twitter page has left no clues either.
William Vlachos will get his opportunity at Alabama's Pro Day to prove his worth to NFL scouts. I believe that he will play in the NFL, and though it's possible that he might go in as an un-drafted free agent, I still believe he will be drafted.  
It's certainly strange that William Vlachos was not invited to the combine, but then again, the combine is "not a perfect science."