Lakers Rumors: Gilbert Arenas Can Cure What Ails Los Angeles
February 8, 2012

Sam Greenwood/Getty Images
The Los Angeles Lakers are in desperate need of help at guard and are looking to bolster their rotation in any way possible.
Enter Gilbert Arenas.
CBS Sports' Ken Berger is reporting that Agent Zero is conducting a workout in Los Angeles at some point this week and that Lakers general manager Mitch Kupchak is "open-minded" about being in attendance:
"The Lakers are going to take a look at him," one of the people familiar with the matter said.
This is exactly what the Lakers need at this point. I'm sure they are constructing potential deals for star point guards like Deron Williams behind the scenes, but the former All-Star is the immediate fix.
Steve Blake has played in only 12 games as he deals with a rib injury, the 37-year-old Derek Fisher was old two years ago and Andrew Goudelock is nothing more than a fill-in.
Arenas has terrified league executives across the NBA because of his stupid gun incident in '09, but he hasn't had an issue since, and we all know it was nothing more than a senseless prank that went horribly wrong.
The 30-year-old was waived by the Orlando Magic last year with the amnesty clause after averaging eight points a game. The only reason they got rid of him was the mega-contract he was earning. Magic captain Dwight Howard wanted him back and thought he wasn't used properly in Orlando (per Sporting News).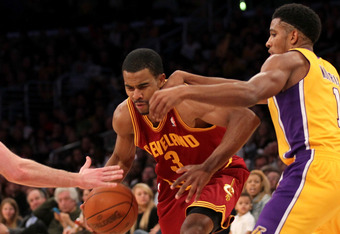 Stephen Dunn/Getty Images
Sure, he lost his explosive first step that allowed him to be one of the greatest scores of the last decade, but Arenas is still a capable ball handler, which is something the Lakers desperately need. He can run an offense and still hit a mid-range jumper with strong consistency.
Berger reports that they have interest in both Cleveland Cavaliers point Ramon Sessions and Jonny Flynn of the Minnesota Timberwolves…two players that would have to be acquired via a trade. Sessions might even be worth a first-round pick.
Arenas can be signed for the veteran's minimum and if things don't work, he can get cut for a minimal loss. At least fans know the team tried. Who's to say either of those other guys are better anyway?
Until they make a move to shore up their dire need, the Lakers are going to waffle in the doldrums of mediocrity in a highly competitive but winnable Western Conference.