Denver Broncos: What Mysteries Could Free Agency and the 2012 NFL Draft Hold?
February 9, 2012

Jim Rogash/Getty Images
With the 2011 season in the books, it is time once again for the fans to join in on the most joyful time of all—to look ahead.
During this magical time, we ardent fans of our specific teams get to talk, speculate and sometimes argue amongst each other about what our team's primary needs are. About what can push our beloved teams over the hump and about what can give us the edge to make it to where the Giants made it.
The Denver Broncos were a very much improved team all-around last season. Everywhere from defense to their running game, the Broncos made strides in the right direction. The run defense was much improved, although they still gave up too much yardage in my opinion—it no longer seemed that they were non-existent out there on the field.
The pass rush was by no means, an otherworldly phenomenon, it was an outstanding improvement from a season ago. The special teams were inconsistent at times, but Prater seemed to get it together and did become otherworldly towards the end of the season.
Our pass defense and passing game seemed to be the main areas where we have suffered some setbacks. However as a whole, this team not only played much better—but they were also coached much better.
After a season of surprises, and in my opinion some very lucky moments, the Denver Broncos are not yet through with the rebuilding process. In this article I will detail the positions in which I believe we still have major needs, and then give detailed options through FA and draft to fill those needs.
So without further a do, let's get to it.
The Broncos have several holes left to fill. Here they are listed by need and position:  DT, CB, MLB, OL, RB, WO, S.
DT
Brodrick Bunkley was a great signing last year. He was everything I expected him to be. A consistent run stuffer, who plays within his means, has good instincts and is a consistent tackler. However, he is a FA now and the Broncos would be wise to resign him. Although Bunkley was a nice surprise, he was also a non-factor when it came to collapsing the pocket on passing downs.
This we knew about him before we signed him. Every team that employs the 4-3 defense needs a "Bunkley". They also need a "Suh". Someone that can create pressure from the front, taking the QB's ability to step up and avoid the edge rush—away from him. The Broncos did not have that on a consistent basis this past season, and it was part of the problem when it came to our pass defense.
Ty Warren was supposed to be that for this defensive line, unfortunately he was hurt all season. Even if he does make a full recovery, he will be 32 years old next season.
The Broncos' efforts must begin in house, with the resigning of Bunkley and Marcus Thomas, who plays a lot like Bunkley. Free agency won't hold much for the Broncos in this particular category. Maybe Chicago's Okoye with his combination of youth and contract expectations can be an option—but the Broncos will be better served looking towards the draft on this one.
There are several top-rated prospects coming out this year, and here are the ones I think best suit the Broncos: Brandon Thompson out of Clemson, Kendall Reyes out of Connecticut, Fletcher Cox out of Mississippi State and Michael Brockers out of LSU.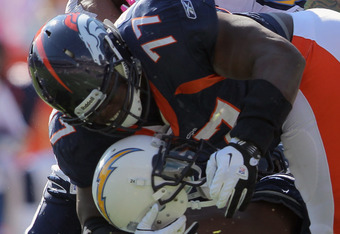 Doug Pensinger/Getty Images
Out of all of them, I personally like Thompson out of Clemson and Brockers (out of LSU) the most. All of these linemen would fill that long-standing need of the Broncos—an inside pass rusher.
Thompson could slip to the second round in the right conditions, but the Broncos would have to trade up in said round or trade down in the first—to acquire him. Brockers is a projected top-10 pick, so the Broncos would need to do some serious maneuvering to get him—but it's not impossible.
Reyes and Cox are both projected as late first-round, early second-round prospects.
CB
Champ is still the Champ, but there is no doubt that he has lost half a step. Goodman is serviceable at best, and their age is starting to become an issue—add to that the lack of depth behind them and we have a serious issue.
Harris, an undrafted rookie last season, played his heart out and showed real promise as a slot corner. Wilhite is a non-factor, as is Tony Carter, Syd'Quan Thompson and Cassius Vaughn have shown small flashes—but both were out for the entire season.
Once again free agency does not hold much in this position this year, save for a few high-profile players like Tracy Porter and Cortland Finnegan, but lets be honest—even if their respective teams do allow them to hit the open market, which is unlikely, their price tag would be too high for the Broncos—a team that has so many holes to fill.
Brandon Carr is also available, although it is highly unlikely that the Chiefs do let him hit the market. He is the type of player that the Broncos could make a run for.
As far as the draft is concerned, there are only three truly impressive prospects this year. Morris Claiborne out of LSU, Dre Kirkpatrick out of Alabama and Janoris Jenkins out of North Alabama by way of Florida. All three stand to be drafted way too early in draft for the Broncos to have a shot at them, but there are some interesting later-round prospects that could serve the Broncos well.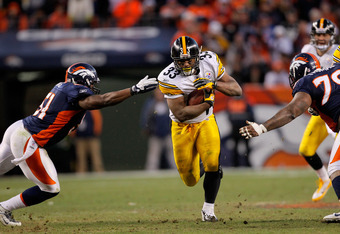 Justin Edmonds/Getty Images
Prospects like Josh Norman out of Coastal Carolina, DeQuan Menzie out of Alabama and Josh Robinson out of UCF are all prospects that could be had in the third round or lower, and could provide great value.
MLB
Joe Mays was serviceable, and his hard-hitting tackles were something that we Broncos' fans have not seen out of one our MLBs since big Al left. However, his inconsistency when getting to the ball carrier, his lack of closing speed and his lack of speed overall have cost the Broncos dearly this past season. Nate Irving was supposed to be the guy coming in, but he seemed lost out there for much of the preseason—and was relegated to special teams' duties.
Mike Mohamed showed tenacity during the preseason, but he also showed a great lack of speed. Wesley Woodyard is a great-character guy with a very high motor. He has sideline-to-sideline speed, good instincts and is a very solid tackler who can sometimes lower the boom. The guy is smart and extremely well liked—and respected by his teammates that have voted him captain every year he has been here.
Unfortunately for Wesley, his size is a problem at the MLB spot. There are questions about his ability to take on blockers and shed them in time to make a play in the backfield.
I like Wesley. I say we give him the chance to be the starter next season while we groom Nate Irving or Mike Mohamed—or a new draft pick to take over. Free agency also doesn't bring much this year, there is no real must-have free-agent MLB out there. The draft doesn't fare much better either, save for Dont'a Hightower out of Alabama and Luke Kuechly out of Boston College.
Believe it or not some experts think that Hightower may actually slip into the second round as questions about his speed mount before the combine. If that is the case, by trading down a few spots in the first round, the Broncos might actually be able to snag a stud DT and Hightower.
Now this is a pretty big "if" type of scenario, but it is certainly doable, and if the price is right—the Broncos might be the wiser for pulling the trigger.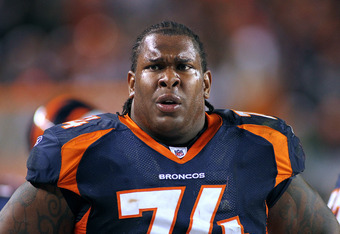 Marc Piscotty/Getty Images
OL
There are rumors that the coaching staff is not too happy with Clady these days. Whether these rumors are true or not, Clady still seemed to bounce back this year—and play a lot more like the guy we saw during his first two years in a Broncos' uniform.
Orlando Franklin seemed overmatched at times, but he also proved to be an absolute monster in run blocking. Also, his pass protection did seem to improve as the season wore on.
Chris Kuper is a stud at right guard, and it is a shame that he has yet to be voted to the Pro Bowl. He is nasty, strong and has great footwork on both pass and run blocking. He is still very young in linemen years—and considering that linemen seem to have the longest and most productive careers out of all positions in the NFL, I think we can count on Kuper being a stud for a long time to come.
Where the line begins to worry me is in the center and left guard positions. I like JD Walton, as a matter of fact, a couple of years ago I wrote an article kind of like this one—where I mentioned that the Broncos might be interested in drafting the center out of Baylor—Walton.
However, his potential and nasty streak has yet to manifest itself during his time in the NFL. He did improve considerably this past season as compared to the season before (his rookie season), but he was still overmatched a lot of the time.
He might just need one more season to come into his own, but he is definitely cutting it close. In that same article a couple years ago, I also suggested the Broncos draft a left tackle out of the University of Utah, and put him in as our left guard. I thought with his experience as a tackle, the prospect might not only offer great value—but he might be able to dominate at guard on the NFL level.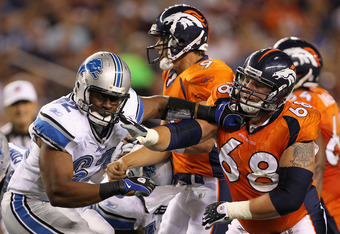 Doug Pensinger/Getty Images
Boy was I wrong on that one. Zane Beadles was a constant source of cringing for me when I watched our offense. The switch to the zone-read-run offense seemed to help him, but he was still overmatched, overpowered and just about completely dominated on almost every play. I still think that he can work as a backup. He is no starter and the Broncos must look to replace him ASAP.
As far as free agency is concerned, the pickings are pretty slim for both the C and LG positions. All the centers available through FA are pretty old and will be very much overpriced. However, as linemen do tend to have long careers, their ages don't scare me—but their price tags do. Same goes for the guards available. The only real star of the bunch is Carl Nicks of New Orleans, but he will command a monster deal.
In the draft, there are a couple of late-round prospects that might hold some interest. Philip Blake C out of Baylor (the man who replaced Walton) could be obtained as low as the fourth round. He is a former tackle, and can play all along the line—providing incredible depth for the Broncos. Even if Walton is the future at center, Blake might be worth the pick. Mike Brewster out of Ohio State and Ben Jones out of Georgia are also good prospects.
As far as Guards are concerned, there are some real good prospects coming out in the late rounds this year. Desmond Wynn out of Rutgers, Jaymes Brooks out of Virginia Tech and of course our own local boy—Ryan Miller out of Colorado. All three are projected to be late-round picks, even as late as the sixth round—and all three would be an upgrade over Beadles.
RB
Some might be surprised to see RB as a need since the Broncos enjoyed the number one running attack in the league. However, McGahee will be 31 next season and was fragile towards the end of the season.
Knowshon Moreno is a non-factor. His only chance of making the team and contributing on the field might be as a third down back. His ability to catch the ball and his open-field elusiveness are still valuable; however, as a full-time runner he is useless.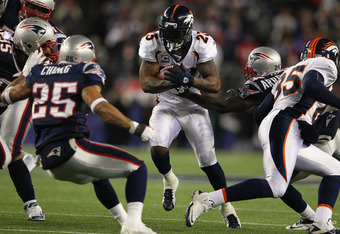 Al Bello/Getty Images
Lance Ball has shown some ability as a downhill power runner. Jeremiah Johnson might actually make Moreno expendable. Johnson is what is known as a change-of-pace back. He is quick, has excellent top-end speed, he can catch the ball well and is a threat to score every time he touches the ball. He is not a full-time starter as his frame might prove to be unable to handle the load.
Mario Fannin is also a member of this team—and he is the ideal John Fox back. He is big, strong, elusive and a sure ball handler. His health is the only question mark. And I've heard that the coaching staff likes the kid.
This is an interesting position. It seems that the team already has all of the pieces they may need. If Fannin is healthy and with the return of Moreno as a third down back or Johnson filling that role, and with Lance Ball giving Fannin and McGahee periodic breathers—the Broncos might not do anything during either the draft or FA.
I know that there are a couple of popular choices out there, like drafting Chris Polk or bringing back Peyton Hillis via FA. While both are possibilities, this is actually a position of strength for this team. So once again, do not be surprised if nothing is done.
WO
The receiver position is another position that is listed here conditionally. This position might not be a need if Royal is retained and Decker makes a full recovery. It is also dependent on Thomas keeping his progress as a big-time target on track. Let's face it, this is a run first, second and third—but progress from guys like Thomas and Decker will be crucial so they can provide constant and reliable targets for the QB.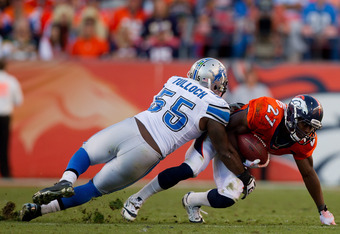 Justin Edmonds/Getty Images
However, depth is needed and while Matt Willis does provide some, the recovery of a guy like Mark Dell might just be what we need.
Again there is nothing in free agency that might entice the Broncos into making a move, and the draft is not providing any can't-miss prospects.
S
Brian Dawkins is done folks. There is no way around it. Physically he is still able to play, but he has lost a step and has become a liability in coverage. Rahim Moore was a complete disappointment during his rookie season; however, it is way too early to give up on him. Moore needs to improve his tackling and trust his instincts more.
Quinton Carter was a major surprise last season, not only doing well in space—but also in coverage. Bruton is a perennial special teams' guy who does provide nice depth. This is another area of major concern for the Broncos.
As I stated before, it is too early to give up on Rahim Moore. But with the heavy decline of Dawkins, he will need to step up and the Broncos will need to add depth either through the draft or FA.
In FA the Broncos could pursue the best safety available in LaRon Landry, or they could chase Tyvon Branch from rival Oakland. Due to the cap situation and many other FA needs both teams have, there might be a real possibility that those guys slip into free agency.
As far as the draft is concerned, there are no safeties rated even as high as Rahim Moore was last year. So if the Broncos do look to make a move on the safety position—look for them to do it via free agency.
Please feel free to begin a discussion of your own in the comments section.