New York Yankees: Burnett on the Block so They Sign Chavez and a Left-Handed Bat
February 8, 2012

Jim McIsaac/Getty Images
The New York Yankees continue to use A.J. Burnett as trade bait heading in to the 2012 season. With the depth of their pitching this season, it has been rumored that Phil Hughes or Burnett might be on the move.
Joel Sherman of the New York Post reports that the Yankees are trying to free up some salary by trading Burnett in hopes to sign Eric Chavez and another player to be used at DH. 
The Yankees have been interested in signing Johnny Damon, Hideki Matsui or Raul Ibanez to be the left-handed bat to play DH.
Chavez has shown that he is a reliable backup to Alex Rodriguez and it would allow Rodriguez to play some games as the DH as well. Since 2008, Rodriguez has not played over 138 games in a season. Last season he played 99 games, his lowest total in 16 seasons.
The left-handed bat would definitely help out the Yankees but they are not looking to spend over two million dollars. This is a significant handcuff considering they want two of these players.
Dealing Phil Hughes would be a mistake. The Yankees have not allowed him to develop normally and owe it to him to allow him to prove himself in New York. He has a good, live arm and will be an important part of the Yankees in years to come.
The solution then is simple. Deal Burnett and eat some of the salary.
Burnett is owed $33 million over the next two seasons. If the Yankees would eat one-third of that contract, $5.5 million in each of the next two seasons, they could potentially find a suitor for him.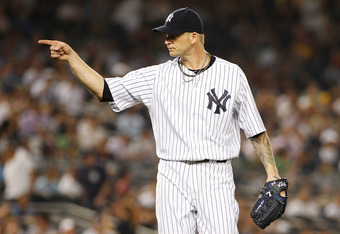 Mike Stobe/Getty Images
The Yankees might even have to go a bit higher, but either way it will free up salary and they will be able to shed all of the drama associated with Burnett. They would essentially be paying a part of his salary for him to potentially plague another team.
Burnett has a 34-35 record in New York with an abysmal 4.79 ERA. It is time for a change for the Yankees as well as Burnett.
With Burnett, every fifth day the Yankees will have to prepare for what is going to happen next. Last season, every start was a soap opera.
What inning will he break down? When he breaks down, how quickly will Girardi pull him? How will Burnett react as he's walking off the mound?
It needs to end.
The clubhouse will become a better place. Girardi will be able to stop making excuses for Burnett and the Yankees can stop babying a 35-year-old man.
Burnett might still have gas left in the tank, but it is imperative for him to pitch outside of New York. We always hear that he has some of the best stuff in baseball. If so, he can try to prove his worth on another team because New York is not for him.
History suggests that getting out of New York can change a pitcher.
We saw Javier Vasquez fall apart for the Yankees in 2004. In 2009 with the Atlanta Braves, Vasquez had 15 wins, a 2.87 ERA, and 238 strikeouts.
The Yankees once again tried their luck with him in 2010 and his ERA ballooned to 5.32. The next year he went to the Florida Marlins, where his ERA decreased to 3.69.
Only time will tell if Burnett can pitch successfully somewhere else, but it is on Cashman to make it happen.
There are many teams that need pitching and, at the right price, they will take a gamble on Burnett. 
To save Burnett's career and to allow the Yankees to move on, Brian Cashman has to keep fishing for a deal until someone bites.