New York Yankees to Sign Raul Ibanez, Johnny Damon or Hideki Matsui This Week?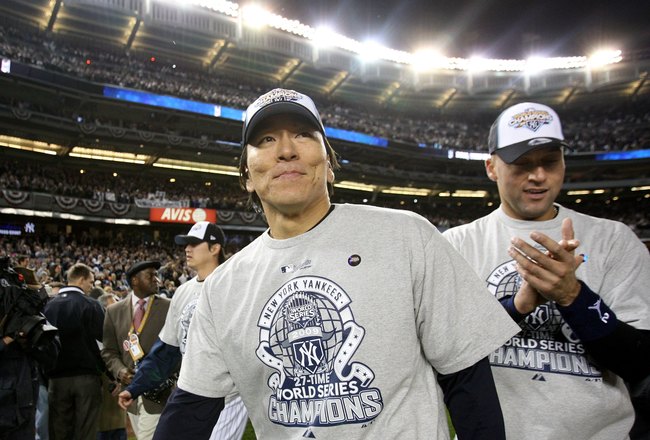 Matsui earned the 2009 World Series MVP with a breakout performance in Game 6.
Jed Jacobsohn/Getty Images
The New York Yankees are hoping to add another bat to their lineup this week. It seems as though it has come down to Johnny Damon, Hideki Matsui or Raul Ibanez to share time with Andruw Jones as the designated hitter.
Buster Olney reported that a deal could be done this week.
Ibanez might be the frontrunner at this point, but if Damon or Matsui lower their price, it could force Brian Cashman to make a decision.
All three players were participants in the 2009 World Series. Damon and Matsui were members of the Yankees and Ibanez was a member of the Philadelphia Phillies.
To Yankee fans, it would be an appealing idea to be reunited with Johnny Damon or Hideki Matsui. It would certainly benefit the Yankees to have one of the two men back on the team.
Three men in contention and only one spot left on the Yankees. Let's take a look at the potential candidates to join the Yankees.
Raul Ibanez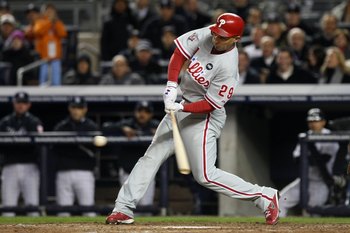 Ibanez faced the Yankees in the 2009 World Series.
Nick Laham/Getty Images
Monday night, Ken Rosenthal tweeted, "Sources: Yankees in serious discussions with Ibanez. He is willing to take less to play for them than he could get elsewhere."
The potential to bring the price down is there with Ibanez. The Yankees are being conservative with how much they spend on an extra bat so this might be a deciding factor.
Ibanez is a solid hitter. He has a career .280 average along with 252 home runs. Since joining the Phillies in 2009, Ibanez has hit .264. Last season he had 20 home runs and 80 RBI.
Ibanez is going to turn 40 years old this season. Ibanez is a New York native. Signing with the Yankees would likely allow him to have the option to end his career in New York.
Ibanez is used to the pressure of playing in a big market and for a premiere team.
In the 2009 World Series, Raul Ibanez faced the Yankees as a member of the Phillies. In the series, he hit .304 with four doubles, a home run and four RBI.
He would be a good addition to the Yankees if they decided to go in that direction.
It might not be the most appealing choice to the fans if the Yankees decide to sign Ibanez, not with former Yankee stars available that are willing to come back to play in the Bronx.
Johnny Damon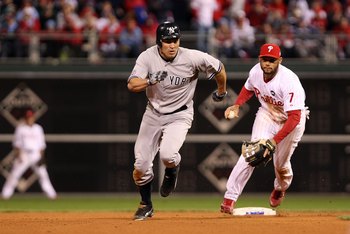 Johnny Damon was crucial to the Yankees 2009 championship.
Al Bello/Getty Images
Coming to New York means dealing with pressure. The Yankees know that Damon can deal with pressure and will handle the city better than anyone.
Damon is still producing even though he is 38 years old. Damon is certainly used to playing under the bright lights in the Bronx as well.
Last year he hit .261 with 16 home runs and 73 RBI in 150 games. Playing in Yankee Stadium would allow him to keep his home run totals up this season.
He would have another productive season in New York if the Yankees decided to take a chance with him.
If talks were to begin, there could be a couple obstacles standing in the way of a deal. Damon would probably want a two-year contract; to give him the best shot at 3,000 hits. The Yankees will probably be willing to offer a one-year deal.
In addition to the length of the contract, playing time would be an issue as well.
Damon will have to be an every day player to get to 3,000 hits in the next two seasons.
With Andruw Jones on the team to face lefties and older players who need half-days off, will the Yankees be able to play Damon nearly everyday? Would they let him take the outfield again at all?
He might not be the most likely to come to New York, but he will probably be the most productive and would not have to adapt to new surroundings.
Hideki Matsui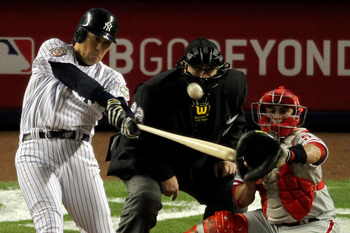 Will Godzilla land in the Bronx this season?
Jim McIsaac/Getty Images
Would the Yankees bring Godzilla back to the Bronx?
Matsui seems like a more realistic option over Damon because he would cost closer to the Yankees budget. He has proved that he can still be productive for the price.
Last year, he drove in 72 runs in 141 games for the offensively inept Oakland Athletics.
Matsui can be extremely effective when he is in the lineup and can hit lefties and righties.
Matsui would jump at the opportunity to play in New York again. If the two sides stay in contact, there would be no reason to believe that a fair offer wouldn't be presented to Matsui.
Hideki Matsui can also play the outfield, proving it last year when he played 27 games in left field for the Oakland Athletics.
Joe Girardi was always hesitant to play him in the outfield with his bad knees. It would be very unlikely that he ever plays the field for the Yankees.
He is a proven clutch hitter that can be beneficial to the Yankees, not to mention the fans would be thrilled to have him back in New York.
Keep Reading

New York Yankees: Like this team?