Dallas Cowboys: 5 Things Jerry Jones Must Do for Cowboys to Be Contenders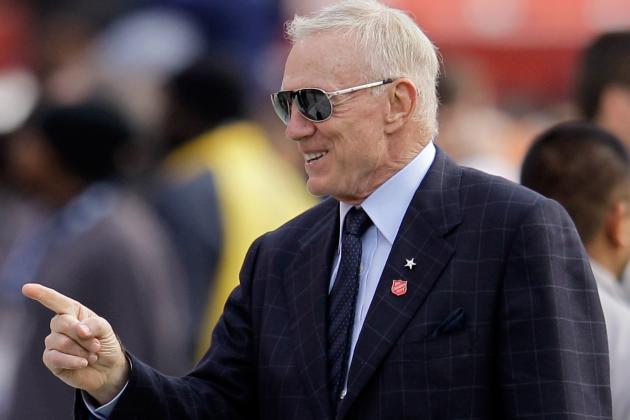 Rob Carr/Getty Images
Jerry Jones needs to get this team on the right track
Dallas Cowboys owner Jerry Jones needs to get "America's Team" back on track. He also needs to do it in a hurry. The Cowboys are losing their luster, since not having been close to sniffing a title since 1995, when he last hoisted the Lombardy trophy. Even newly-crowned Super Bowl champion New York Giants co-owner, Steve Tisch, stated Dallas no longer holds "America's Team" at the team's celebratory parade.
Jones will only have some much time with talents like DeMarcus Ware, Jason Witten, Jay Ratliff and Tony Romo. Yes, Tony Romo is a talent.
Here are five things Jerry Jones needs to do to bring the title back to Big D:
Begin Slideshow

»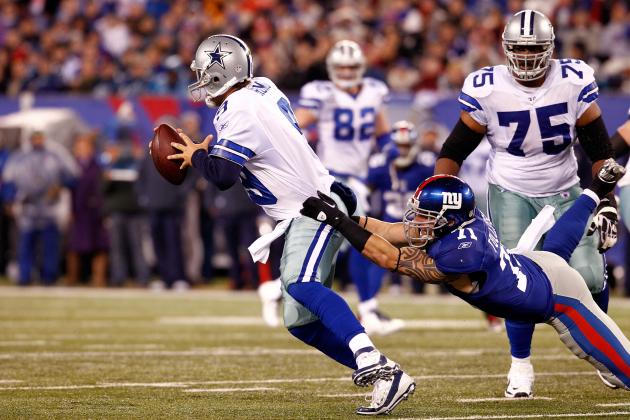 Jeff Zelevansky/Getty Images
Romo cannot be running for his life constantly
The first thing Jerry needs to do is get protection for the quarterback. The rules are built for the quarterback to thrive in this league. Jones understands this and must maximize on what the rules allow his team to do.
One way to accomplish protecting Romo would be through free agency. One hot name right now is New Orleans Saints guard Carl Nicks. He is a highly-decorated player, with being named to the All-Pro team for two consecutive seasons. Being only 26 years old and so accomplished, Nicks will command a mega contract, and Jerry should open the checkbook. The Cowboys can potentially free up about $20 million of free cap space by cutting Terrence Newman and restructuring the contracts of players.
If the Cowboys were to land Nicks, the offensive line would be bolstered immediately. It would also become extremely young with Doug Free being the oldest player at 28. If the Cowboys were to draft a lineman, current starting tackle Tyron Smith may still be younger, turning 21 this past December 12.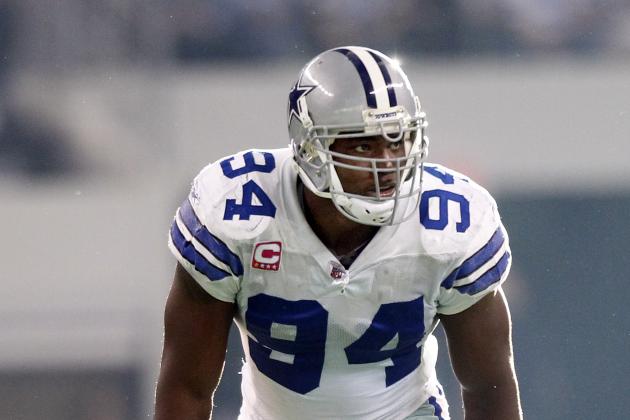 Layne Murdoch/Getty Images
DeMarcus Ware cannot be the only person getting to opposing QB's
There seems to be an upcoming pattern in the NFL that goes against the grain. Teams can have statistically bad defenses, but can succeed in the regular season and win in the playoffs.
Once Carl Nicks is signed, the next step would be to upgrade the pass rush. Anthony Spencer has been too inconsistent. One would think with a front line that includes DeMarcus Ware and Jay Ratliff, Spencer would take advantage of numerous one-on-one situations with offensive tackles.
One possible, but expensive, option would be signing Houston Texan Mario Williams. The Texans can franchise him, if they cannot strike a deal, but it will come at the cost of $23 million. In the Cowboys system, Williams can go back to either playing defensive end, or could be paired opposite of Ware at outside linebacker. That would create a terrifying tandem. It would also be an expensive one.
There are some players that could be short-term fill-ins, until young talent comes in. Defensive linemen like Antonio Garay and Gerard Warren will be unrestricted free agents.
Jerry Jones could also look to the draft to fill some front line talent, depending on who falls to them.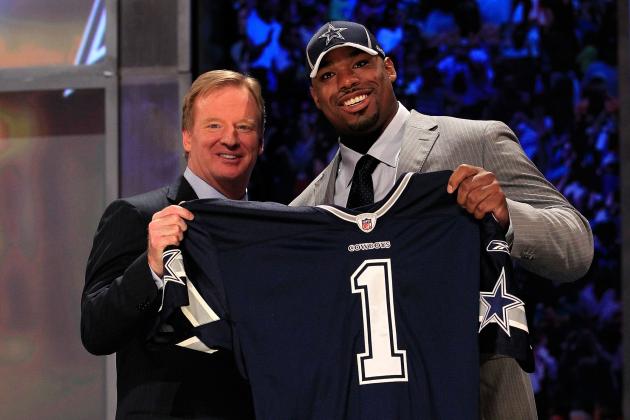 Chris Trotman/Getty Images
Cowboys need more draft picks like Tyron Smith.
While it is hard to find a Tyron Smith in every draft, Jerry Jones will need to begin to be extremely selective in draft selections. It cannot be stressed enough how important draft classes are to an organization's success. It is the base and foundation on which a team builds. It is the only way a team is guaranteed to bring in new talent.
The Cowboys have not drafted very well the last few years but head coach Jason Garrett brings a studious mentality and detailed work ethic. The jury is still out on the 2011 draft class but it seems that Garrett is effective in getting Jones to draft the right guys. Tyron Smith and DeMarco head the latest draft class, with contributions from offensive linemen Bill Nagy and David Arkin. Linebacker Bruce Carter was not able to play until midseason but seemed to be picking up the system.
In the drafts from 2008 to 2010, the Cowboys did not get much in return. Out of 24 draft picks, only one became a Pro Bowler, five became starters, which includes a kicker, five contributors and one big disappointment. The disappointment being Martellus Bennett. With his athleticism and size, he could have been the next Antonio Gates.
Jones needs to see that the draft is the key to success.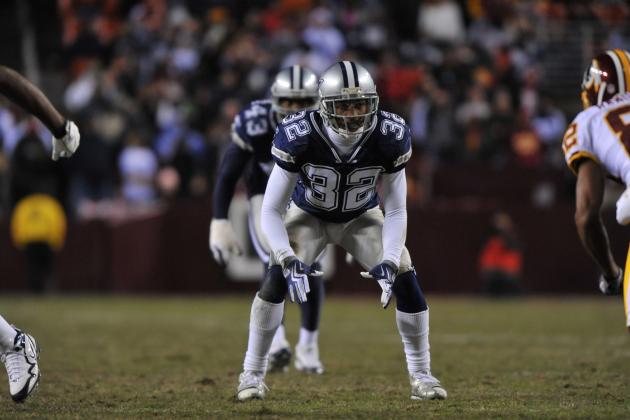 Larry French/Getty Images
Scandrick must show he was worth a contract extension.
The secondary was not very good last season. It seems that Terrence Newman may be cut this season, due to his lack of play and big paycheck. This means Orlando Scandrick is up to bat. He has been with the Cowboys since 2008 and it's sink or swim. If he does not show he can warrant a starting spot, it may be time to move on.
The only plausible reason to keep Scandrick would be how he has generally done a good job in the slot. With teams now going to three-wide receiver sets more often, the slot defender is becoming a required commodity.
The Cowboys also have a need at free safety, unless they feel comfortable re-signing Abe Elam. There have been some rumors of moving Newman to free safety. While it is good in theory, it would be difficult in practice. Learning a new position so late in a career typically does not bode well.
Jones can also use the draft to help bring in some young, competitive talent. Let's hope that it is the right talent.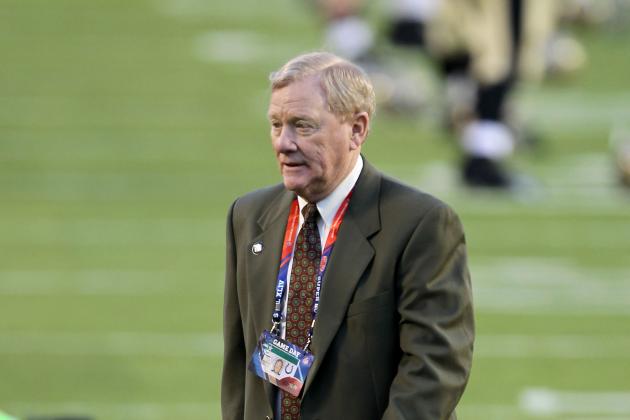 Ezra Shaw/Getty Images
Perhaps a proven GM, like Bill Polian, can help Jones
While this suggestion is an extreme reach for Jerry Jones, it is one that needs to be considered. Take Jones, himself. He is a business man that demands results. If a head coach is not getting the job done, he fires them. If a player is not getting it done, they are pink slipped. One thing Jones says is that it all starts with him. How about having accountability start with him?
If Garrett wants to preach accountability to the team, it needs to be preached from the top down. The best way to lead is by example. If the players were to see that the owner fired himself as GM, it would send a shock wave of accountability instantly.
It has been 17 years and only one playoff win since the last Super Bowl win. Jones got off to a fantastic start, winning three super bowls in his first seven years. The only thing is that once Jimmy Johnson left, so did the best GM the team ever had. The team has not been close to the Super Bowl since Johnson's talent trickled off the team.
All that can be said is that if Jones has a head coach win only one playoff win in 17 years, he would have been fired about 14 years earlier. Perhaps bringing in a proven GM, like Bill Polian, will help Jones see how to properly construct a team. Polian has had extreme success everywhere he has gone.
He was the architect behind the construction of the 1990's Buffalo Bills teams that lost four straight Super Bowls. Polian built the quickest contending franchise in NFL history with the Carolina Panthers, bringing them to the Conference Championship in its mere second year of existence. His latest accomplishment was the Indianapolis Colts, as he was key in drafting Peyton Manning over Ryan Leaf. The Colts appeared in two Super Bowls under Polian's watch.