New York Giants 2012 Free Agents: Where They Will Be Next Year?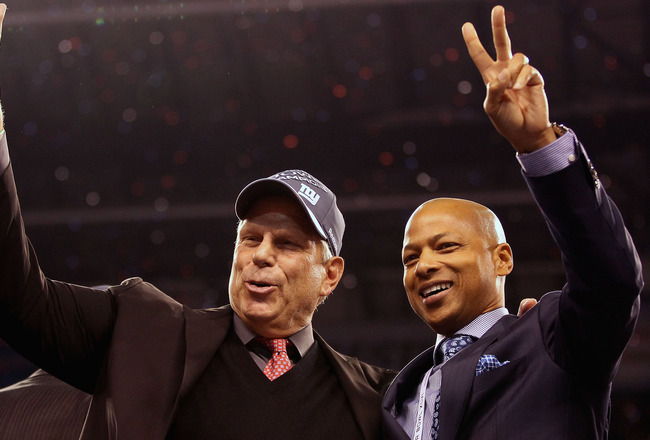 Jerry Reese, enjoying his popularity while it lasts.
Ezra Shaw/Getty Images
In 2011's offseason, no man was more despised than Jerry Reese. He spent '10's first round selection on an unknown defensive end name Jason Pierre-Paul when he should have drafted a linebacker. He drafted Prince Amukamara the following year when the team already had Corey Webster and Terrell Thomas.
The best Giants WR from the previous season was headed to rival Philly to join the Eagles "Dream Team." Starting TE Kevin Boss decided to head back to the West Coast, leaving Reese with no viable starter at the position.
Reese parted ways, forcing fans to say goodbye to two Giant favorites: Shaun O'Hara and Rich Seubert.
The best thing he did was bring in competition for Matt Dodge, by way of Steve Weatherford.
On all accounts, Jerry Reese failed the Giants.
Every single Giants fan can only sit back and hope that Reese continues to fail them as gloriously as he did this past year. Despite an IR that read like a book, Reese had all the pieces in place to bring the Lombardi trophy back to New York.
While New York may be in love with Reese for the time being, he has a lot of tough decisions ahead of him, many of which he will be booed for. Once the last of the confetti is swept from the streets of NYC, Reese will be hated again—at least part of the time.
Until, of course, he proves himself right once again.
The Priorities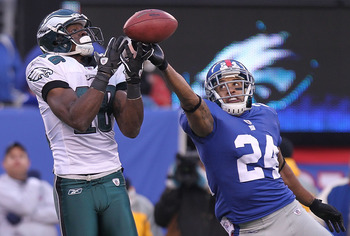 T2 spent '11/'12 on IR.
Nick Laham/Getty Images
Steve Weatherford improved the Giants punting game in immeasurable ways this season, and he should be priority no. 1. Ralph Vacchiano, of the New York Daily News, has already tweeted that Weatherford is highly likely to remain in blue next year.
Despite being on IR all season, Jonathan Goff and Terrell Thomas should remain priorities for Reese. Thomas led the team in tackles and, by most accounts, was robbed of a Pro Bowl selection for his work in the '10/'11 season.
Tearing both his MCL and ACL means that the recovery process will be a long one, although he did start running again on January 19th. He may not start on the corner right away, but look for him to play the role of Deon Grant in passing situations.
Goff deserves to be in the mix for LBs. He's a highly intelligent player who knows defensive coordinator Perry Fewell's system. And he is likely coming back for much less money than he would have had he not been injured this year. The same goes for Thomas. They lost money due to their injuries, which will make these decisions easy for Reese.
Jake Ballard or Bear Pascoe also need to be a priority. Neither will be a starter elsewhere in the league, and at some point, be it through the draft or free agency, the Giants need to pick up a big-play pass threat TE. Ballard tore his ACL in the Super Bowl, which could result in his eventual release from the team, despite become a solid target for Manning this year. Only one will be re-signed.
These Guys Will Return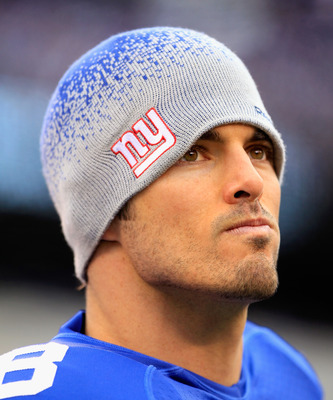 David Carr, sporting his game time helmet.
Chris Trotman/Getty Images
David Carr is not going anywhere. He had thoughts of starting somewhere in the league when he left the Giants the first time, but at 32 years old, that dream has probably faded into the background. He will remain a solid backup to Eli Manning, a role he seems to have become comfortable with. The Giants fans trust him, as much as any fan trusts a backup QB they hope to never see in a game.
Justin Tryon and Michael Coe are two defensive backs that I believe Reese will re-sign. In part because they will be inexpensive. More importantly though, when given the chance this past year, they both played well.
They may both be buried in the depth chart and play roles on special teams. As is the case in recent history though, being buried on the Giants' depth chart, especially at DB, does not mean much. With any injuries, these two could each see significant playing time.
Dave Tollefson has became a fan favorite for his toughness, his willingness to play anywhere on the defensive line and to play on any special teams packages he is asked to play. While he may be released, it would surprise me if Reese didn't re-sign him. A recurring theme; he'll be cheap.
Of all the offensive linemen Reese may release, there is something about the last name Andrews that he seems to trust. I look for Stacy Andrews to stick around at bargain prices.
Next Year's Starters...for Other Teams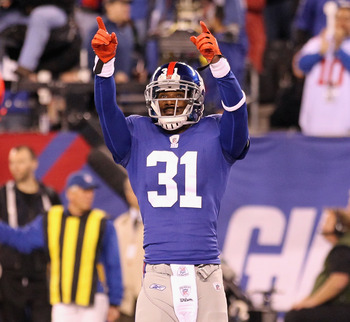 Aaron Ross points towards the two fans who believed in him.
Al Bello/Getty Images
Aaron Ross is a two-time Super Bowl champion. He is fast, he can return kicks and punts, he can cover Wes Welker in the Super Bowl, he can do it all. The problem is he rarely does all of those things in the same game.
The Giants never wanted him to be their starter this year, and drafting Prince Amukamara in the first round was a sign that they were going to use Ross only on dime packages. Injuries turned him into a starter, and he will use that for a bigger pay day. I see no scenario in which he is a Giant next year.
Domenik Hixon has been a Giants fan favorite since joining the team. Despite Hixon only playing two games in the previous two seasons, Reese will be booed when he releases him. What does he offer the team? Maybe a returner and a decent No. 4 or No. 5 receiver. He was never more than that, and now he is too big of liability for the team to tie up any cap money on.
The dumbest thing Mario Manningham could do is leave the Giants. He fits the system, he knows the system and he could spend the rest of his foreseeable career without a safety rolling towards him.
When Hakeem Nicks, Victor Cruz and Manningham are healthy at the same time, the Giants passing attack is among the best in the league. Add to that a stud rookie or free agent TE, and the sky is the limit.
Manningham is saying he wants to stay with the Giants. Is he willing to take a pay cut to stay though? He may have to. Then again, he could take a better contract and become another Steve Smith. That is, the Giants' former WR, not the Carolina receiver. Mario is a natural third receiver with the Giants, but ego is often too powerful, which I believe will be the case with him.
Devin Thomas will be a starter for someone else next year. Special teams starters count right? He will move on because he could be targeted 20-40 more times on offense with another team, and he knows it.
Released into Retirement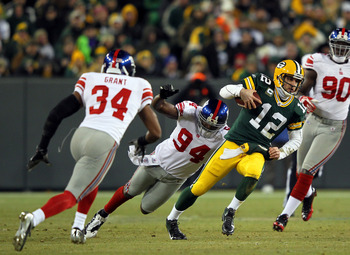 Deon Grant's age is approaching his jersey number.
Jamie Squire/Getty Images
If Terrell Thomas had not been placed on IR, the Giants would have never re-signed Deon Grant. Barring an injury, the same will happen next year. There are several teams who will try Grant out, but at 32 years old, it will take a few injuries on the same team if he hopes to play in 2012. Hopefully he will take his ring, his dignity and retire.
And I am not taking anything away from his season. Without him, the Giants would not have had the success they did. It is simply time for him to hang it up.
At times this season, Kareem McKenzie looked awful. For years the Giants ran behind his side of the line, but his neighbor at guard, Chris Snee, looked alone on the right side of the line. The Giants need to improve their offensive line if they hope to repeat or even make the playoffs next year, and McKenzie is just the start.
It doesn't look like he will even try to come back, as he seems happy to retire in hopes that he will be able to join Rich Seubert and Shaun O'Hara on a beach somewhere.
Jimmy Kennedy and Rocky Bernard (both 32 years old) showed up from time to time this season, but neither was nearly as good as Chris Canty, who himself, was outplayed, particularly late in the year, by Linval Joseph.
Also sitting on IR all year was rookie DT Marvin Austin. In limited action during preseason, Austin looked every bit the animal the Giants had hoped they were drafting. Kennedy (the best DT in the league) and Bernard will hang it up and leave on a high note. Bernard, though, has a chance to be signed elsewhere if he pursues it, as he played well at times this season.
We Hardly Knew You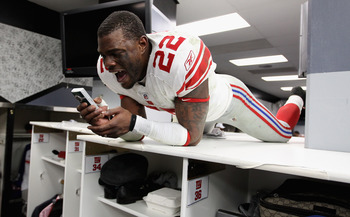 Derrick Martin cements himself into Giants' history by climbing a locker.
Ezra Shaw/Getty Images
Will Blackmon, Derrick Martin and Tony Ugoh will be making league minimum or practice squad money next year, probably not on the Giants.
But hey, they all have Super Bowl rings!
Next year, it will be some other team's fans who say: "Who is this guy? Is he a rookie?"
This One Will Hurt—Again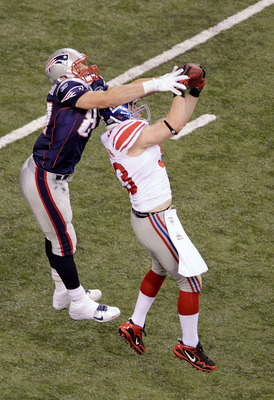 Chase Blackburn, world's best Mathematician-LB.
Joe Robbins/Getty Images
Last season, Chase Blackburn was not re-signed, and while it was overshadowed, it was not completely unnoticed. Fans were excited about Mark Herzlich's story and the play of all the rookie LBs in training camp that Blackburn was quickly forgotten about.
With Goff returning at MLB, there was no room for another specialist who would rarely see the field. All of that was true until December, when the Saints exploited the young linebackers and made the Giants look silly.
The Giants called Blackburn, and the rest is history.
A Super Bowl interception of Tom Brady. Intercepting league MVP Aaron Rodgers in his first game back. Leading the team down the stretch with sound play-calling and solid play. Yet, it is likely not going to be enough to see Blackburn back in NY next season.
The fans who right now are trusting Jerry Reese with their first born children will cry foul when Blackburn is released. And they have every right to do so. Without Blackburn, the Giants never would have made the playoffs, let alone won the Super Bowl.
As a football fan, I hope that I am totally wrong on this, but if they released him last year, it's very likely that with Goff back and a solid year under the belt of the rookie class of LBs, Blackburn will be teaching math at some point next year.
Keep your cleats by the door, Chase. You have not seen the last of your football days. And whoever ends up with you will be a better team for having picked you up.
Keep Reading

New York Giants: Like this team?