Super Bowl 2012: From Little Brother to ELIte Status
February 7, 2012

Ezra Shaw/Getty Images
As an avid sports fan, you enjoy watching great football, regardless of who's playing. I found myself in this situation on Sunday, February 5, 2012.
Prior to Super Bowl XLVI, I hated the Giants, more importantly Eli Manning (I don't use the word hate lightly either. I am a Cowboys fan from New Jersey). I was an enthusiastic Eli Manning hater who capitalized on every opportunity to bash him.
Referring to Eli Manning as an "elite" quarterback was NOT in my vocabulary. Considering him a top-five quarterback in the league was laughable. However, after the recent performance by the youngest Manning brother, I have decided that it is finally time for me to eat crow and devour all the "humble pie" my 24-year-old stomach can endure.
Eli Manning and the New York "Football" Giants have officially shut me up...possibly for good.
Two Super Bowl rings and two Super Bowl MVPs (for "ELIte" Manning) in five years is no small feat.
Heck, it's pretty remarkable, and Eli's rise to the top was inevitable.
2007 was a special year for Giants fans of course. The NFC East, arguably the most competitive division in the NFL, was dominated by my Cowboys that season. This was a year in which many (mostly myself and every other Cowboy fan) thought the Cowboys would break out of the decade-long slump and bring the Lombardi back to Dallas.
The Giants thought differently.
The Cowboys went 13-3 that year and the Giants, who were notorious for starting seasons off slowly, did not get off to the greatest start. They started 0-2, losing to the Cowboys and Packers.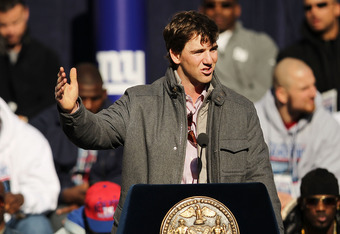 Spencer Platt/Getty Images
Of course my confidence level was sky high right?
The Cowboys had a first-round bye and were set to face the Giants, whom they defeated twice during the season. If I were a betting man, I would have bet my entire salary that year...that's how confident I was.
Well, the Giants and their stout defense put an end to all that noise. Not only did they ruin the Cowboys' season, but Michael Strahan and that ferocious defense put the Giants on their backs, leading them all the way to the Super Bowl.
And of course some weird things later happened after that...to help favor the Giants.
David Tyree's helmet catch, Eli Manning's heave with his eyes closed and constant missed opportunities by the Patriots going to waste: like Asante Samuel dropping an interception that would end the game.
I was pretty bitter after that game. This bitterness stayed with me for quite some time (if you cannot tell).
I considered "She-Lie" a lucky guy.
If Tebow were relevant then, I'd consider him Tebow-like or the chosen one.
Only Eli proved it again four years later. This time he didn't just manage the game as he did in 2007. He didn't rely solely on his defense, which was pretty stout this year as well.
Instead, Eli put the team on his unathletic shoulders this time around. With conviction, he referred to himself as an elite quarterback earlier in the season.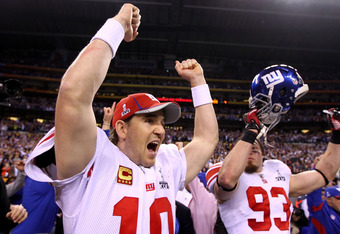 Al Bello/Getty Images
He stuck by those words.
This dude actually played like the champion. And no matter how hard it hurts me to say this (I'm cringing as I type this), this guy Eli is a legitimate champion.
He's a gamer. He possesses the "clutch gene" a la Skip Bayless. And possesses whatever other creative phrase you associate with great players.
I used to think when something crazy happened it was God-related, "Tebow-esque" or lucky. Well, now when something crazy happens I don't call it anything. It's just something that happens for elite players. This guy Eli always finds a way.
Scenario:
Game on the line and you need a game-winning drive to win the ballgame.  Who do you want with the ball?
My answer used to be Big Ben, the Discount Double Check guy and of course there's Giselle's husband (who "can't f***ing throw and catch the ball" as she so eloquently put it).
Now, I want Eli "Mr. Elite" Manning with the ball (Yea, I said it).
Eli Manning is just a smooth dude man, even when he throws an interception. His "Opps, my bad" face shows he's never rattled.
He knows he'll redeem himself.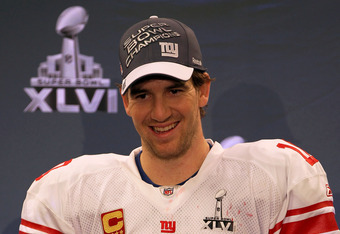 Jamie Squire/Getty Images
He knows he'll prove all his haters and naysayers wrong.
He's done that over and over again. And uhh...he has more rings than his big brother! 
I have a newfound respect for No. 10.
And until my Boys win another Super Bowl, I will be forever "owned" by Giants fans. It sucks, but it's a reality. Only it doesn't hurt as much any more because, in the end, it's just good for football. Heated debates are made for football even when you have little leverage.
But don't get it confused people.
Regardless of all the nice things I had to say about the Giants and Eli Manning...
THE Cowboys will be the 2012 Super Bowl Champs.
Just saying.