Los Angeles Clippers: Can They Stay on the Right Track Without Chauncey Billups?
February 7, 2012

There certainly has been no shortage of significant injuries to superstars so far in the NBA this season. Impact players such as Al Horford, Zach Randolph and Andrew Bogut continue to be sidelined while Derrick Rose, Paul Pierce and Dwyane Wade have all also missed significant time for their teams.  
And things aren't looking too great for Carmelo Anthony and Danilo Gallinari, either.
It looks like you can now add Chauncey Billups to that list.
Billups, who has started 20 games for the Clippers this year and is the team's third-leading scorer at 15.0 PPG, could be out for the remainder of the season after seriously injuring his left Achilles' heel in L.A.'s overtime win in Orlando on Tuesday.
Following a missed three-pointer midway through the fourth quarter, Billups took a couple steps, fell awkwardly to the floor and had to be helped off in obvious pain. An MRI is scheduled for Wednesday, but early reports are that it doesn't look good.
Now, instead of being able to celebrate a statement road win, Vinny Del Negro and the Clippers will have to find a way to maintain a high level of basketball without its starting 2-guard and veteran leader. 
But hey, such is life in the NBA this year. The condensed schedule means more games are being played in a shorter amount of time, which has proven to be a recipe for disaster, especially considering many players were not in their usual game shape entering the season to begin with because of the lockout.
Make no mistake about it—losing Billups for an extended period of time would be a huge blow to this Clippers team that was just finally starting to put it all together.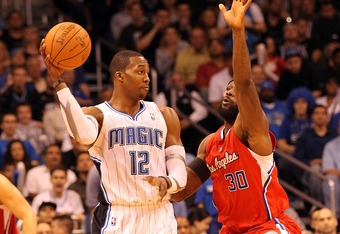 Sam Greenwood/Getty Images
Think the Clippers are all Chris Paul and Blake Griffin? Think again. This is what CP3 had to say about the possibility of having to play an extended period of time without the guy they call "Mr. Big Shot."
"He's the best guard I've ever started with in the backcourt since I've been in the NBA," said Chris Paul following the game. "I trust him with anything, and that's not just on the court. We need him, no question."
One thing's for sure: No one else around the NBA—especially the other contenders in the West—are going to feel sorry for the Clippers. San Antonio has played most of the season without Manu Ginobili. Same with Dallas and Jason Kidd. 
This is a crucial time for the Clippers. The roster is in flux. Goodbye, Chancey Billups; hello, Kenyon Martin (and possibly JR Smith). 
But the biggest test of all now belongs to coach Del Negro. I've certainly been hard on coach at times this year, but if he can keep this team heading in the right direction without Billups—in the middle of a six-game road trip, no less—it would go a long way in silencing his critics. 
It'll be interesting to see how Del Negro will distribute Billups' 30 minutes per game and how he will work Kenyon Martin into the rotation.
Hopefully K-Mart won't take too many minutes away from Reggie Evans, who has quickly become my favorite player on this team because of his toughness, intensity and uncanny ability to rebound the basketball. There's a special kind energy on the floor—and Staples Center as a whole—when Evans is doing his thing, which is basically to run around, grab rebounds, play defense and cause havoc in any way possible. 
Reggie Evans is a lot like Metta World Peace of the Lakers. But better.
Oh, and by the way, remember all those people who wanted to trade away Mo Williams before the season started? I definitely was not one of them. About a month ago, I wrote: "Every team goes through injury problems at some point in the season and I'm sure Vinny Del Negro sleeps better at night knowing he's got Williams to step right in for a hurt (or ineffective) Billups."
If Chauncey Billups is indeed out for a while, Mo Williams will surely come in real handy right about now. Williams should slide into the starting lineup and will be counted on to do more of what he has been doing extremely well all year long—shoot the ball (49 percent from the field) and score points (14.5 PPG).
Get ready to see more of Randy Foye, too.
As of this writing, the Clippers sit atop the Pacific division, two and a half games above the Lakers—but life for this team won't be easy moving forward if Chauncey is sitting on the bench wearing a suit every night instead of that No. 1 jersey.
The first big test for this suddenly new-look Clippers team comes on Wednesday night against the Cavaliers in Cleveland.
Good luck, coach. It's your move now.  
Errol Krupiarz is a Featured Columnist at Bleacher Report and also runs his own sports betting blog at WiseGuySports.com. Follow him on Twitter: @WiseGuyErrol