Tom Brady's Legacy: Let's Not Be so Quick to Judge
February 7, 2012

Jamie Squire/Getty Images
I've seen the rumblings of claims that Tom Brady's inability to produce a Super Bowl XLVI comeback has tarnished his legacy. If you are one of them, just stop, take a deep breath and hold your horses.
Tom Brady is one of the two best quarterbacks of his generation, and one of the top-five quarterbacks of all time.
Fact: Just because he "lost" this year's Super Bowl should have no effect on that. Here is why:
1. Super Bowl's shouldn't count for or against the quarterback, anyway. I've written before on this topic. I just want to reiterate a few points.
A Super Bowl is a team accomplishment—not an individual one.

Saying Tom Brady lost the Super Bowl is unreasonably specific. He did not lose the Super Bowl. He was not the only player on the field. The New England Patriots lost the Super Bowl. If Tom Brady had any impact on defense or special teams whatsoever, then you could claim, reasonably—that he would deserve credit for the loss. Brady does not play defense, special team and he isn't a coach.
Don't pin this loss on only him.
A popular claim is that since the quarterback has the entire offense run through him, he deserves more credit of wins and loses. That does make sense. The offense does depend on the quarterback; however, do you recall that with four minutes left in the game—when Wes Welker dropped a perfect throw from Brady?
It was 17-15, Pats, at the time. If he caught that pass, the entire Super Bowl would have been different.
Whose fault was the drop, Brady or Welker?
Do you remember 14 seconds later when Mario Manningham reeled in one of the best receptions in Super Bowl history?
Was it Brady's fault that Eli Manning and Manningham completed that pass? 
Too many events can take place during the course of a football game that the quarterback has no control of. He shouldn't be faulted when all those moments result in a loss—or a win. All the quarterback can do is put his team in the position to win.
2. Brady got his team to the Super Bowl. Did you see New England's defensive secondary? 
They were bad all season and postseason, for that matter. New England even got a little lucky just by getting into the Super Bowl. The only reason they were in the position to get the luck they needed, was because Tom Brady helped their offense get into position to win.
He did so in the Super Bowl also. Yes he had risky throws—like the Chase Blackburn pick. But New England had at least four-crucial drops late in the game—on good throws.
Then, if you insert a healthy Rob Gronkowski into the Hail Mary at the end, and we might be talking about the most miraculous final play in Super Bowl history—and the dumbest touchdown (Ahmad Bradshaw) ever.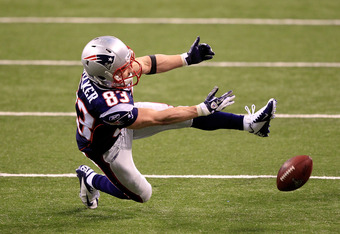 Chris Trotman/Getty Images
3. New England is still a contender. And they will still be one next year. When the Patriots are winning eight games a year, then there might be more room to legitimately question his legacy than one Super Bowl loss.
4. Brady isn't the first great quarterback to lose a Super Bowl—or two—or three. That's how many Super Bowls John Elway "lost" in his career. Another Hall of Famer, Jim Kelly, "lost" four Super Bowls and two to the same Dallas Cowboys. Dan Marino "lost" the only Super Bowl he was in and Peyton Manning "lost" Super Bowl XLIV. All four of these quarterbacks are, or will be, Hall of Famers.
Do we look at Elway and say, "His legacy was tarnished because he lost three Super Bowls?"
No, we celebrate him for what his career was, which was legendary. Brady should be no different.
Tom Brady isn't a great quarterback because he won three Super Bowls early in his career, and his legacy shouldn't be tarnished because he lost the last two. Brady is a great quarterback because of his arm, his drive to try to be the best, his field vision, his leadership and so many more intangibles than can be listed.
He is a great quarterback because his teammates believe that when he steps on the field, they are going to win that game. And he is great because he strikes fear in his opponents. Losing two Super Bowls won't change that—nor should it.
You can exhale now.