Tampa Bay Buccaneers: 4 Reasons Josh Freeman Is Hanging by a Thread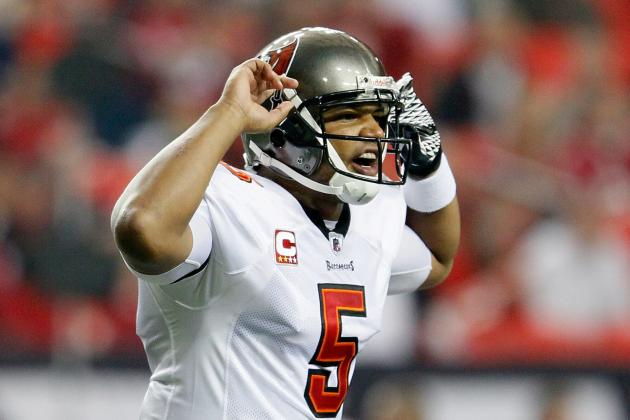 Kevin C. Cox/Getty Images

The Tampa Bay Buccaneers are in the middle of rebuilding their franchise and quarterback Josh Freeman is a big piece to that puzzle. However, he may be hanging on with the organization by his last few threads.
Freeman was drafted by the Buccaneers in the first round of the 2009 draft and has played fairly well up to this point in his career.
In 2010, Freeman led the Bucs to an impressive 10-6 season during his first year as the full time starter, but he struggled last year as Tampa Bay fell to 4-12.
The Buccaneers hoped that they had found their franchise quarterback that would lead the team to multiple championships over more than a decade as a star in Tampa Bay.
Freeman may still develop into that type of player, but he will need to do so quickly. If he does not show improvements in the next year or so, then the Buccaneers' organization may decide to move on without him.
Tampa Bay definitely still believes that Freeman can be their quarterback, but it is up to him to prove that in 2012. If he doesn't then he could be looking for a new job.
Let's take a look at four reasons why Josh Freeman is hanging on by a thread.
Begin Slideshow

»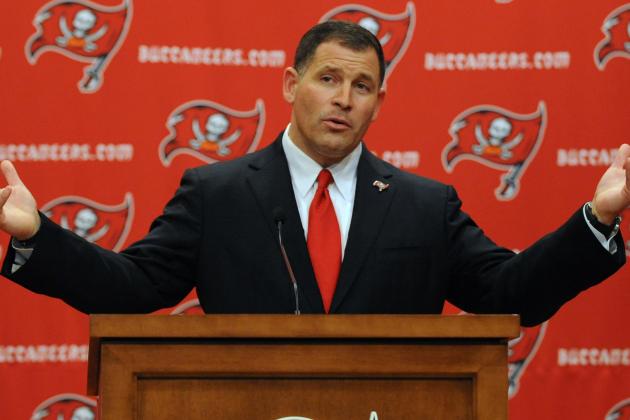 Al Messerschmidt/Getty Images

The Tampa Bay Buccaneers went out and grabbed former Rutger's head coach Greg Schiano to take the same position in their organization.
This may end up being a great thing for quarterback Josh Freeman, but he has to remember one thing: Schiano did not draft him.
General Manager Mark Dominik is still with the team and he had a major hand in drafting Freeman, but Schiano had nothing to do with the situation.
This means that the Buccaneers' new head coach does not have any ties to Freeman other than he is the teams' current starting quarterback.
There is no doubt that Schiano will give Freeman a chance to be the organization's quarterback for years to come—in fact, I am sure that is what he wants. However, he may also decide to take the team in another direction if Freeman does not perform well in 2012.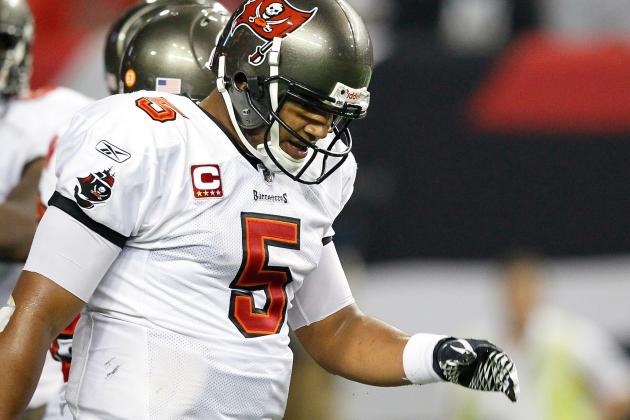 Kevin C. Cox/Getty Images

Josh Freeman had his chance to step up and carry the Tampa Bay Buccaneers in 2011 and failed to do a good job.
Freeman and the Bucs were sitting at 4-2 and well within the race for the NFC South at one point last season. However, they went on to lose 10 straight games and finished the regular season at 4-12.
Freeman threw 22 interceptions, nearly four times as many as the year before, and his passer rating dropped almost 20 percent.
It is a lot to ask of a third year quarterback to carry the team by himself, but it is honestly what is expected in the game today. Players are supposed to reaching their peak in the third year of their career and it was obvious that Freeman was nowhere near his.
He did not get much help from his teammates, but the great quarterbacks will succeed no matter who is around them. Freeman did not show much leadership in the 2011 campaign and looked defeated for most of the year.
This is the same kid that came out and played very well at the end of his rookie year and throughout 2010.
He has the potential to get back to a great level of football, but unless he does that next year, then we may see his replacement come in pretty soon.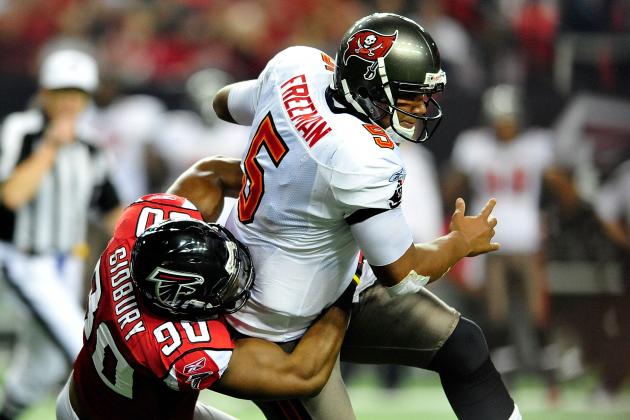 Grant Halverson/Getty Images

Yes, 2011 was only Josh Freeman's third year in the league and the Buccaneers will likely not get rid of him very soon.
However, Freeman's opportunity to make the Bucs believe that he is their guy may be closing pretty soon.
Freeman is not likely some of the other young quarterbacks in the league. Players like Matt Ryan, Joe Flacco and Mark Sanchez have all faced questions about whether they are the best starters for their respective teams.
The difference between these guys and Freeman is that they have all been to the playoffs.
Sanchez came out the same year as Freeman and Ryan and Flacco both came out in 2008, a year before Freeman.
Sanchez has been to two conference championship games, Flacco has been to one and Ryan has been in the playoffs three times.
Freeman has not been to the playoffs at all since joining the Buccaneers in 2009.
If he does not perform well in 2012, then there will not be many reasons for the Bucs to keep him, other than the fact that they spent a first round pick on him. Even that may not be enough reason to justify moving forward with Freeman if he is unable to play well next year.
If Freeman wants to continue to play for the Buccaneers, then he will need to play well next season. A playoff berth from Tampa Bay would likely seal his chances of being the quarterback of the Bucs for years to come.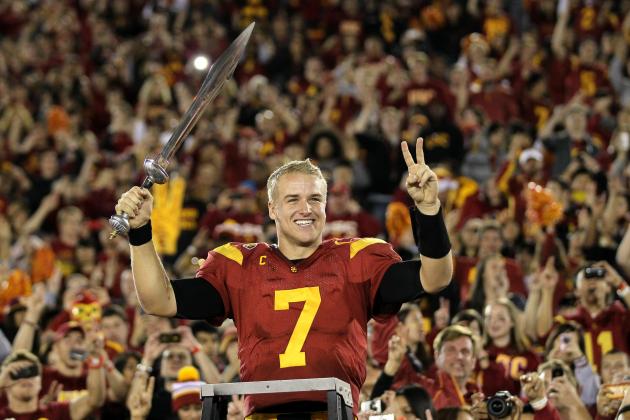 Stephen Dunn/Getty Images

The 2013 NFL Draft will feature a great amount of young talent at the quarterback position including Matt Barkley and Landry Jones.
If Josh Freeman fails to pick up his game and lead the Bucs next year, then it would be tough for the organization to pass on one of these young guys.
Freeman could very well put this entire discussion to rest next season by playing lights out and carrying Tampa Bay, but he has not yet shown that he can do that. If he doesn't change that next season, then we could see the Buccaneers go in a different direction.
Freeman needs to take the Buccaneers to the playoffs in 2012. If he does that, then he will not give the team a chance to get one of these young quarterbacks, and they will have no reason to do so.
In 2012, Freeman can gain a better grip on the starting position by playing to his full potential. However, if he does not do that, then we may see him playing in a different uniform in the future.